Jason Kidd's era is 3 games old. 2 against awful teams, which are the same 2 games the Mavericks have won. And yet, it all is starting to make sense when Jason Kidd is on the floor.
Look, I have no idea where this story is going to end, and if I were to guess it likely won't be the NBA Finals, but the offense already looks different when he is in the game. He does things that would not even occur to Devin Harris. On Friday he had 15 assists and last night he had 17 more. 32 assists in 2 games from a Mavericks point guard? You have got to be kidding me.
Harris had more than 10 one time this year. It is a different offense. Further, he is ever-present on the defensive glass, making the Mavericks defense look more and more like a one-and-done for the opposition.
Chicago tonight, Spurs on Thursday. The beat goes on.
Kidd brings home the win from Minnesota
…

On top of everything Jason Kidd has accomplished in his career, he flashed perhaps an unexpected asset Sunday night.

He can pull off the rope-a-dope.

Having dished out pass after pass for three quarters with the Dallas Mavericks getting nowhere on the scoreboard, Jason Kidd became an offensive machine in crunch time, leading Dallas to a tougher-than-it-sounds 99-83 win over Minnesota at Target Center.

Playing in his 1,000th game, Kidd missed his 100th triple-double by three rebounds.
But with Minnesota geared to stop his passing, it was the three baskets he hit during a big fourth quarter that cleared the way for the Mavericks' second win in a row.

So what if it came against the two worst teams in the Western Conference, who own a combined 25-84 record? It still brings the Mavs joyfully back to American Airlines Center tonight for Kidd's home debut after last week's monster trade.

He's already shown why the Mavericks believe he's crucial to playoff success this season. Against the Timberwolves, Kidd piled up 14 of his 17 assists through three quarters. Yet the Mavericks were tied after each period.

They won the fourth quarter, 28-12, largely because of Kidd's assertive play.
"How many triple-doubles has he had in his career?" Jerry Stackhouse said. "You've got to have at least 10 points to get them. There are going to be games when we need him to be an effective scorer. They'll play off of him and he's very capable of making them pay and having big scoring nights for us.

"He set everybody up and then all of the sudden, they kind of forgot about him."
Kidd's line was eye-popping: 12 points, 17 assists, seven rebounds, four steals and just three turnovers.

But in the fourth quarter it was even better: seven points, three assists, 3-of-3 shooting, a steal and no turnovers.

---

The assist total tied Kidd's season best and for the second game in a row, established a Mavericks season high.


In Hockey news, deadline day is tomorrow:
Sergei Zubov now needs surgery?
…wow. That is not good…

After a hairline fracture in his right foot was slow to respond to rest, Dallas Stars defenseman Sergei Zubov had surgery Sunday to insert a screw in the bone and will be out for three to four weeks. The move was scheduled to make sure Zubov has enough time to heal and be ready for the playoffs.

"If everything goes as planned, he should be back by the last week of March, and then we'll have that week and a week and half in April," Stars coach Dave Tippett said (the playoffs start April 9). "That's the plan."

Zubov, 37, was being mentioned as a Norris Trophy candidate at midseason when he was among the league leaders in defensemen scoring. He has four goals and 31 assists in 46 games. He hasn't played since Jan. 17, missing the last 17 games with problems caused by the foot and a subsequent groin injury. He has missed 20 total games on the season.

"He's a huge part of our team, and he was having a great season," Tippett said. "We're hoping we can get this right, and he'll be ready to go."

Stars co-general manager Les Jackson said Zubov's surgery doesn't alter the team's outlook heading into Tuesday's trade deadline.

"We have an idea of what we're looking for, and this doesn't change it," Jackson said.

"We're happy with what our team is doing, and we're happy with the way it's developing."

The Stars have been running with six defensemen for most of the season, including three rookies in Matt Niskanen, Nicklas Grossman and Mark Fistric. Veteran Philippe Boucher, who has been out since Dec. 3 with shoulder surgery, is practicing with the team and could return as soon as Thursday.

The Stars are open to making a move for a scoring forward and have been in talks with several NHL teams. Jackson declined to get into specifics on any possible trade but said the Stars feel they have proven a lot in their 11-2-0 run.

Now, what is this?
Stars are being linked by many media sources with Brad Richards
…
Yes, the same Brad Richards who will be paid $7.8 this year, $7.8 next year, $7.8 the year after that, and $7.8 the year after that!
And yes, the same Brad Richards who is dead last in the NHL in +/- with a -25.
And yet, I wonder if this would be a genius move for the Stars if the cost is only Mike Smith and Nik Grossman…
Spector's Says:

TSN: - The Vancouver Canucks and Dallas Stars have reportedly made their offers to Tampa Bay for Brad Richards, while the Columbus Blue Jackets offer could be coming soon. Dreger suggested the Stars might offer goalie Mike Smith, and suggested the Jackets offer might include "Brule and Fritsche"

- In the second period intermission, Dreger claims the Lightning have stopped short of asking Richards to waive his movement clause. He noted the Blue Jackets have now made their pitch for Richards.

SPECTOR'S NOTE: The panel also suggested other teams could get involved in the Brad Richards sweepstakes. I think the Stars could have the inside track as they have depth in goal and on the blueline to make an offer that affordably addresses the Bolts needs. As for the rest, your guess is as good as theirs, although it's believed Sundin's decision could come as soon as tonight.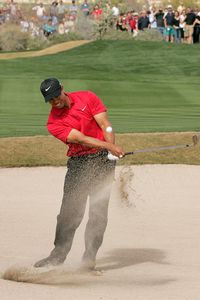 Tiger Woods is so awesome it is silly
…

All of golf owes a hearty thanks to Tiger Woods, who helps make the game cool, enriches his peers through astronomical purses and gives the sport a higher profile in a crowded landscape.

But that gratitude should extend tenfold from those who run and administer the World Golf Championship events, another of whose trophies Woods will try to wedge onto a mantel someplace after his victory Sunday at the Accenture Match Play Championship.
These WGCs were an idea poached from Greg Norman, ostensibly with the idea of bringing the game's best together around the world on a more frequent basis. A decade later, the WGC events have some flaws, but all is well when Woods continues to win them.

If you are scoring at home, that is three straight WGCs, five of the last six and seven of the last 10.

He also has won four straight PGA Tour events and six of the last seven while winning five straight official tournaments around the world.

The game's No. 1 player continued his domination in record fashion, defeating Stewart Cink 8 and 7 in the 36-hole final at the Gallery Golf Club. It was his 15th victory in 26 WGC tournaments, an incredible success rate when you consider the fields typically are filled with no less than the top 50 players in the world rankings.

Take it further.

He has won 12 of 17 stroke-play WGCs, with his worst finish a ninth at the 2004 American Express Championship -- the year he won just once on the PGA Tour because of swing changes.

Counting both types of events, he has those 15 wins, plus two seconds, two fourths and two fifths. And he has won more than $19.8 million in the events (including another $1.35 million Sunday), a figure that by itself would put him 17th on the all-time PGA Tour money list.

The Cowboys go get Zach Thomas
…which I would label as confusing given all of the money already allocated to the Linebacker position. Is somebody about to be sent away?

Former Miami Dolphins linebacker Zach Thomas has agreed to a one-year, $3 million contract with the Cowboys.

The seven-time Pro Bowler, who was released by the Dolphins on Feb. 14, met with Cowboys officials Friday night and agreed to terms Saturday.

Thomas, 34, had visited New England and New Orleans and had also received interest from the Texans. But his ties to Texas were too strong. He was the 154th player chosen in the 1996 draft out of Texas Tech.

Thomas missed most of last season with concussions and migraines and was placed on injured reserve in December. But he has said he is healthy and ready to resume his career in 2008.

Mac Engle gets some time with Jerry Jones
…and McFadden has a goofy 40 time!

Jerry Jones wants to "wow" his team this off-season. Seemingly content that he has addressed his defense enough in the NFL Draft and in free agency the past few years, the Cowboys' owner aims to add a new toy to his offense, either through the draft, free agency or possibly a trade.

"I think we have a chance to put some more 'wow' in this offense. That's my No. 1 goal in this off-season," Jones said late Sunday afternoon while at the NFL's Scouting Combine. "But without [running back] Julius Jones signed, it's obvious we need to look at running back. How we get there might surprise you."

But on the same day Arkansas running back Darren McFadden ran a 4.27 in the 40-yard dash, Jones quelled the speculation that he would sacrifice his roster to move up in the draft to select his fellow Hog. In Jones' eyes, the price to move up and then pay McFadden is simply too high.

"I'd be reluctant for those reasons -- the cost of getting up there and the price after you get up there," Jones said.

Because of Flozell Adams' situation [as a free agent], are you comfortable moving Leonard Davis to left tackle?

Yeah... that was a good reason to sign Leonard Davis, that he's a very viable option at left tackle. The obvious is the obvious. You lose a Pro Bowl right guard, if he goes to that tackle, which is a major consideration.

You've said you would be reluctant to move up to draft McFadden, but that is different than "no."

It is, it definitely is. We should as a team consider, and not discount, anything we might do in moving up. That is really one of the things you get when you forego your first-round pick one year, or make the trade we made, and get two the next. That's what you get. It really has about as much value as the pick itself, the option of how you can go up and down.

Because your team is tight against the salary cap, will that hinder your ability to pursue players?

When you have 13 Pro Bowlers, you're going to be tight with the cap. That's almost a given. Does tight mean you can't go out here and do some things? It doesn't mean that at all. You can get a creative scenario, where there's enough room. Within a rational parameter of what you might get a chance, or what you might want to do or who you might want to extend, while it's going to take some sharp managing, that's not a huge obstacle to us getting some things that will help our team.

Great email:

No idea if yall had touched on this but....Some new thing where you can talk to nash while he drives home after his game.

Go spurs! Ha!

Mike Klein

Steve Nash Video Link …


Then I found these great Nash Videos to share:
Steve Nash very cool soccer video
Steve Nash – Can I Kick It?
More Email:

Bob —

I'm selling this badboy to add towards an engagement ring fund. I've had this since pre-cup days. Thought you might want to see it or pass this along to any of your hockey brethren or collectors. Buy It Now price was the appraisal quote but if it goes to a stars fan its all good.

EBay Item …

p.s. please do not pick Vancouver in 7 ever again. that was a difficult series but if the Stars are the underdog you gotta stick with em... you have the power to spread positive vibes through the speakers of thousands of fans.... and the players.


later holmes. see you at the no.7.


Joshua


------------


It seems that the "Oceanic 6" that got off the island are all feeling extremely guilty because they are being forced to live a lie. When Jack was being questioned at the trial he once again mentioned that there were only 8 survivors of the crash. We know there were many more than that. For some reason the 6 can not say anything about the other survivors. Therefore, it seems that they are all feeling guilty because they know that they are being treated as heroes as being the only survivors of the crash when they know that there are many more, AND the other survivors are still alive on the island.

We now know 5 of the oceanic 6. (Kate, Jack, Hurley, Sayid and baby Aaron). If Claire supposedly died in the crash, then she could not have given birth, therefore Kate has to pretend that this is her baby. Jack knows this is all part of the big lie that they are living which he is feeling extremely guilty of, and this could explain why he refuses to see the baby because he knows Claire is the real mother and she was left on the island. He even tried to kill himself by almost jumping of the bridge but fate jumped in and stopped him. I think he is trying to convince the other 5 to go back and save the rest. Of course if there were 8 survivors, and only 6 were "rescued" they were able to explain the 2 more survived the crash but died before the rescue.

I also fear the 30 minute time warp concept that was introduced last week. This could severely cheapen the show.
-------
Bob,

All I could think of when I saw this was, why? Why throw two or three mill at a weakside interior LB in a 3-4 alignment, especially for a guy who's never played that alignment? Why bring in a guy who's either at the end of his career or has no more than a couple years left? Why not take those millions and add them to your offer to Flozell, rather than sign yet another LB? Why put more money in the LB position, given what you've got tied up in Ware, James, Ayodele and, yes, even Carpenter (as a first rounder)? This just seems like a pointless football move and not a good sign of what Jerry is going to do back on his own as GM.

Dave in Tulsa
--------
Bob -

Why is it that everybody seems to think that Flozell Adams is this other wordly left tackle? Rads today, and Mickey *constantly*, put on their "I (heart) Flozell" shirt and lead the parade around downtown for this guy. I agree that he has some talent, but his false starts and holding penalites are KILLERS. Why do we have to take the good with the bad? Ok, he's not giving up sacks, but the effect of his false starts is almost the same – it blows up scoring opportunities. Hell, in the Division Championship game, in the third quarter we had 3rd and 7 on the Giants 11, but we had to march it back 5 yards to a 3rd and 12 and eventually settle for a field goal.

Why is it sacrosanct to even suggest that he give 5 yards to the opponent in another city? Of course the next question is "Well who do you get to replace him?" Are they on our roster already? Can we get them in the draft? I don't know. But we can't be held hostage by the devil we know anymore. That's what happened to us in the Campo years, and it's what continues to happen with
Flozell.

I went back and looked at every game this season and ol' 76 had 15 penalties over 17 games (I didn't count week 17). Of those 15, 8 resulted in something other then a touchdown (INT, punt, or FG). Even more of note is his holding calls which called back three first downs, with the shortest of those being 13 yards. He also seems to perform vastly better on the road, which perhaps
speaks to a lack of focus.

Thanks to the big play potential of this offense we could continually bounce back from these penalties and actually score.

"I say, let em crash!"

Week 1:
1st Quarter:
1st and 10 - Holding - becomes 1st and 20 - result: punt

4th Quarter:
2nd and 7 - False start - becomes 2nd and 12 - result: TD


Week 2 (DAL: 37 - MIA: 20):
2nd Quarter:
3-2-MIA 7 (3:21) PENALTY on DAL-76-F.Adams, False Start, 5 yards,
enforced at MIA 7 - No Play. - result: TD

4th Quarter:
1-10-MIA 19 (13:36) PENALTY on DAL-76-F.Adams, False Start, 5 yards,
enforced at MIA 19 - No Play. - result: FG

Week 3 (DAL: 34 - CHI: 10)
1st Quarter:
2-8-DAL 42 (2:20) (Shotgun) PENALTY on DAL-76-F.Adams, False Start, 5
yards, enforced at DAL 42 - No Play. - result: INT

2nd Quarter:
2-10-DAL 35 (1:05) (Shotgun) 24-M.Barber right guard to DAL 36 for 1
yard (55-L.Briggs). PENALTY on DAL-76-F.Adams, Offensive Holding, 10 yards,
enforced at DAL 35 - No Play. - result: Punt

4th Quarter:
2-5-CHI 26 (14:55) 21-J.Jones right guard to CHI 4 for 22 yards
(38-D.Manning, 54-B.Urlacher). PENALTY on DAL-76-F.Adams, Offensive Holding,
10 yards, enforced at CHI 19. - result: FG


Week 4 (DAL: 35 - STL: 7)
No Penalites (for once)


Week 5 (DAL: 25 - BUF: 24)
No Penalties (hooray!)


Week 6 (DAL: 27 - NEW: 48)
3rd Quarter:
1-10-DAL 20 (4:56) 9-T.Romo pass incomplete to 82-J.Witten. PENALTY
on DAL-76-F.Adams, Offensive Holding, 10 yards, enforced at DAL 20 - No
Play. - result: Punt


Week 7 (DAL: 24 - MIN: 14)
No Penalties (whoop!)


Week 9 (DAL: 38 - PHI: 17)
3rd Quarter:
1-10-DAL 22 (7:37) PENALTY on DAL-76-F.Adams, False Start, 5 yards,
enforced at DAL 22 - No Play. - result: TD


Week 10 (DAL: 31 - NYG: 20)
No Penalties (yes!)


Week 11 (DAL: 28 - WAS: 23)
4th Quarter:
2-8-WAS 41 (12:05) PENALTY on DAL-76-F.Adams, False Start, 5 yards,
enforced at WAS 41 - No Play. - result: TD


Week 12 (DAL: 34 - NYJ: 3)
1st Quarter:
2-4-DAL 43 (14:28) PENALTY on DAL-76-F.Adams, False Start, 5 yards,
enforced at DAL 43 - No Play. - result: TD


Week 13 ( DAL: 37 - GB: 27)
4th Quarter:
1-10-DAL 38 (11:39) 9-T.Romo pass short left to 82-J.Witten pushed ob
at GB 49 for 13 yards (50-A.Hawk). PENALTY on DAL-76-F.Adams, Offensive
Holding, 10 yards, enforced at DAL 38 - No Play. - result: TD


Week 14 (DAL: 28 - DET: 27)
No penalties (go 76!)


Week 15 (DAL: 6 - PHI: 10)
2nd Quarter:
1-10-DAL 20 (13:38) (Shotgun) PENALTY on DAL-76-F.Adams, False Start,
5 yards, enforced at DAL 20 - No Play. - result: INT


Week 16 (DAL: 20 - CAR: 13)
2nd Quarter:
1-10-DAL 25 (11:10) PENALTY on DAL-76-F.Adams, False Start, 5 yards,
enforced at DAL 25 - No Play. - result: TD


Week 17 ( WHO CARES)

Playoff (DAL: 17 - NYG: 21)
3rd Quarter:
3-7-NYG 11 (7:06) (Shotgun) PENALTY on DAL-76-F.Adams, False Start, 5
yards, enforced at NYG 11 - No Play. - result: FG
------

The combination of Reality TV stars and soccer coming to San Antonio next month. What could be better?

Can you please publicize this link on your blog?

Link …

Terry
The Popsicle Stick Chick

Shawn Bradley Highlight Film