Happy Friday to all....I just want you all to know that I have really enjoyed blogging for you guys this week. I know that I am no sports expert like the Sturminator, but I have read some of your comments and I appreciate some of the kind words. Doing this has even made me kick around the idea of doing my own blog on a regular basis....Anyway, we are all gearing up for the weekend and there are a number of things to touch on the sportspage....
With the 34th pick in the NBA Draft the Dallas Mavericks select Nick Fazekas out of Nevada
I like this pick....a lot....I know that some might wonder why the Mavs went and got another big scoring white guy that is a little iffy on the defensive end. However, I had a chance to catch this guy a few times this past February and March when the Tournaments got cranked up and I was instantly impressed with his shooting touch and his mobility for his size. This guy was the best player in his conference, which is never a bad decision on draft night. Fazekas averaging 20 points and 11 boards with Nevada last season....and yes you can question the WAC's talent level....but good fundamental skills show up in any conference and this guy has them.....
Besides Austin Croshere and Keith Van Horn are likely gone, so this was a smart pick as he can probably fill their roles eventually.
It was great when we noticed that the Mavs were staying out of the 1st round and Dallas was stayingput at 34....I was worried that the freaking Spurs or Suns would take him, but he fell right in our laps, and I think we are lucky for it....We took some Euro with Seibutis, who might be here one day after a few more years overseas, but I love that we were able to steal Rayshawn Terry as late as we did.
I love me some UNC players. Especially those who stayed 4 years and were coached in one of the most high profileprograms in the nation....A buddy of mine was very happy about this pick, and I have to credit him for saying that Rayshawn Terry has been on the national stage for so long that he is not going to have the typical rookie nerves and has been prepping to thrive at this level....The majority of Tar Heels transition to the NBA very well, especially ones that are 6'8" and are tremendous athletes....I can always use that on my bench.
All in all good draft Mavericks....considering you stayed the course you picked up a few usable parts.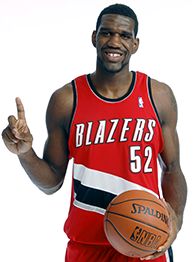 As expected Oden goes #1
This was probably the smart thing to do but I still think that Kevin Durant is going to real bad-ass in the Association.....Portland was very active this draft and they pretty much overhauled their roster picking up a number of talented picks besides Oden, and the shipped Zach Randolph to the Knicks for Cahnning Frye and Steve Francis, whic surprised me a bit....and I thought the Morning News had a good article about all of it from
David Moore
This year, unlike last, was very light on the amound of trades on draft night...There is only one that bugged me as a Mavericks fan. I am a huge Brandan Wright fan and I was thrilled that Charlotte took him as they seemed to continue their Tar Heel drafting philiosophy, but then midway through the night Wright is sent to the flippin' Warriors for Jason Richardson....and I couldn't beleive it. This helps the Mavs in the short-term because JR kills Dallas, but I hate that a guy that I really like watch playing go to a team that I now despise after this past postseason. Sucks, but keep and eye out for Brandon Wright folks....
Also I think that it doesn't boed well for the Mavies that The Utah Jazz who are just going to get better in the future picked up one of the best shooters available in Morris Almond out of Rice....he might be the biggest sleeper in the entire 2007 draft-class....remember you heard that from me.
And if there is anything I missed I am sure that this article covers it....
Maybe it's time for you to be gone....
Scott Feldman is having a terrible season bouncing up and down from the big club to AAA....and yesterday his struggles were on display in Detroit as his control was terrible, then Gary sheffield took out a 3 wood and lines one out of Comerica park to left center....
Beat writer Evan Grant focused on this in the Morning News....
Even though Texas had no chance against kenny Rogers yesterday, they still took 2 of 3 from the Tigers, which is nothing to sneeze at....Now it's off to Fenway for a 4 game series....Lets just hope the smoke and mirrors keep working like they have before Texas comes back to the Temple....
In other Ranger news
B-Mac could return to the rotation and Ian Kinsler on crutches....
As much I would love to keep looking at the Red-shoe Rangers, there was a twin-bill of baseball history that occured Thursday....

3000 and 500 Biggio and Thomas
I have liked both of these guys ever since I was a little kid and it was good to see the two of them pick up a milestone and cap off great careers....Careers that I feel will end with trips to Cooperstown. I really liked the fact Biggio got #3,000 in front of his home crowd in Houston. Biggio played his ass off everyday of his career and getting to enjoy his moment with his fans, family, and JeffBagwell was really cool to see.....Now that Ranger fans is a record hometown fans can be proud of....unlike Sosa's 600 in a Ranger uniform.....
As far as "The Big Hurt goes" he is a great hitter and has been for a long time....he is not the best team guy ever and he is hanging on now as a DH, but back in the 90's he was one of baseball's best and that is how I like to remember big Frank.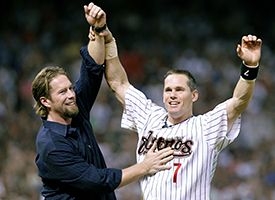 Now this is cool....
Congrats to Messier and the rest of the 2007 HOF class....
Admittedly I am not a huge hockey fan, but I do appreicate what this guy along with the rest of this year's quality calls did in their careers....I know you hockey-nerds would appreciate this story....
Well that is all I have for the day....again I want to let you all know how much I have enjoyed filling in for Bob....he will return next week and get things back to normal for you all....If any of you would be interested in checking out my new daily blog that I am thinking about starting up, please let me know what you think....you can email me at
sbass1310@yahoo.com
Now I leave you all with some funny and some rock and roll from U2 and The Doors....everybody have a kick-ass weekend and be safe....be very, very safe....