Well boys and girls....The NBA draft is now just hours away and as a sports-nerd I have to admit that I get sucked in every year because for about 3 and a half hours we all get to be the GM's of our favorite teams and scrutinize the good or what we see as bad moves by franchises in acquiring young talent. This draft along with the NFL's is like a mini-Christmas for some. If you are like me I do hope you have a happy holiday this Thursday.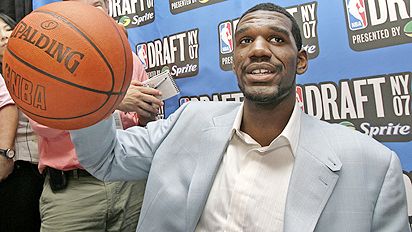 The #1 pick of Portland - Greg Oden
Many see this as a no-brainer. I am one of them, however I can't help but feel that The Blazers should be taking Kevin Durant with the you pick. I know you can build a franchise around big men, and I feel that Oden could become a great man in the middle and anchor Portland's defense for years.....but c'mon....Durant was the best player in the country last year. Period. His talent is better than anyone's in this super rich draft and he probably has the most upside to his game as well. Just imagine what Durant is going to be after a few years in the league working with an NBA strength coach. By then he might be able to bench 185lbs. - but even if he can't that has nothing to do with the game of basketball. I am just glad that I am not the Blazers GM. No matter what he does he is going to be second guessed....ah the draft....
Back to Wisconsin??
This could very well be just pre-draft buzz, but I must admit that I am a little intrigued by the idea of sending Harris back home to the Milwaukee Bucks for the 6th pick tonight....And I love me some Devin Harris, the only problem is that I love the idea of getting Ohio State PG Mike Conley instead.....However, I don't think that Milwaukee would do this, and the Mavs seem to have committed to developing Harris. Even though he is not Tony Parker yet, he is still pretty darn tough to defend and if Avery would ever put his full trust in him I think he could be one of the NBA's best....this story is just a rumor, but an interesting one nonetheless.....
Dallas armed with 3 2nd rounders can still get a quality player with their 1st pick at #34.....
And apparently that is what Donnie Nelson and company plan on doing tonight
And I really can't blame them for doing this....sure you want your team to be aggressive and be a player in any deal for the best players available in the traft or in trades (KG) but despite the 1st round fart and fall down moment this past postseason this is still a 67 win team. If the San Antonio Spurs taught us anything last season is that if you stay the course things can work out in a big way. Granted, Dirk needs someone else to engage the offense....and if he gets it he might be a 2 time MVP, but fact of the matter is that there is nothing out there so overwhelming that Dallas should blow this thing up.
Which leads me to the next subject.....
Why is Phoenix so hell bent on getting KG??
I love me some Kevin Garnett as much as anyone, but if I am the Suns I am not willing to part with Amare who is younger and every bit as athletic and younger. As the
Suns, T'Wolves, and Hawks might swing a 3 team deal today
The only thing I can see if I am the Suns is that I am tired of getting bounced in the playoffs every year by more "Playoff-like" teams that can slow it down and play a half court game. Maybe Phoenix feels they can still themselves for the majority of the time, but when it comes down to cruch time lett KG take over by posting up. I seem to remember the T'Wolves snapping a long winning streak by the Suns last season with Garnett just taking over in the 4th quarter doing exactly that. This is too scary to think about as a Mavs fan....lets move on....
But before we do you should all tune into the ticket tonight for a little Norm and Skin draft coverage....the best you will get on the radio with a couple guys who know more about it than all of us.
Scary how much power this kid has.....
Last night against the Reds Ryan Howard of the Phillies clobbered a homerun that went 505 feet for #100 of his career....he is also the fastest player to century mark a cool 60 games ahead of anyone else in baseball history....
The Texas Rangers getting rained out yesterday wrap up now a 3 game series today at 12:05 with the Tigers on the road looking for the sweep.....
Both Kevin Millwood and Kenny Rogers have been pushed back to today
The Rangers looking for their 7th win in their last 8 games, but are still 13 games under .500.....This is blast to watch right now. One - because I love baseball. Two - My team is winning. And Three - they are doing it with a group of parts that fit and it is great to see....i just hope that Jon Daniels sees this and realizes that you can win without Mark Teixeria and Hank Blalock, and that down the road young guys can win, and probably have more fun doing it. Fans like youth and if the front office would commit completely to a youth movement the people that come to the Temple would accept it......Heck, 30 thousand a game are shoing up this season. The fans are there just work to get us a better product. That is all I ask for, and I don't think that is too much and neither should you.
In other baseball news....
Curt Schilling will be out for a bit
And why does Mark Buehrle want to stay put??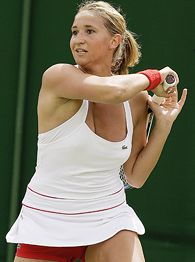 Not too interested in what is going on at the All England club just yet, but
this
is kind funny....I feel that panties are always a good opic of converstation.....
Alright that is all I have this morning. It's now time to head to the station....but before I leave you I bring you some Office humor and some more Music that I dig (Wilco). Happy Draft Day to all and to all a good night!!!