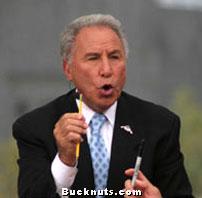 Not so Fast...
The Game that was played last night almost serves everyone (including me) right. How dare anyone think a series is wrapped up after 3 games, and a mere 2-1 series lead? This is the Western Conference Finals, folks. It is not the first team to 2. And after last night's big win by Phoenix in which the Mavericks DID go quietly into the night, this series is easily just as loseable as it is winnable.
The one simple question that we have not been able to answer yet is, "Are the Mavericks a good favorite?" They have never been the underdog for so long that when they suddenly become the team that everyone is picking to win the whole thing before this round began, it put them in a very odd spot. They would now have to be the ruthless killer that shows no mercy. Could they? Well, if Game 5 and Game 6 of the San Antonio series are any indication, no. If last night is any indication, not even close. You cannot let your opponent back up off the mat when you are the ruthless killer, and for now, the Mavericks do not know how to deal with being the favorite.
It seemed obvious early when suddenly the loose balls all landed in the arms of the Suns. Many long rebounds went right to the Suns. Did the Suns want the balls more? Yes. Therefore they got them all. If the Mavericks aren't comfortable being ruthless, then we should all gear up for a Game 7. I still feel good about moving on to the NBA Finals, but since the Mavericks appear very impressed with themselves when they get ahead in a series and let their guard down, we should not be shocked that the Mavs lose a game like last night.
Game Notes:
• Raja Bell is a guy I have genuinely liked. He has worked hard and basically be a self-made man in this league where most players are handed everything. But, c'mon, TNT. Let's not get too carried away about his contribution to mankind. Do we really have to reference Willis Reed every time any player shakes off a nosebleed and plays? He played well last night, but I thought the lovefest was a bit much. Further, if you know he is trying to sell flops everytime down the floor, how do the refs fall for it so often? It almost seems to encourage that behaviour. That last charge call on Stackhouse before Bell left the game for the night was a joke.
• Will Jason Terry please, please, please resemble the player he was in the last series? He shot 44% in that series, including 39% from 3 point range. Through 4 games in this series, he is at 39% from the field, and 23% from behind the arc. I thought the defense in that last series was so awesome and the Suns don't defend, but it sure looks like Terry is not half as impressive as he was in that round. His assists are also way down and so is his overall impact on the game. He needs to get involved or this could get away from the Mavs.
• D'Antoni: "If they (Dallas) shoot 41%, they ain't beating us". Uh, coach, the Mavs shot 41% in Game 3 and won.
• I think the only Mavericks player who was able to do anything on offense was Josh Howard. Not the most impressive night for him, but he aggressive nature was in stark contrast to his teammates. Except maybe Adrian Griffin. Wow.
• By the way, to this issue that Phoenix plays no defense, let's discuss that. It sure looked to me like they were playing some pretty decent defense last night. Running double teams at anyone who got the ball on the baseline, forcing passes that were difficult and forcing the Mavericks into shots that were low percentage constitutes defense to me. The Mavs settled for some pretty poor shots, and that conviction to make sure they get to the rim was lost. It was jump shot city for the Mavs last night, which once again points to this idea that the Mavs got a little too impressed with themselves. It doesn't take long, evidently, to get a big head in this league.
• Leo Barbosa has a weird shot. But, boy, what a player when you can bring him off the bench. He is a good example of a fine bench player that when he starts he gets a bit ineffective if over-exposed with big minutes. If he is going to drain 3's like that, the Suns are going to keep winning.
• I don't know who Pat Burke is, but when he entered the game it took him exactly 4 seconds to complain to the refs that he thought he was fouled. What a shock. A player thinks he was fouled.
• Avery's wife got into a fight? Sometimes you cannot write fiction this good.
• I am still waiting for Keith Van Horn to make any play of substance in any game of the Western Finals. I know he is coming off an injury, but isn't this his 7th game back? At what point should he start resembling a player who is familiar with the NBA?
• I have avoided the Dirk topic for long enough. It does go without saying that he is entitled to a night that is not "all world" somewhere along the way. But, bro, do you need a sign in front of you that says "do not settle for fadeaways" if they are not falling? What happened to New Dirk? What happened to the German realizing that he can score any way he wants? I really think he needs to force the issue into the paint and score and when he doesn't he reverts to the guy who was taken out of a tough series like this. There are nights when you will not shoot well, but you can still score the ball if you take it to the rim.
• Boris Diaw is no Amare, but when he finishes around the rim it is pretty darn impressive. This kid is 23 years old, and points to a pretty nice future in Phoenix if the can keep Nash from old age.
• Well, shake it off. 2 of 3 wins the series, and 2 of 3 are in Dallas. Game 5 is tomorrow, and this series is still in a good spot. But let's not make the mistake again of thinking this series is in the bag before they get to 4 wins. That letdown last night was a reality check of the highest order.