Legends and Myths are everywhere about the last stand at the Alamo. It is difficult to get authors and historians to agree on the specifics. What is not difficult to agree on is that the soldiers were greatly outnumbered and fought courageously to the very end, despite knowing victory did not appear to be in the cards.
Who would have thought there would be a hockey application to all of that. Tonight, at 7pm, welcome to the Alamo. Can the Stars hold off the waves of Mexican soldiers until Saturday? And who would have thought Mexican Soldiers were such great Ice Hockey Players?
Chin Up, Says Tippett
…

The Dallas Stars had maybe their best shift of the season Monday night at American Airlines Center.

Looking for some momentum against the bedeviling Detroit Red Wings, Stars coach Dave Tippett aligned the supergroup of Mike Modano, Mike Ribeiro, Brenden Morrow, Sergei Zubov and Nicklas Grossman, and pitted them against a tired group of Detroit checkers who had just iced the puck.

The move forced Red Wings coach Mike Babcock to burn his only timeout of the game just to give his weary troops a rest.

It was delicious theater.

Sensing the chance to finally make a statement against Detroit, the Stars began a monumental cycle that lasted 1:12 in the offensive zone (most shifts are about 45 seconds) and included Dallas coming out on top of about eight puck battles.

Finally, Modano grabbed a loose puck behind the net and deftly slid a backhand pass through the slot to Grossman crashing the net, and the Stars popped in a goal that tied the score, 1-1.

It was a moment of elation for the Stars and their fans – a realization that the hill the Red Wings had built was not too high to climb, that the seemingly impenetrable veneer of the NHL's best team was not bulletproof, that the Stars could find a new level of play if they would just dig down to the depths of their hockey souls.

"It was an amazing feeling," Modano said.

And it lasted all of 37 seconds – that's how long it took Detroit to regain the lead.


With his goal, Pavel Datsyuk might have ripped the heart out of the Stars at that moment. He certainly proved how tough it is going to be for Dallas to crawl out of its 3-0 hole. Only two teams in 153 have come back from a 3-0 series deficit in NHL history. For the Stars to become the third, they will have to take a lead at some point in the series.

"You've got to act like you want to live. That's what it is," Stars coach Dave Tippett said Tuesday. "If you think this thing is over and you act that way, it's going to be over. Simple as that – don't hang your head, get up, let's go."

The Stars say they have to follow the old philosophy of eating an elephant one bite at a time.

"It's just a process of believing in ourselves and playing hard and playing smart," defenseman Stephane Robidas said. "We have to take it one step at a time, and that's what everyone says, but that's the way it is now."

The problem, of course, is the team on the other side of the ice.

The Stars say they can win four games in a row – they did it five separate times this season.
The problem is Detroit has lost four games in a row only once this season – when half the roster was injured.

On Paper, the Series is not close
…

Being down 3-0 in the Western Conference final isn't even the worst part for the Dallas Stars.

This is: Dallas has yet to lead the Detroit Red Wings for a single second in any game this series. How can the Stars fathom winning four straight games under those circumstances?

They can't. Instead, players came away from practice Tuesday talking about playing for pride in Game 4 on Wednesday night, hoping merely to send the series back to Detroit for Game 5. If they can pull off that one, too, maybe then they can start thinking about pulling off what would be among the greatest comebacks in NHL history.

"We're all honest," forward Brad Richards said. "We know it's a tough hole to climb out of, but we're doing some good things. A break or two, a little more concentration in a few areas and we have a win. We've got to look at it like that. Get a win and you don't know what kind of roll you can get on."

Teammate Mike Modano talked about trying "to make this thing interesting ... get some confidence going, get a little doubt in their mind, maybe, make it difficult."
They certainly need something because Detroit has nothing to doubt right now.
The league's top team in the regular season has been even better in the playoffs.

The Red Wings are 11-2 with nine straight wins, a franchise record for a single post-season. Their next victory will send them to the Stanley Cup final and they're sure to be heavy favourites to win it all for the fourth time in 11 seasons.

But, first, there's that pesky matter of the close-out game.

It's supposed to be the toughest in any playoff series, but Detroit has made it look easy. The Red Wings have ended both series thus far on their first try, ending the opening round with their best defensive performance (their lone shutout) then ending the second round with their best offensive performance (eight goals).

So, no, the Stars aren't likely to catch them looking ahead.

"They're going to have a huge push, we understand that totally," Detroit coach Mike Babcock said. "In saying that, we have to push them as hard as we've pushed them all series, and harder. And we're optimistic. We're capable of doing that."

The Red Wings are capable of doing anything they want right now, which is why the Eastern Conference finalists should be worried.

See, Dallas hasn't been that bad. Detroit simply has been that good.

Pick a stat, any stat, and the Red Wings aren't just winning, they are dominating the fifth-seeded Stars, making it look more and more like they overachieved by getting this far.

-Detroit scored five goals in Game 3. Dallas has four all series. The overall tally is 11-4.

-The Red Wings have taken 86 shots, the Stars 57.

-Both teams have had 15 power-play chances. Detroit has converted four times, Dallas once.

-The Red Wings also have a short-handed goal. Thus, when the Stars have had a man advantage, Detroit has scored as often as Dallas.

-Detroit goaltender Chris Osgood is riding the wave of being 9-0 this post-season. Dallas goalie Marty Turco has seen his overall career record against the Red Wings sink to 2-13-5.

-Detroit has collected 32 penalty minutes to Dallas' 56. The Stars also have had two players fined for dirty play, the Red Wings one.

-Even good health is on Detroit's side. Yes, the Red Wings remain without Johan Franzen, the top goal-scorer this post-season with 12, and will be again for Game 4. But the Stars will again be without top-line forward Jere Lehtinen and veteran forward Stu Barnes. They also haven't gotten back defenceman Philippe Boucher, as hoped, and they saw Modano and captain Brenden Morrow go straight to the dressing room for treatment in Game 3.

Revo either listens or we think alike
…either way, I echo his thoughts…

They have been outscored, outhit and outclassed by the Detroit Red Wings in almost every facet of the game in the Western Conference Finals, which is best illustrated by the fact that the Dallas Stars will be fighting for their very playoff lives tonight, down 0-3 in the best-of-seven series.

They have looked almost nothing like the team that shocked Anaheim and stunned San Jose in the first two rounds of the playoffs.

The Wings have pulled the plug on the Dallas power play and reminded the Stars' young defensemen that there's no place for raw and inexperienced players this deep in the Stanley Cup playoffs.

The Stars have been flustered, confused and frustrated by a much deeper, more talented team.

So here's my suggestion to you when the Stars take the ice tonight at the AAC:
Get on your feet and pay your respects to a Stars team that has played its heart out for you. Bring them out with a standing ovation and, whatever happens in the game, send them out the same way.

Whatever else you may think, they've earned it.

Look around you. Anybody else around here still fighting in the playoffs in mid-May?
Don't think so. In fact, the Stars have given us our longest run in the spring since the Mavs' trip to the NBA Finals two years ago.

By all rights, the Stars shouldn't be here. They weren't supposed to have a chance against the defending Stanley Cup champs in the first round, but it was the Ducks who went home mad.

In the semifinals, the Stars were expected to be easy pickings for the hungry Sharks, just about everyone's pick to win the Cup this year, but it was the Sharks who were disappointed.

Both were hard-fought, tense, six-game series, climaxed by that four-overtime win over San Jose at the AAC.

Now, The Little Team That Could has finally run out of steam. The tank is empty. The Stars are wheezing on fumes.

It's not that the heart isn't there. That's never been a problem with this team.
You could see that illustrated perfectly in Game 3's 5-2 loss Monday night when Brenden Morrow ricocheted awkwardly off the end boards and landed with his left arm bent behind him in ways it's not supposed to bend.

"Broken?" I typed onto my computer at the time, as Morrow slowly skated toward the bench, cradling the arm in front of him. He disappeared down the tunnel, done for the series I was sure, only to reappear on the bench and then back onto the ice 3 minutes later. The miracle of painkillers, no doubt.

It didn't matter that the Stars' chances of overtaking the Wings were zero. Morrow wasn't going to quit on his teammates. And this Stars team hasn't quit on you, the fans.

So I'm asking you, don't quit on the Stars.

What do the Final 4 in the NHL have in common?
….

At first glance, it may look tough to identify a common thread running through the Penguins, Flyers, Red Wings and Stars.

The Pens are a young, skilled team built for offense. The Stars are a versatile, veteran squad, equal parts intensity and discipline. Opportunism is the key word defining the Flyers, while the Red Wings prefer domination of both puck possession and shots.

What is the one thing these four teams have in common? Development.

The Penguins' key players are virtually all homegrown. Sure, finishing in the league cellar for several years allowed them to draft some pretty hot prospects. But let's not forget, can't-miss prospects sometimes do (See: Daigle, Alexandre).

Besides, without diminishing the brilliance of Sidney Crosby, the playoffs have been as much about the Fleury-and-Malkin show. Marc-Andre Fleury, who had his struggles well into his pro career, is second in the playoffs in save percentage. And Evgeni Malkin, who looked great in his first game in the NHL, is looking more and more like his magnificent owner everyday.

I recall how a youngster named Jaromir Jagr – once followed a similar trajectory under Big Mario's observance, as well.

As for the Flyers, look no further than Martin Biron, who was brought on a year ago as a project from a Sabres team that had apparently given up on him. Young players such as Mike Richards, Jeff Carter, R.J. Umberger, Randy Jones and Braydon Coburn have developed dramatically in one year's time.

They are now the core of a resurgent Flyers team that is solid and tough to beat. And Danny Briere is one of those players countless people would have said is too small to survive in the NHL.

During my playing career, I skated with Briere in the summer. His commitment to developing himself as a player was total; it is no surprise to me he has not only survived but become a star. And a bigger and bigger star each year.

The Stars are another team big on development. As young prospects, my brother Steve and I attended a development camp in Finland for Dallas prospects. One of those prospects was Brenden Morrow, the Stars' most critical skater now.

Much of the supporting cast, as well as goaltending standout Marty Turco, are players who were not drafted high, but who have developed into important contributors.

Mike Ribeiro's defensive play wasn't good enough to satisfy the Habs, but he has shored it up enough to become a key member of this Dallas squad.

Last, but not least, are the Red Wings. Finishing first every year does not make for great draft position. And despite being in Motown, the Wings are not "wheelers and dealers."

They just consistently develop their prospects into not just regulars, but world-class players. Pavel Datsyuk was picked in the sixth round, 171st overall; Henrik Zetterberg in the seventh round, 210th overall. Would you have guessed perennial Norris Trophy candidate Nick Lidstrom was no lottery pick, but a third round draft choice? And then there's players such as Chris Osgood and Mikael Samuelsson, who had fallen out of the NHL, but in the Red Wings system have become exceptional performers.

Rangers are on a quality run of form
…

The first three weeks of the season seem like a long time ago now, don't they?
That Rangers team sure doesn't resemble the one that has won six consecutive series after beating Seattle, 5-2, in a light drizzle Tuesday night. It's the first time since 1999 – the Rangers' last playoff team – that they've won that many series in a row.

Texas is 20-21 and 3 ½ games behind first-place Oakland. It took the Rangers until June 1 last season to win 20 games.

The club that bobbled balls, missed cut-off men, made errant throws and beat itself to start the season has morphed into one that is putting together an impressive highlight reel of defensive plays, adding four more to the collection Tuesday.
And it isn't just the defense. These Rangers are manufacturing runs, running the bases smartly, delivering key hits, and, most important, pitching well. Consequently, they are winning games.

Texas is 13-5 since returning home from Detroit on April 24 after losing seven straight road games. The team faced questions about manager Ron Washington's job status and had meetings to figure out what changes were needed to jumpstart a club that was losing, sometimes in embarrassing fashion.

None of that is an issue now.

"We're playing the way we're capable of playing," second baseman Ian Kinsler said. "Everyone in this clubhouse knew we had a good club. It seems like everyone on the outside doubts us. We're a good club, and I think we're going to be around the whole season."

Carlos Silva and Scott Feldman today at 1 for the Rangers to get to .500!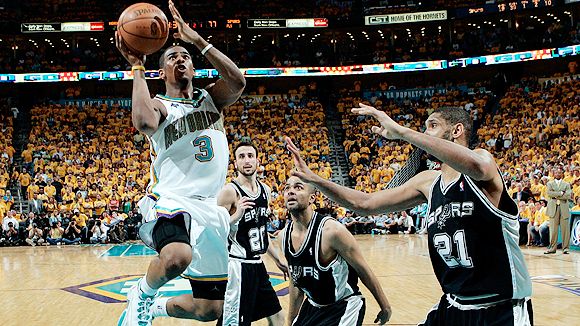 Spurs no better in New Orleans
…

Anyone else sense a theme here?

For the third straight time, the San Antonio Spurs took a small lead into halftime and looked poised to get the one road win they needed to take this Western Conference semifinal series.

And for the third straight time, they laid a giant dinosaur egg in the third quarter, and the Hornets ended up rolling to an easy win. This time it was an 11-point stanza that did them in, and the Hornets won 101-79 to take a 3-2 series lead and put the defending champs on the brink of elimination. New Orleans can make its first-ever trip to the conference finals with a win in Game 6 in San Antonio on Thursday.

"It's a fact, but I don't know [why]," said Spurs coach Gregg Popovich. "I know tonight their defense was the reason why we had so many problems in the third quarter. They deserve credit for that."

For the series, the third quarters have been an ongoing theme regardless of the locale. In two games in San Antonio the Spurs held a 59-41 advantage, helping them even the series.

But it's the three games in the Big Easy where things have really been one-sided. In the first, second and fourth quarters in the three games in New Orleans, the score is relatively even, with New Orleans holding just a 12-point advantage.

And in the third quarters? Would you believe Hornets 93, Spurs 46? No, that's not a misprint -- New Orleans has doubled up the defending champs after the break. It's as though a different Spurs team comes out in the third quarter, one that can't get out of its own way offensively but has no problem getting out of Chris Paul's way at the other end.

"What upsets me, and I think the whole team, is that we made the same mistake again," said Manu Ginobili. "Third quarter we were not ready, we stopped moving the ball, stopped attacking. Of course we give them credit, they were good. But there's no way we can do that again."

The Spurs actually got a wide-open dunk by Tim Duncan to start the quarter before going into a serious funk, netting only two points in the next seven minutes. For the period, they were 5-for-18 from the floor with four turnovers.

Of course, the Spurs weren't out there by themselves. One reason the Spurs keep hitting a wall in the third is because that's when Paul goes into overdrive. This is the eighth time I've seen him in person this season, and all but one have had the same theme: Paul spends the first half getting everybody else involved and then looks for his own offense after the break.

"I definitely try to get my teammates going early," Paul said. "But at the same time, I try to take what the defense gives me. In the third quarter we got stops, and we're at our best in our transition."

That was the theme again Tuesday. Paul had only one basket in the first half, and even that came on a generous continuation call when it appeared he took at least three steps before releasing the shot. Then, in the second half, he pushed the pace and turned up the scoring, and the "woo!"-fest got rolling once again. Paul outscored the Spurs by himself in the third quarter, 12-11.

Additionally, New Orleans clamped down on defense and made some adjustments after one-sided defeats in Games 3 and 4 had tied the series 2-2. Mostly, they used a lot more single coverage on Duncan, with both Tyson Chandler and David West registering spectacular blocks in one-on-one situations while holding the Spurs' big man to 5-of-18 shooting.

"I just felt we had to mix it up a little bit more," said Hornets coach Byron Scott. "We still came and doubled him at times, [but] there were times, especially in the third quarter, where Tyson only had two fouls and we felt we could play him one-on-one a little bit more, and I thought Tyson did a great job."

The Hornets also blitzed the screen-and-roll much harder than in past games, helping limit Tony Parker to 18 points after he torched them in the two games in San Antonio.

And of course, West had a coming-of-age game, dominating at both ends with 38 points, 14 rebounds, five assists and five blocks. But both he and Chandler will need to rest up and get treatment for injuries that could lay them low in Game 6.
Chandler sprained his toe late in the contest after getting tangled up with Ime Udoka and sat out the final 8:47, while West had trouble all game with a stiff back. The good news for the Hornets is that they'll get three days off to recuperate if a Game 7 is needed.

As a result of West's inspired effort and the Spurs' uninspired third quarter, this was the fifth straight one-sided win by the home team in this series. So instead of late-game drama, we had to settle for the early-game fireworks between Popovich and Joey Crawford.

Popovich was furious over a first-quarter delay of game violation -- yes, really -- that he felt was called in error, and he let Crawford know about it in no uncertain terms. Crawford, as is his reputation, didn't back down, and replays seemed to show him poking a finger in Popovich's chest.

The scene ended with Pop getting a technical and several players being needed to restrain him from picking up a second. Crawford also drew a lengthy, Sheed-like glare from Duncan after a late loose-ball call right before the Spurs sent in the scrubs; it's probably fortunate for everyone that Crawford had his back turned.
Nonetheless, the Spurs' issues with this particular referee once again seem very much alive, and it seemed to spread to the other players -- San Antonio invested a lot of time lobbying for calls.

"I think we got worried about the refs way too much," said Ginobili. "We've just got to let Pop do that. That's his job."

Not that the Spurs need to worry about seeing Crawford again if they play like they did in the second half, as the upstart Hornets have two shots at knocking the defending champs out of the playoffs.

After beating the Spurs three times by a combined 59 points in New Orleans, delivering the knockout blow is the final test before their graduation into the league's elite.

Mavericks Press Conference Today
…

Rick Carlisle will be formally introduced today as the Mavericks coach, and his first order of business will be to build his staff , as well as build relationships with the players.

The Mavericks scheduled a news conference for 3 p.m. today.

Carlisle, 48, said Tuesday that hiring his staff "may not happen right away" but that he expects to talk to most of the assistants who were on Avery Johnson's staff.
"Setting the staff is always a priority," said Carlisle, who signed a four-year contract on Saturday. "But the next thing, equal to that, is getting in touch with the players and building rapport with them."

That process has already begun. Carlisle has met briefly with Dirk Nowitzki and has dinner planned with Josh Howard later this week. He hopes to meet face-to-face with all the players as soon as possible. The Mavericks have eight players under contract for next season, but probably will keep at least some of their free agents.

Carlisle, who coached two years at Detroit and four at Indiana, will be charged with balancing uptempo and half-court, offense and defense, more than he was able to do with the Pacers and Pistons, who were mostly post-up, half-court defensive-minded teams.


Mike Fisher versus Charles Haley
…very solid…
I have really slacked off on my EPL coverage. Manchester United held off Chelsea at the final wire to win their 10th Premiership Title in 16 years. Crazy.
Meanwhile, the quality of football (soccer) that I think makes for amazing theater is the relegation battles every year. Imagine the excitement of the Rangers in September if they were playing every game to survive and keep their spot in Major League Baseball for the next season. Imagine if they were relegated down to AAA baseball.
This is what the English Soccer fan must endure. The Bottom 3 of the 20 teams go down a level and are replaced every spring. One of the teams that seemed destined to go down a level was Fulham of London. This team is made up of several American players, so fans of American Soccer always pull for Fulham to do well. They had no chance of surviving 6 weeks ago, but they have pulled off a miracle and have stayed up.
Fulham Survive
…


Fulham looked powerless to save themselves six matches ago, but with impeccable timing they have overcome their notorious impotence on their travels, winning three away matches in a row after failing to take three points on an opposing team's ground in the previous 19 months. Danny Murphy's goal after 76 minutes at Fratton Park yesterday earned a fourth victory in five matches.

Al Fayed will see the outcome as vindication of his decision to replace Lawrie Sanchez as manager in December with Roy Hodgson, whose faith in a more sophisticated style than that espoused by Sanchez has been rewarded. "We left it late and gave ourselves a mountain to climb, but we had quite a long spell when we have played well," Hodgson said. "It's been a really good four months. I can take a lot of satisfaction from the job that everybody has done, but at the same time I have a lot of sympathy for the two managers who have been relegated. Alex McLeish and Steve Coppell are friends of mine, both excellent managers, and having had a long time to contemplate that it might be us, I know exactly how they are feeling."

Fulham's great escape
A Stroll down memory lane: Edmonton – Dallas, Game 7, 1997
The Famous Cats on a Treadmill