One of the truly subtle changes to the Mavericks under Avery Johnson is the inclusion of rookie
Pavel Podkolzin
in the line-up. The 7'5 center played his first minute on Saturday night against Charlotte, but then last night, in the win over the New Orleans Hornets it all happened: He scored his first point and grabbed his first rebound. No longer will Pavel have to admit to having straight zeroes on his all-time record. His career is on its way. All thanks to Avery. The Hall of Fame awaits.
It was sure nice to blow someone out. The Hornets had no chance, and honestly all look like they are miserable on the court. As we ponder the plight of the Mavericks, it is easy for us to forget that there are about 15 franchises with little to no hope whatsoever. It could be a lot worse...
Links:
Finley explains his silence
…
Art Garcia attempts to find out if Cuban was going to fire Nelson anyway
…
Canseco in Denton and on the Ticket
…
Travis Henry demands trade
…
Peter King MMQB
…
Spurs pounded by Knicks in first game without Duncan
…
And he could miss rest of regular season
…
Nascar Loving P1 Lew's blog
…
Must See Video!
Gary Cogill and Boogey Bob
…You will be amazed at this video. Cogill steals the show with his effeminate attempts at "dancing"…
Fort Worth Napoleon Dynamite clone
…
If you watch Deadwood, you might find Calamity Jane (above, left) repulsive. But, she seems to be a fairly normal girl in real life (duh).
Robin Weigert.com
…
Do Black Coaches have a shorter leash than whites in NBA?
…
Mariotti is all over Knight
…
Cardinals announcer scrambles to save face
…
Random Football Card of the Week: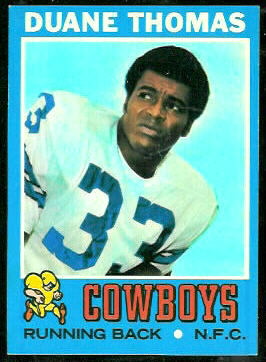 Dallas Cowboys Rookie RB Duane Thomas 1971.
Enjoy.
Yesterday was the biggest traffic day yet on Bob's Blog. Thanks for your visits, and thanks for spreading the word!
And make sure you read the Nelson essay I posted last night if you so desire (below)…