A quick look at today's stuff:
After scolding everyone for saying he was turning pro, Adrian Peterson waited until the final day and then admitted that yes,
I am turning Pro
…

Oklahoma running back Adrian Peterson will skip his senior season and enter the NFL draft.

"In the end, I think I just realized that this is a business decision and that it is time for me to take that next step," Peterson said in a statement released by the university Monday, the deadline for underclassmen to declare themselves eligible for the draft.

"It wasn't easy. I haven't been sleeping much. I just put it all in God's hands."

Peyton and his defense in odd spots
…

he stood in the visitors' locker room at Reliant Stadium in Houston, an hour or so after Indianapolis had been beaten by the Texans on Christmas Eve.

"It is what it is and we are what we are," he said. "It's not like basketball where guys can play both sides of the ball. You can only control when you're out there."
Outside, the bus was waiting. Inside, Manning threw his defense under it.

Much has happened since then, most of it good for the Colts. In two postseason games, Manning has played down to his customary level. The quarterback that is so flawless in the regular season suddenly devolves into Ryan Leaf in the playoffs.
Yet, the Colts beleaguered defense, so pitiful and porous most of the season, has grown fangs.

Surprise! Two weekends in, Indianapolis is still alive in the playoffs despite Manning, not because of him. While he is throwing interceptions, his defense is creating turnovers of its own.

Nobody will say it, of course, but criticism by an All-Pro quarterback and All-World commercial pitchman seems to have served as a rallying point for a defense that couldn't stop anybody during the regular season.

In two playoff games, they have held opponents to an average of 185 yards. That's about 150 fewer yards than during the regular season.

And against Kansas City and Baltimore, two teams that live by the run, Indianapolis yielded an average of just 63.5 rushing yards per game. In the wild-card round, Indianapolis held Larry Johnson, the NFL's second-leading rusher, to 32 yards on 13 carries.

Incredibly, the Colts defense has carried Manning to the AFC Championship Game.
Maybe now he'll take over.

It's all about winning, of course, but you cannot ignore the predictable postseason struggles by Manning. Against Baltimore, he finished with a passer rating of 39.6, the lowest of his NFL career in a victory and fifth-lowest overall.

More numbers: In two playoff games, Manning has thrown five interceptions and just one touchdown pass. It could've been worse.

Ravens linebacker Ray Lewis tipped two other balls before teammates could make interceptions.

Football Fans:
Look at this GOLD
…

As part of special programming leading up to this year's Super Bowl, NFL Network will re-air 10 of the best Super Bowls and select halftime shows for the first time.

These are the actual network broadcasts, not the "glorified" NFL Films highlights.

• Thursday, Jan. 18, 7 p.m.: Super Bowl XXXVI, New England Patriots vs. St. Louis Rams; Announcers: Pat Summerall and John Madden (FOX)

• Monday, Jan. 22, 7:30 p.m.: Super Bowl XIII, Pittsburgh Steelers vs. Dallas Cowboys; Announcers: Curt Gowdy, John Brodie and Merlin Olsen (NBC)

• Thursday, Jan. 25, 7 p.m.: Super Bowl XXXIV, St. Louis Rams vs. Tennessee Titans; Announcers: Al Michaels and Boomer Esiason (ABC)

• Thursday, Feb. 1, 7:30 p.m.: Super Bowl XXV, New York Giants vs. Buffalo Bills; Announcers: Al Michaels, Frank Gifford and Dan Dierdorf (ABC)

• Saturday, Feb. 3, 10 a.m.: Super Bowl XXXVIII, New England Patriots vs. Carolina Panthers; Announcers: Greg Gumbel and Phil Simms (CBS)

• Saturday, Feb. 3, 3 p.m.: Super Bowl XXIII, San Francisco 49ers vs. Cincinnati Bengals; Announcers: Dick Enberg and Merlin Olsen (NBC)

• Saturday, Feb. 3, 7 p.m.: Super Bowl III, New York Jets vs. Baltimore Colts; Announcers: Curt Gowdy, Al DeRogatis and Kyle Rote (NBC)

Sosa here????
….Wow. Shocking.

The Rangers' search for another right-handed bat has led them to Sammy Sosa, who worked-out for the Rangers and had dinner with general manager Jon Daniels on Monday.
Sosa, who was signed as a free agent by the Rangers in 1985 and subsequently traded, was out of baseball in 2006. At 38, there is a question of how much his skills have declined. His last full season was in 2005 when he batted .221 and had 14 home runs in 102 games for the Orioles.

One source said the Rangers would offer Sosa a minor league contract loaded with incentives with an invitation to spring training.

Sosa ranks fifth all-time in home runs with 588, trailing only Hank Aaron, Barry Bonds, Babe Ruth and Willie Mays. He had three seasons of more than 60 home runs with a high of 66 in 1998.

Sosa appeared before the House Government Reform Committee in March 2005 to testify about the use of steroids in baseball.

Sosa said in an opening statement that he had never used "illegal performance-enhancing drugs," and that he had never "injected myself or had anyone inject me with anything," and had not "broken the laws of the United States or the laws of the Dominican Republic," according to The Washington Post.

Sosa has never tested positive for any illegal substance.

Stars Win, Stars Win!
…and lose 2 more to injuries!

It was a tired and relieved group of Stars in their dressing room early Monday evening after a 3-1 win.

Music was blaring, children of the players were running around handing out high-fives, and even usually stoic coach Dave Tippett couldn't help but smile.
That's what happens when the team plays a complete game and ends three days of hard
practice with three periods of hard-nosed play. The Stars also ended a three-game losing streak. Dallas is 6-0-0 against the Kings this season, outscoring Los Angeles 23-11.

"This past week has been tough, and we knew we had to play with desperation," said forward Stu Barnes, who scored the game's first goal. "We worked on conditioning and puck battles in practice, and that showed out on the ice. Everybody contributed out there, and that's what it takes for us to win."

The Stars can't even seem to get through warmups healthy these days. An already long list of injuries increased before the game when center Jeff Halpern was scratched with a lower-body injury sustained in the skate-around. One period later, Philippe Boucher left the ice with an upper-body injury and didn't return. Both are listed as day-to-day, and Tippett said Boucher's injury should not affect him for the All-Star Game next week.

Look who is coming to dinner!
…Billy!

Not that Bill Guerin needed confirmation his reputation had been restored, but the veteran forward said it felt gratifying to be selected Saturday to the NHL All-Star Game.

"I'm thrilled, I really am," Guerin said after the Blues' 6-5 win over Los Angeles. "It's real exciting to be going, especially after my season last year."

In 2005-06, Guerin scored 13 goals with the Dallas Stars, 21 fewer than the season before, raising questions about his future. The Stars bought out the final year of his contract and let him go as a free agent.

A former Olympian, Guerin, 36, kept his head up, signed a one-year, $2 million contract with the Blues, and after 43 games, he leads the club with 18 goals and 31 points. His reward will be playing in his fourth All-Star Game, which, interestingly enough, will be in Dallas on Jan. 24.


"That was my goal this year to get my game back on track and come here and play some solid hockey," Guerin said. "It'll be exciting going back to Dallas ... my wife and kids, we'll have a great time."

Blues President John Davidson is thrilled for Guerin.

"Listen, he's been a good ambassador for this game for a long time," Davidson said. "When you're an older player and have been around the block a lot, to have that happen, it's a good thing. ... He's been good for our game. He's earned it, No. 1, and to have the game in Dallas, I guess, is a bonus."

FC Dallas now has a blog
…and you can see there where they eat for dinner!
Fun with the Earnhardts
…
Real Madrid now hates David Beckham
…

Real Madrid's president, Ramón Calderón, last night launched a bitter attack on David Beckham as the Englishman's final six months in Spain look set to descend into acrimony and recrimination. Beckham would like to negotiate an early departure from Madrid but that may prove difficult after the MLS commissioner Don Garber admitted LA Galaxy will struggle to find the money necessary to buy him out of his current contract.If he is forced to stay, he will have little choice but to sit and suffer as a Bernabéu outcast - and, even if he succeeds in joining the LA Galaxy in time for the start of the MLS season in April, his departure will be wrought with bitterness. Not only has the coach Fabio Capello insisted Beckham will never play for the club again, but Calderón has now accused him of leading the club on.

"Beckham's representatives have toyed with us for the last two months. Whenever his representatives met Predrag Mijatovic they never informed him or the club that he had agreed a contract with another club," Calderón said. "They never told us that Beckham had made his decision, that he had bought a house in Los Angeles. I don't feel that it's right and I certainly don't like it.

"I can understand Capello's decision to leave Beckham out of the first team. The player has his mind somewhere else. It's sad because considering Beckham's time at Madrid, he deserved a better ending at the club than this one. It was not right to see him announcing his departure on a video conference to the United States."

An early departure would be ideal for both Beckham and Madrid but Beckham's camp yesterday insisted the midfielder would continue showing up for training while they await an explanation from the club. Major League Soccer commissioner Don Garber insisted the American league would do "everything they can" to secure an early departure but conceded that LA Galaxy probably cannot afford to buy out the remainder of his contract.

Garber claimed Beckham's lawyers are working to arrange an early release from Madrid but the midfielder's camp insists that they are content to await developments. With the MLS season not starting until April the former England captain is in no hurry to accept a quick resolution on the wrong terms.

Beckham's camp believes Madrid are doing themselves more harm than good with their aggressive stance. When Madrid bought Beckham in 2003 they wanted to use him to project their image round the world; now his representatives believe the image Madrid are projecting is one of a petty club wilfully dragging its own name through the mud. While negotiations would appear to be inevitable to resolve a situation that benefits nobody, the bitterness on both sides makes reaching a resolution complicated. Madrid feel conned by Beckham, while Beckham remains furious that Fabio Capello sought to make such a public scapegoat of him.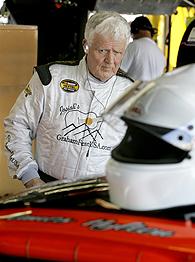 Old Timer wants in the 500
…

Long after the big-budget NASCAR teams pulled into the Daytona garage, a bright yellow hauler -- sans the logos and pricey paint scheme -- navigated its way through the gate.

Perched behind the wheel of the big rig was 72-year-old James Hylton, whose decades-old image donned the side of the truck. He steered his way past Jeff Gordon, Matt Kenseth and the rest of today's NASCAR stars to his assigned-spot along the fence then went to work unloading his car.

Yes, his car.

The 1966 Rookie of the Year is attempting a comeback of epic proportions, bringing a car to preseason testing Monday as he chases his long-shot dream of qualifying for next month's Daytona 500.

"I am doing this for seniors to show that at 70 years old, you don't have to go hunting for an old-folks home. You can go race for a little bit," Hylton said. "A lot of the old drivers want to come out here and hang out in the pits and see if I can do it."

The odds are stacked against Hylton, who made the first of his 15 Daytona 500 starts in 1966. But he's not doing this because he foolishly thinks he can win the Super Bowl of NASCAR.

Rather, Hylton just wants a spot in the record books as the oldest driver to ever make a Cup race. He already holds the mark in both the Busch and ARCA Series, but is now focused on making it a trifecta. The Cup record of age 65 is shared by Hershel McGriff (Sonoma, 1993) and Jim Fitzgerald (Riverside, 1987).

"More power to him," said David Stremme, one of 11 current Cup drivers who wasn't born when Hylton notched his only two victories. "You've got to believe that if he makes the race, he might earn more money finishing last than he did in an entire season of his early days.

"That kind of money could carry a guy through an entire year and make it worth giving it a shot."

Indeed, Carl Edwards won $269,882 last season for finishing 43rd in the biggest race of the year. Hylton, meanwhile, estimates the most money he ever made in a single season was "right around $150,000."

"I won Talladega [in 1972] and it paid $24,000," Hylton said. "Now they pay you more than that just to show up."

Paula Abdul
Saints fans