It is Monday in the Sports Community. Lots to discuss. By the way, I am out of pocket this weekend for my periodic trip to go watch soccer in person across the pond. So, we may have the return of Ty Walker (and his seedy picture choices) or we may have no blog after Wednesday until next Tuesday. I will keep you updated.
Our links today:
Michael Young about to get PAID
…

Contract negotiations between the Rangers and shortstop Michael Young continued Sunday, with the club hoping to reach an agreement this week on an extension that would keep Young through the 2013 season.

A person with knowledge of the negotiations said no deal has been struck, but the Rangers' offer is in the "ballpark" of a five-year, $75 million extension.

Young's agent, Dan Lozano of the Beverly Hills Sports Council, said the parties are still discussing details.

"We have two or three outstanding issues that we're trying to work through," Lozano said. "Hopefully, we can and if we can't, we still have next off-season."

Owner Tom Hicks said Saturday that the timetable for getting a deal done was a "week
or two," and Young said upon arriving in camp that he does not want contract talks to be a distraction. Spring training games begin Friday.

Hicks met with Young on Saturday at the Rangers' spring training facility in Surprise; Hicks said they discussed Young's potential role as the future "face of the franchise," but did not talk contract specifics.

Hicks is scheduled to return to Surprise early Friday for the Rangers' first weekend of spring training games.

Young will make about $3.5 million this season, and the club has an option for 2008 worth $4 million to $5 million. Young hit .314 last season with 14 home runs and 103 RBI while playing in all 162 games; he is a career .300 hitter in six major-league seasons with Texas.

Nelson Cruz – RF
…

Now Cruz would like a memorable Spring Training and nail down the Rangers' right-field job. It is his to lose after being acquired from the Milwaukee Brewers last July and hitting .223 with six home runs and 22 RBIs in 130 at-bats.

"This spring means a lot to me, to come here and get a chance to play every day in the big leagues," Cruz said. "This is what you hope to do. I just need to play my game and play hard."

Cruz can run, chase down balls in the outfield and has an above average throwing arm. At the plate, Cruz has what manager Ron Washington calls "serious projectable power."

Cruz mainly needs to show he can hit right-handed pitching and lay off the breaking balls that give him trouble.

"All Cruz needs to do is be himself," Washington said. "He doesn't have to beat out anybody. He just needs to keep improving. Other than Kenny Lofton, he's got the most natural physical ability among our outfielders."

Sammy Sosa will play some outfield this spring, but the Rangers are still looking at him mainly as a designated hitter. Washington just doesn't want Sosa to focus solely on his hitting.

Unintentional Comedy Alert:
Our good buddy Evan Grant on camera
…Get em, Evan.
Adrian Peterson steals the combine
…

Oklahoma running back Adrian Peterson lit up the Indianapolis turf on Sunday with a blazing 40-yard dash time in the 4.3s. It turns out Peterson ran with a heavy heart that did not seem to slow him down a bit.

FOXSports.com has learned that Peterson was told in the wee hours Sunday morning that his half-brother was gunned down and killed in a Texas homicide. Sources say he was shot multiple times. The sources also said Peterson was very close to his half-brother and took the news extremely hard. Details are still sketchy and when contacted officials at the Houston Police Department did not have any information available.

Despite such heart-breaking news, Peterson pulled his emotions together to have an impressive workout at the NFL's scouting combine. Not only did he run the 40s (4.38 in his first run) but Peterson participated in all the running back drills.

Although his head was probably elsewhere, the former Heisman hopeful had what scouts deemed a terrific workout, including a 38.5-inch vertical and 10-foot, 7-inch broad jump. Peterson spent much of the time before and after his workout on the phone with grieving family members and didn't get much sleep Sunday morning.

It's even more impressive when considering many if not the majority of top-5 projected picks opted out of running and/or working out of the annual Indy affair In years, preferring to save their showing for personal workout days. Not only did Peterson decide to pull the opposite of most of prospects, he did so with a major distraction yet still blew the door off his workout.

Cowboys name Brian Stewart as the guy who watches Wade Phillips design the defense
…

The Cowboys are expected to name Brian Stewart as their new defensive coordinator, multiple sources said Sunday night. An announcement could be made as soon as today
Stewart, who was unavailable for comment, replaces Mike Zimmer, who left to become the defensive coordinator for the Atlanta Falcons.

Stewart is close to new Cowboys coach Wade Phillips and is familiar with Phillips' aggressive 3-4 defense.

Stewart beat out Todd Bowles, who will remain as the Cowboys secondary coach.
Stewart and Bowles spoke Sunday night about the Cowboys' defensive personnel.
Stewart comes to Dallas from San Diego where he was the secondary coach. From the moment Phillips got to Dallas, he made two attempts to wrestle Stewart away from the Chargers.

Jared Allen – Great player – Not so great off the field
…

Kansas City Chiefs defensive end Jared Allen has yet to be offered a long-term contract and has requested to be traded, according to a published report.

Allen told the Kansas City Star on Saturday that he wanted to finish his career with the Chiefs, but the club hasn't offered the restricted free agent a contract.

"I feel shocked and hurt." Allen told the Star. "Requesting a trade was probably the toughest thing I've had to do. It's nothing personal against the town of Kansas City and the fans. It's been great. [But] it doesn't look like my future is going to be there, and I have to accept that. That's why this is so hard. All the hard work I've put in, the blood, sweat and tears … I wanted to finish my career there. I was led to believe I was going to."

The Chiefs turned down Allen's request for a trade and president/general manager Carl Peterson said the club plans to tender Allen on Thursday, according to the report. Thursday is the deadline for teams to submit qualifying offers to restricted free agents.

Allen has 27½ sacks in his three NFL season and led the league with six fumble recoveries in 2006.

Allen's agent, Ken Harris, told the Star that the Chiefs plan to high tender Allen. Kansas City would receive a first and third round draft choice if another team signed him to an offer sheet. If that happens, Allen, would earn $2.35 million as a high tender in 2007 according to the Star.

One open issue that may be hindering Allen's request is that he just served jail time for his second DUI arrest and the NFL has not yet decided on a possible suspension heading into the 2007 season.

Bill Simmons looks at the Texas teams after the deadline
…

HOUSTON: A-minus
Carry-over grade from the superb Shane Battier deal. The Rockets couldn't swing a deadline trade because they didn't have anything to trade; even their plan to land Chucky Atkins by sending old footage of Juwan Howard from the '96 season to Jerry West and pretend it was a 2007 tape didn't work. Too bad. They were one more quality guard away from being legitimately interesting in May and June. And while we're here, nobody is allowed to mention another "Coach of the Year" candidate in 2007. The award goes to Jeff Van Gundy. Done and done. Let's agree not to bring this up again.

SAN ANTONIO: (INC)
If the Spurs honestly believe this particular roster of guys can beat Phoenix or Dallas this spring, they're crazy. On the other hand, I'm not sure what they could have done. They need another big man to help out Tim Duncan defensively (he's slipping noticeably on that end), as well as a big-time perimeter stopper (Manu Ginobili's slipping and Bruce Bowen already slipped) ... but they had no trading chips other than their No. 1 pick, Luis Scola's rights and a couple of smaller expiring contracts. (Note: I spent 25 solid minutes trying to figure out a way they could have landed Joel Przybilla or Gerald Wallace for a reasonable price and couldn't make it work.) So what can you do? They're getting old and there's no real way to stop it.

PHOENIX & DALLAS: A-minus
The Suns could have used Atlanta's No. 1 and Kurt Thomas' expiring deal to land a blue-chipper like Rashard Lewis or Mike Miller. The Mavs could have used the expiring Austin Croshere/Jerry Stackhouse contracts and maybe even Devin Harris to land a max contract guy like Jason Kidd. But you know what? Dallas is 45-5 in their past 50 games and the Suns have the highest ceiling of any team in 20 years. I can't kill them for not messing things up. It would have been like a jockey going to the whip down the stretch with a 20-length lead.

Phoenix has the highest ceiling of any team in the last 20 years….Hmmm. Let's just ignore the fact that he is so in love with them and that it seems absurd to label them higher than Jordan's Bulls based strictly on finishing 2nd in the West in 2007. Let's focus more on his timing. 20 years? Seems arbitrary, right? Oh wait. 20 years back takes us to the Celtics in their prime. Surely, as great as they are, they are no match for Sports Guy's Celts.
Did you know he likes Boston?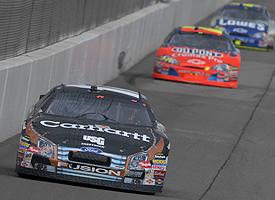 My Dad is happy today – Matt Kenseth wins
…Badger, Badger, Badger…

Matt Kenseth won the Auto Club 500 for the second consecutive year at the California Speedway. This time, he did it without his crew chief.

Robbie Reiser is serving the second of his four-race penalty for a violation in
Daytona qualifying. Kenseth isn't known as an emotional guy, but he was a little teary-eyed in Victory Lane.

"That was special one," Kenseth said. "This team was built by Robbie Reiser.
"It's cool to do this two years in a row and get some of our [50] points back from the Daytona penalty."

Kenseth knows he was lucky in this one. Another one of NASCAR's mysterious debris cautions and a late red flag were major factors in Kenseth winning.

With eight laps to go, Kevin Harvick was second and closing fast. Everyone watching had to wonder if Harvick was headed for another dramatic last-lap pass for the win, just as he did a week ago in the Daytona 500.

Kenseth was wondering the same thing while looking in the rear-view mirror of the No. 17 Ford.

"I was really worried," Kenseth said. "The 29 [Harvick] was running me down and I think he was going to pass me."

Harvick never got the chance. A nasty crash by David Reutimann brought the race to a halt with seven laps left. When it restarted under caution, Harvick realized he had a flat left-front tire.

Harvick took his bad luck in stride: "We consider this one of our two worst race tracks," he said. "So to run down the leader and have a chance to win is what it's all about."

---
Kenseth's victory was the fifth at California for team owner Jack Roush, but the first under the new name of Roush Fenway Racing. Roush announced at Daytona that he sold 50 percent of his operation to Boston Red Sox owner John Henry.

Mark Martin, the man who was the co-owner of Kenseth's car, now leads the points standings. Kenseth's former teammate backed up his runner-up finish at Daytona with a fifth-place effort Sunday in the No. 01 Chevy.

But Martin says he's only running a partial schedule. Right.

That's about as believable now as California Speedway officials claiming 87,000 were in the stands Sunday. Sure it's Academy Awards night, but it's baffling why the second-largest market in the country can't sell all 92,000 seats for a Cup race.
Maybe the Hollywood crowd needed a few soap-opera scandals like Daytona offered. But the weekend was free and clear of any debauchery.

Eric Duhatschek looks at the NHL Trade Deadline
…
Amazing Race Recap from Sunday
…
FLASH:
Shield News
…

A long wait for fans of "The Shield" will come to an end this spring.

FX has set a premiere date for the show's sixth season: Tuesday, April 3, a week after new drama "Dirt" ends its season. The premiere will come just over a year after "The Shield's" fifth-season finale; that's the longest gap between seasons the show has had.

The long dry spell comes after a season five finale that saw Lem (Kenneth Johnson) murdered at the hands of one of his strike team partners, Shane (Walton Goggins), who mistakenly believed Lem had given up his crew to Internal Affairs. "Shield" creator Shawn Ryan says the bulk of season six, which will run for 10 weeks, will focus on Vic's (Michael Chiklis) search for Lem's killer, unaware that he's standing right beside him.

Recent Golden Globe winner Forest Whitaker will reprise his role as Internal Affairs investigator John Kavanaugh in season six, though Ryan declined to reveal how many episodes he'll be around.

The show is also gearing up for production on its seventh and final season. Those 13 episodes are scheduled to begin shooting in late spring, with a projected airdate of early 2008.

A website for Dead Baseball players
…
Brilliant Soccer site – 101 Great Goals
…
Chelsea wins Carling Cup; Terry Kicked in face – HARD
…

To Chelsea the trophy, to Arsenal the future. That division of spoils might have seen the victors celebrating and the young losers still feeling satisfied with themselves after a Carling Cup final that entertained and excited for 90 minutes. The stoppage-time fracas, however, sullied the match. Arsenal are left to prepare a response to likely FA charges, but in private they must also ask hard questions of themselves.

Chelsea were no paragons in this affair. The substitute Mikel John Obi tugged on Kolo Touré's jersey and, eve n though exasperated, the priority of Touré and his team, at 2-1 down, ought to have been restarting play. As Arsenal captain, the centre-half had a responsibility to bear that in mind, but could not suppress his rage.

He and Mikel were dismissed by the referee, Howard Webb, for their part in the ensuing melee, as was Emmanuel Adebayor. Though the striker may yet claim mistaken identity in the incident, in which Wayne Bridge sprawled on the turf, his refusal to leave the pitch until the physio Gary Lewin escorted him to the tunnel summed up the breakdown in Arsenal's self-discipline.

Those lapses seemed all the more peculiar in a team who had such shining grace about them for much of the afternoon. Arsenal should have been leaving Cardiff with only compliments on making this an exceptional final. As was inevitable in view of the opposing philosophies, they were by far the more attractive side, even if that simply compelled Chelsea to show even more resolve than usual and twice tap that reservoir of goals, Didier Drogba.

Most had predicted that domination would pass to the older, battle-hardened team as the day developed, but the situation of Jose Mourinho's men might have been irretrievable by then. Almost overwhelmed by the slick speed of Arsenal, they had to deal with the loss of their captain, John Terry, who was rendered unconscious as Abou Diaby booted him in the head in clearing after 57 minutes.

Adversity, though, is stimulating for Chelsea.

Terry Kicked in the head
Mini Mall guy and Ellen
Do you believe in Miracles?