As you would expect, the Labor Day blog will be abbreviated…
Terrence Newman reality sets in
…

All of that pales in importance when you start discussing Newman's heel injury. He has a partial tear in his plantar fascia, an injury that he said would've been better if he had torn it completely.

It will not improve this season. So says Newman.

The best the Cowboys can hope for is to manage the injury, a fancy way of saying Newman is probably going to have to take an injection before every game so he can plant, cut and run without being overwhelmed by pain. Then after every game he's going to need pain medication as the anesthetic begins to wear off.

Admire his courage, but the Newman you've grown accustomed to watching the past two seasons probably won't make an appearance this season. The injury won't let him.
He's going to be hobbled, and teams will attack.

Just so you know, this defense works even less with sub-par cornerback play than it does with no pressure on the quarterback. That's because the blitzing, attacking scheme puts so much pressure on the cornerbacks because they're often in man-to-man coverage.

At least Wade Phillips has spent his career as a defensive guru who understands how to make do with less when he must.

Anthony Spencer has to learn very quickly
…

Cowboys rookie outside linebacker Anthony Spencer doesn't get a sit-and-watch adjustment period.

Spencer, a former defensive end at Purdue, steps into the starting lineup Sunday night against the Giants. And the first-round pick doesn't expect to give up his spot after being thrust into the role because of Greg Ellis' injury rehab.

"You expect a lot of things," Cowboys coach Wade Phillips said of Spencer. "He's not dominant yet, but he's good. The pass rush, attacking, those kind of things, are things that we saw him do in college, and we think he'll do well here."

Spencer is one of 13 newcomers on the Cowboys' roster, and one of five with major responsibilities for 2007.

(First season) Spencer, has the ability to make big plays and take some pressure off DeMarcus Ware, but it likely will take some time. With Greg Ellis out, the Cowboys' only proven pass rusher is Ware, so Spencer will have to be a fast learner.

After a nice college football weekend,
Let's all enjoy a nice SMU – Texas Tech game today
…

SMU plans on making an impact this season.

On changing impressions of its football program.

The Mustangs get an immediate chance – and test – in today's season opener against
Texas Tech.

It's a national holiday. ESPN is here, which has been a rarity. SMU is hoping for its first sellout of 32,000-seat Ford Stadium since the last time the Red Raiders visited in 2004. No matter that many in attendance will be Tech fans.

"It's an unbelievable opportunity," SMU coach Phil Bennett said. "We can make a statement. SMU football is – I don't want to say back – but it is on the rise."

That's not to say Bennett isn't well aware that the Mustangs are easily the
underdogs.

Tech has won the last 11 meetings with the Mustangs, with SMU's last win coming in 1986. The Red Raiders have reeled off 12 straight winning seasons and gone to seven straight bowls.

SMU hasn't won a season opener since beating Kansas in 2000, hasn't had a winning season since 1997 and hasn't gone to a bowl since 1984.

The different spaces the Conference USA and Big 12 programs occupy in the college football universe are well-documented.

But could this be the year SMU gives the Red Raiders a serious scare? Or more?

While Tech has throttled SMU in Lubbock, winning by 48 and 32 points in 2003 and in last season's opener, the Mustangs have played the Raiders much better at home. SMU lost by 10 and 14 points in 2002 and 2004.

What game do I look forward to this coming weekend?
TCU at Texas
…I greatly question the competitive nature of this game, but not confident enough to skip it. Must see tv for me…

The news dispatches coming out of Austin last week mostly dwelt upon (pick one): coach Mack Brown's new contract, the Longhorns' off-season domination of the local police blotter, which team UT will play in the BCS title game (USC or LSU), and the big check (reportedly $700,000) that Arkansas State was going to take home for the privilege of getting nuked by the nation's No. 4 team.

As old friend Kirk Bohls properly pointed out in the Austin American-Statesman, Arkansas State lost to SMU last season, 55-9.

You saw what nearly happened next.

As Texas offensive tackle Tony Hills said after the Longhorns' wheezing 21-13 win, "We learned that there is a lot of parity in college football. Arkansas State is a good team, and they came in and played us hard."

To a man, Brown included, the Longhorns sounded humbled by their near-death football experience. Brown said he would spare his team its deserved verbal spanking because, knowing Texas fans, the players are going to hear enough.

The coach is partly right. But he forgets that young people often have short memories.

When the Longhorns sit down to watch scouting film this week, they will see a TCU team that beat Baylor, but failed to overwhelm the Bears. The Frogs played well at times, but at other times they labored like a team with a new quarterback, with an injured No. 1 tailback, and a team that was missing its all-everything defensive lineman.

Texas won't be impressed. I'm not sure if the Frogs themselves, after three 11-win seasons in four years, were that impressed with their opening-night performance.
And that's where the labels and bumper stickers are bound to come into play.

Texas lives on the gaudy Big 12 side of the NCAA street. TCU has to work the other sidewalk.

The Frogs have the nation's fourth-longest winning streak, nine games. They have won 19 consecutive games played on a Saturday. The TCU defense hasn't allowed an opponent to rush for 100 yards in the past 21 games. The Horned Frogs have won 52 games in a row when they've held the other team to 17 or fewer points.

Daniels tied to Washington for better or for worse
…

Last December, general manager Jon Daniels hitched his and the Rangers' wagon to an unproven, untried baseball lifer named Ron Washington. Since then, that wagon has been all over the road and in the ditch more than once.

Just how good a manager Washington may be is still an unknown, but there was never any question that he would be back in 2008 and now he has a contract extension through the 2009 season, which not so coincidentally matches the security that Daniels himself has with owner Tom Hicks.

That's fitting, because Washington remains Daniels' most important decision, even more important than any of the trades he's made in his two years as the team's GM.
I'm not sure what to make of Washington's 23-42 record in his first 65 games as a big league manager anymore than I am his 38-30 mark in the 68 games after that. By his own admission, he's made mistakes in handling players, but the flip side of that is that he seems to be learning from those mistakes and that's a good sign.

What Daniels didn't hire when he brought in Washington was an equal partner in running the Rangers and that's basically what he'd had in Buck Showalter. Showalter, with his experience and tendency to try to control every aspect of the team, attempted to influence personnel decisions, or at least made sure his opinion was heard.

Washington, from what I've heard, sticks to managing, answers Daniels' questions when he's asked and offers his opinion when it's invited.

What I've really enjoyed seeing is Washington getting back to teaching. Earlier in the season, he wasn't doing that and blamed time constraints from dealing with the media as the reason why. Somehow, he's finding the time now, and he is regularly imparting wisdom from a vast storehouse of baseball knowledge.

Yes, you could argue that most of that teaching should be done at lower minor league levels and that major leaguers shouldn't need as much schooling. But that's pie-in-the-sky fantasy, unfortunately, not reality.

It would have been interesting to see how Washington might have managed a club that didn't have as many holes in it as this one does, a team that still included Gary Matthews Jr., Mark DeRosa, Carlos Lee, Alfonso Soriano, Chris Young, Adrian Gonzalez and, yes, still had Mark Teixeira playing first base.

How close might the Rangers be to winning a division then? We'll never know, and
Washington has to make do with what he's given.

What that's meant so far is that it doesn't much matter who's managing this team.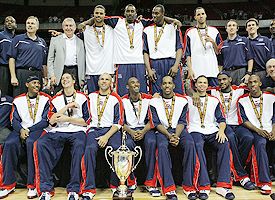 USA destroys Argentina for Gold
…

LeBron James and Carmelo Anthony finally earned the reward that used to await U.S. players.

James scored 31 points, most by an American player in an Olympic qualifier, and the United States capped its dominance in the desert by beating Argentina 118-81 on Sunday to win the FIBA Americas championship.

Then James and Anthony climbed the podium and were given gold medals -- a first for the two players whose international careers had consisted of nothing but bronze.

"I'm tired of bronze," Anthony said. "I'm speechless right now. This is my first time ever winning the gold medal."

Dwight Howard made all seven of his shots and scored 20 points, and Anthony added 16 points for the Americans, who were never challenged while winning 10 games in 12 days and will head to Beijing next summer as one of the favorites.

The Americans averaged 116.7 points in the tournament.

The game was largely meaningless, because both teams had already clinched spots in the Beijing field by winning semifinal games Saturday. But the Americans didn't let up, remaining perfect in four Olympic qualifiers, including 7-0 against Argentina.

James and Anthony played on teams that finished third in the 2004 Olympics and '06 world championships. The latter disappointment forced the Americans to play in the qualifying tournament this summer, but it proved to be just a minor roadblock.

"I learned that players can throw their egos and personal accolades out the window," James said. "We came here for one reason and that was to get the gold medal."

James finished the tournament shooting 76 percent from the field -- his percentage actually dropped from 76.5 after he made 11 of 15 shots. He was 8-of-11 from 3-point range -- another U.S. record -- and also led the tournament in that category, hitting 62 percent.

What Heroes has planned for us ahead
…

For NBC's Heroes, last year's most-watched freshman series and an Emmy nominee for best drama, you add characters, create a spinoff and pick up the storytelling pace to engage viewers who've shown impatience with strung-out serials and long hiatuses.
Second-season accessories include:

•Multiple arrivals. The hero roster expands with Maya Herrera (Dania Ramirez), a woman trying to get from the Dominican Republic to the United States, and Monica Dawson (Dana Davis), who lives in post-Katrina New Orleans. Star Trek's Nichelle Nichols will play Monica's grandmother, and Veronica Mars' Kristen Bell will visit for five episodes.

•Two volumes. Breaking the second year into two major story arcs, as opposed to last season's one, is designed to hold on to current fans and attract new ones by providing answers faster than the series did last season. The series' second volume, called "Generations," which visits the sins of the fathers and mothers of the heroes, will play out over the 11-episode fall run. Volume 3 lands in early 2008.

From David, our #1 Redskins fan P1, he volunteers to analyze the enemy:

Here ya go Bob- for what it's worth


Offense

The passing game is going to be a huge question mark. That can be a cause for hope or a cause for concern. As a Redskin homer, I choose HOPE! They have an inexperienced QB, so there will probably be quite a few times the Skins want to yell "do-over" after one of Campbell's decisions. The WR corp is less than adequate. I've never been a big fan of the smallish, fast WR (Santana Moss). They always seem to be a hamstring pull away from missing 4-6 weeks. Keep in mind, Santana is the best they have...by far, at WR. Randel-El is listed as their #2 WR. I think he's a 3..at best. Brandon Lloyd has been a bust since he got here from SF. The one premium player they have in the passing game is Chris Cooley. He should have a huge year as a dump-off / safety net for Campbell. Portis, Betts, and Sellers are all above average receivers out of the backfield. But it all comes down to Jason Campbell. This is his 3rd year. he has 7 starts under his belt. Let's pray!

The O Line is solid with their starters, but they have ZERO depth. One injury is going to kill them. This is basically the same starting OL for the 3rd consecutive year, except Pete Kendall is in and Derrek Dockery is out. Chris Samuels is a solid Left Tackle, but overrated league wide (see Roy Williams). At least he'll have Campbell's blind side (since he's a righty vs. Brunell being a lefty). Jansen, Rabach (Well) and Randy Thomas are good O Lineman. But again...NO DEPTH.

The running game should be solid. It will have to be! Portis is still a top 10 back in the league and Betts is a very solid backup (like MB III). Sellers is an above average blocker and receiver out of the backfield.

Defense

There is no way the D can be as bad as it was last year! I believe the team set an NFL record for futility in takeaways. They also had fewer sacks than anybody in the league. Their front 4 was incapable of putting pressure on the QB. Because of this (as well as the DB situation discussed below), Williams attacking scheme was all but neutered. Skins took the same "sit back and react" approach as Dallas, but Dallas had much more talent on their defense.

The secondary will be solid and allow the Skins to do what Gregg Williams likes...blitz! Last year they started the year without Shawn Springs and Carlos Rogers, so they actually started 2 DB's who aren't even on the team this year. With both Springs and Rogers healthy, and by adding Cap'n Smoot (who was better than either CB who started the season last year), they should be ok here. Safety is going to be a big strength (1 assumption I'll get to shortly). Watch Laron Landry this year. He's already earned the starting safety spot in pre-season, which is something Sean Taylor and Carlos Rogers didn't do as rookies. Landry is fundamentally solid and doesn't make stupid mistakes or bad decisions (a year or 2 around Sean Taylor might change that)! The best thing about Landry is that it allows Taylor to slide back to Free Safety which is where he can and will make a ton of plays. Because Archuletta was such a waste last year, Taylor played Strong Safety. Because the Skins couldn't stop the run last year, Taylor got caught biting on a lot of play action, which cost them in the passing D. With Landry focusing on the run...watch out! Both those guys will knock the snot out of you! Here's the rib...stinkin' Sean Taylor is usually good for 1 late hit, face mask, or unsportsman like penalty per game. Funny how they all seem to come at the wrong time (like the hit out of bounds on Brad Johnson in week 1 that cost them the game against Minnesota)

The LB's are going to be much improved. London Fletcher is a big upgrade from last year. Player to watch is Rock McIntosh (2nd year 2nd round draft pick from The U). He is their most athletic LB. He's fast and he is a solid tackler. He's rock solid! Marcus Washington is also solid. Watch for Greg Williams to blitz a ton from LB and CB. 2 years ago I'm pretty certain that Shawn Springs led the team in sacks. Also watch HB Blades of the Blades brothers from Miami. He's a smaller LB (5'8) but had more tackles than anyone on the team in pre season. he is always around the ball. He's a sure tackler and reminds me of a more athletic Zach Thomas. if he has 1/4 the career that Zach has, I'll be thrilled. So there is depth at LB

The D Line...I have no stinking clue! Andre Carter played well at the end of the year. Hopefully with the Redskins having the ability to bring some pressure, Carter might get more 1 on 1 opportunities. I still have faith in him. Unfortunately that's the best we have! Phillip Daniels had his career game against Dallas 2 years ago. They released both Joe Salavea and Reynaldo Wynn, so the 2 DT's are Cornelius Griffin (average at best) and Kedrick Golston (the jury's out on him. He's a 2nd year player out of Georgia who for whatever reason, the Skins like). There is little depth on the D Line.

Special Teams

Randel-El is a solid punt returner. Rock Cartwright is solid a KR. We have that Swish-em guy from Dallas kicking for us (pronunciation emphasized for Parcells), and a decent punter (sir, I know Matt McBriar and Derrick Frost is no Matt McBriar)

Prediction

7 wins and the end of the Joe Gibbs coaching career. 2008 will bring Bill Cowher (and unfortunately more Democrats in the election) to Washington DC...I mean Landover!! If things break right and Campbell is solid, maybe they get to 8 or 9 wins.

HAIL TO THE REDSKINS

Homer call of the Year already?
Farley as Laettner (R.I.P.)