Roy Williams. Just say the name and you get an opinion. Not since the prime of Derian Hatcher has North Texas had a player who was both loved and hated by his fan base. You talk about him and some people will defend him as the greatest player to ever walk the earth, and another group will tell you he should be unemployed.
There are many things he can do, and seemingly an equal number of things he cannot do.
And once again Sunday, he has proved to be the lightning rod. What concerns me is not what we think. What really bothers me is that he appears to now be target #1 of the opposing QB. This is not created by fans, or message boards, or talk shows. If it was, then the game plans of teams across this league would not be devising plans to expose him. And I find it quite obvious in the last several games, Cowboys opponents are looking for Roy, and then throwing it right at him to pick on the Cowboys most obvious weakness.
Solutions are not tough to come by. We have heard many. Convert him to Linebacker. Find a better Free Safety. Teach him better coverage skills. And so on and so on…
Here is my new solution for Wade Phillips and his staff. Take him off the Field on 3rd Down and Long.
That is right, your captain, one of your richest players, and the guy who has sold more jerseys than anyone since Emmitt, needs to stand on the sideline when the Nickel Defense is on the field.
The Nickel is brought in when there are passing situations at hand. 3rd and Long is the most likely spot where you would not need him up at the line of scrimmage. You would want both of your safeties deep in a "Cover 2" spot, and this is being exposed as now the QB can see Roy, and send receivers to him and around him. His run support is not going to help on 3rd and 8. In fact, you would invite them to run if they dare.
Let's not forget the objective of defense: To stop the opponent and get off the field. Not to continue to enhance a player's ego. Not to help your player get to the Pro Bowl. No, it is to stop the opponent, and get off the field.
So, when I am in Nickel, I want my 3 best CBs, along with Ken Hamlin and Patrick Watkins both covering half of the field deep.
And I want Roy Williams when he can not be exposed anymore…On the sideline.
Not every play, just on 3rd and Long or when I think my opponent will be looking for him. It is the only solution at this point.
Do you think this is a new problem? Here are my thoughts from
September 7th, 2005
…when I was looking back at his problems from 2004!

Then it hit a plateau. For whatever reason, he stopped changing games. He stopped making plays that made you think Canton. Instead, in 2004, there was reason to believe that the NFL had figured out Roy Williams, and began to expose him time and time again. His team will excuse his play by pointing out Darren Woodsen was not by his side for the first time, and the lack of a genuine free safety has forced Roy to play out of position.

But, I think there was more to it than that. I think that he became quite pleased with the perception that he was a feared assassin in the secondary, and each hit was a candidate for Sportscenter. He also became a guy who could claim he ended 3 players seasons with broken legs, and made such an impact that he joins Larry Bird as "guys who have rules named after them". In short, he became impressed with himself. He had arrived. Just ask him. In fact, I remember the Detroit game last year (the only game in a pretty long stretch that the Cowboys actually won) when Roy hit a player 12 yards downfield, stood up, posed, and after the game congratulated himself on changing the game with that hit. Did it result in a game changing fumble? Maybe an injury to a star receiver? Nope. A first down for Detroit and Tai Streets. Now, it should be noted that the Cowboys won the game, 31-21, but the point should not be lost: He was convinced his "big hit" meant more than it did.

For the record, Roy Williams is an amazing talent. I am a huge fan of his work. But, he concerned me greatly in 2004 when he appeared to have stopped progressing. Was it just a small bump in the road? Or, was it a case of a guy who was pleased with himself. Michael Jordan and Tiger Woods, two athletes who are debatably the best players in all of sports, were never happy with themselves. They constantly would spend the off-season shoring up any weakness in their games. But here is Roy, celebrating another hit that conceded another 12-yard gain.

Ferg is Gone, Enter Ratliff
…

One of the team's most respected and liked players, Ferguson takes his leadership, personality, body and talent to the injured list. He's out for the season with a torn biceps muscle.

In his place is a reclusive former long shot who now mans perhaps the most important position in the Cowboys' 3-4 scheme: Jay Ratliff at nose tackle.

"They are two different guys," linebacker DeMarcus Ware said. "One is a … You don't know what to expect jokester, and Jay wants to grab and choke you. from Jay. One day Jay will come in happy and the next day he'll roll his eyes. " And I'm like, 'We're going to have a long day.'

Ferguson is scheduled to have surgery Friday. Two days later, Ratliff will make his second career NFL start — and his first at nose tackle — against the Miami Dolphins.
Cowboys sources said they expect to re-sign Remi Ayodele as a backup. And a source said there is a chance they'll sign former Bears defensive lineman Tank Johnson. He would have to serve an eight-game suspension for violating the league's personal-conduct policy. And he's never played in the 3-4.

For now, though, it's up to Ratliff.

"[Ratliff] is not as big as 'Fergie,' but he's pretty active and I thought he played pretty well for us [in the opener]," Cowboys coach Wade Phillips said. "That's what we have, so basically that's who we're going to play with."

Ferguson's personality is as big as the XXXL shirts he wears.

He is revered in the locker room. He's always laughing. He's constantly prods teammates with his wit. And his humor makes him a media favorite as well; he once did regular interviews with kids during his days with the New York Jets.
Then there is Ratliff.

"I don't want to talk," he said Monday. "I just want to stay focused."
The task ahead of him is no small feat.

At 6-foot-3, 312 pounds, Ferguson has the prototype 3-4 nose tackle body. He's a run-stuffing, pocket-collapsing tank.

At 6-foot-4, 298 pounds, Ratliff is a nose tackle lite. He's more of a defensive end. As he showed against the Giants, he's quick enough to go around opposing linemen rather than shove them back. It worked Sunday night; the third-year player had a sack and a quarterback pressure.

Cowlishaw thinks a great defense can rise above injuries
…

Nose tackle Jason Ferguson is finished for the year with a torn biceps.

Phillips talked about cornerback Terence Newman returning to practice this week but he acknowledged he has no idea when Newman, who has not practiced in three weeks, might play.

If the Cowboys are forced to go for an extended time without Ferguson and Newman, just how bad might that be?

Beat writer Todd Archer (who is the reason you live better here), recently ranked Newman as the most valuable player on defense. He ranked Ferguson third. He spent a lot of time on these rankings, too, because there was no soccer on TV.

You could argue the case for DeMarcus Ware, their only active pressure player, as No. 1 but Newman and Ferguson are in the top three regardless.

Does that mean all is lost and that Tony Romo's offense must outscore the opposition for 15 more weeks?

Hardly.

Good defenses overcome the loss of injured players.

Are the losses of Ferguson and Newman more significant than the Chicago Bears missing defensive tackle Tommie Harris and safety Mike Brown a year ago?

Absolutely not. Those were their top playmakers in the line and the secondary.
Chicago went to a Super Bowl without them.

Is there enough talent on the Cowboys' roster to compensate for lost players?
I take you back to those same Bears. Aside from first-round pick Brian Urlacher in the middle of the defense, the Super Bowl unit started two second-round picks, two thirds, three fourths, a fifth, a sixth and an undrafted player (Adewale Ogunleye).
Against Miami, with Jay Ratliff filling in for Ferguson and assuming Jacques Reeves again in place of Newman, the Cowboys will start four first-round picks (four!), a high second (safety Ken Hamlin), a third, three fourths and two sevenths.

That tells us three things.

One is that the Bears' scouting department did a better job than the Cowboys'. Well, given the manner in which the Cowboys operate, let's not put it on the scouts and just say Chicago has drafted better than Dallas. OK, we can all agree on that.

And it's safe to say that Lovie Smith and Ron Rivera did a better job putting those players into a cohesive unit than Bill Parcells and Mike Zimmer (a.k.a. The Odd Couple) managed to do with theirs.

But it does illustrate that the Cowboys do have plenty of talent left on the field to make plays. Not all of those players were overrated or poor picks.

This week with Peter King
…

The NFC stinks. I'll go out on a limb and say the two teams picked most often to be the NFC's rep in the Super Bowl next February were New Orleans and Chicago, who, coincidentally, both met AFC powers this weekend. The Saints had the ball 12 times in Indianapolis and scored zero offensive touchdowns. The Bears had the ball 11 times in San Diego and scored zero offensive touchdowns.

You like the Eagles to make some January noise? One touchdown in 12 rusty Donovan McNabb drives at Green Bay. The Seahawks? Two touchdowns against the moribund Bucs in 11 possessions. Those four NFC "powers'' went 1-3 this weekend.

We still have the same questions about Rex Grossman. We still don't know if the Saints' defense can hold up. We still don't know if the Eagles can walk and chew gum offensively at the same time. And Seattle? Who knows? They could well be better than the '05 team that advanced to the Super Bowl, but who can get excited about the 'Hawks now?

---

One more reason to fear the Colts: They are, relatively speaking, in phenomenally good cap shape. The 10 teams that open the season with the most to spend under the league's $109-million cap limit:

1. Minnesota $19.05 million
2. Jacksonville $18.66 million
3. Tampa Bay $17.12 million
4. Buffalo $13.77 million
5. Indianapolis $13.32 million
6. Kansas City $12.99 million
7. Dallas $12.95 million
8. Tennessee $12.93 million
9. Green Bay $12.80 million
10. Oakland $11.99 million

The teams pinching pennies the most as the season dawns: Chicago ($647,000), Detroit ($1.68 million), Arizona ($1.74 million) and the Giants ($1.76 million).
---

I thought there was something fishy about calling that Michigan loss to Appalachian State the biggest upset in college football history. The reason everyone called it that is because Michigan was ranked fifth in the polls, and Appalachian was a Division I-AA team. But what kind of poll is taken seriously when it rates teams before they've played a game? A bunch of sportswriters call Michigan the fifth-best team in the country, and when the Wolverines lose, it's an upset, obviously. But at the start of a season, no result can be the biggest upset of all time. And now that Oregon walked into Ann Arbor and kicked the dog out of Michigan, it's certainly not even in the top 20 of upsets. Michigan might stink.

Oregon's total yards in its 39-7 win at Michigan: 624.

Replay in the Big 12 takes the spotlight
…I still think the home team wins 75% of all replays in college football…Home cooking lives…

The Big 12's replay system provided an extended break that benefited both the Aggies and Longhorns. On the day after, Brown and Franchione are likely very happy — and very fortunate — that the replay provided a mechanism for incorrect rulings on the field to be debated and eventually overturned.

Luckily for the Longhorns, TCU took its time to get to the line of scrimmage after
McCoy's disputed fumble. If the Horned Frogs had rushed back for a quick play and quickly snapped the ball, McCoy's fumble would have not been reviewable.

But the Horned Frogs languished getting to the line of scrimmage again, providing officials an opening to review and eventually overturn McCoy's fumble.

UT took advantage of the momentum shift to its fullest advantage, converting a 28-yard field goal by Ryan Bailey to tie the game on the next play.

TCU provided a more conclusive fumble on the ensuing pooch kickoff. UT scored five plays later to assume the lead for good en route to a 34-13 rout.

Earlier, A&M endured an even more excruciating wait in College Station, where game officials originally ruled that Fresno State receiver Marlon Moore had fumbled out of bounds inside the 1-yard line on the Bulldogs' first offensive play in overtime. Moore strained to push the ball past the plane of the goal line, losing control of it before Gregg's recovery.

Shortly before the next play was set to start, the head referee of the Western Athletic Conference officiating crew was buzzed as the Big 12 replay official took an extended look at the play.

The replays showed that Gregg had recovered a fumble in the end zone, seemingly giving the Aggies the victory in the game. But nose tackle Henry Smith was flagged for roughing Fresno State quarterback Tom Brandstater.

After a delay of nearly 10 minutes, officials ruled that Smith's penalty superseded Gregg's fumble recovery. Fresno State was given a first down just inside the A&M 13.
But the break disrupted Fresno's momentum as A&M stuffed the Bulldogs on three-straight plays. Clint Stitser kicked a field goal to force another overtime, but Fresno State's chances of stealing the victory on the possession were gone.

"That was the call, and we'll live with it," Fresno State coach Pat Hill told reporters after the game. "If not, we're on the half-yard line with a chance to win the football game. But it didn't end up that way."

The Aggies eventually prevailed in a wild 47-45 triple-overtime game that was the longest in A&M history. Any of the drained fans who sat through the 4-hour, 21-minute marathon will long remember the events that transpired in one of the most memorable games in Kyle Field's storied history.

Just like those in Austin a little later.

Replays at both games provided the correct call — even if it took a long time to get it right.

But the officials assure us they got it right
…

After a confusing 10-minute delay, the Western Athletic Conference officiating crew made the correct call during the first overtime of Saturday's game between Texas A&M and Fresno State, according to Jim Blackwood, the WAC supervisor of officials.

Blackwood said the long delay looked bad. But if anything, the WAC officiating crew and Big 12 replay officials erred on the side of caution by taking their time to make sure the call was correct.

"We got the play right," Blackwood said Monday after reviewing the tape with Walt Anderson, the Big 12 supervisor of officials. "It just looks poor the way we administered everything."

With A&M leading, 32-29, in the first overtime, Fresno State receiver Marlon Moore caught a 24-yard pass and tried to lunge for the goal line. Moore fumbled the ball into the end zone, and the Aggies recovered it for an apparent touchback. However, the officials initially ruled Moore stepped out of bounds at the 1-yard line before the fumble.

Blackwood said the replay official correctly determined that Moore did not step out of bounds and that he did fumble the ball away.

A touchback was not called, however, because A&M's Henry Smith was called for roughing the passer at the line of scrimmage. That penalty gave the Bulldogs the ball and a first down at the A&M 12-yard line.

A&M won, 47-45, in triple overtime.

"I think it ended up being called right," A&M coach Dennis Franchione said. "It took a little while to get it all straightened out."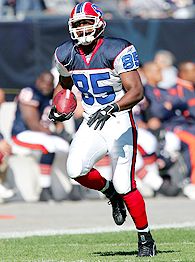 The sad story of Kevin Everett
…


Former Kilgore College football coach Jimmy Rieves was shocked Sunday when a previous staff assistant called to tell him their former star tight end, Kevin Everett, had been seriously injured making a tackle in Buffalo's opener against Denver.

But when Rieves finally got to see the play Monday morning on ESPN, the shock of the news gave way to a sickening memory.

"I was at the University of Mississippi in 1989 as a graduate assistant when Chucky Mullins was injured," Rieves said Monday. "It just brought back the same images to my mind, because the way they fell was basically the spitting image of each other."
Mullins, an Ole Miss defensive back, broke up a pass on Oct. 28, 1989, with a hard hit against Vanderbilt running back Brad Gaines, who outweighed Mullins by 55 pounds. The violent collision shattered four vertebrae in Mullins' neck, leaving him paralyzed from the neck down.

Mullins returned to school 15 months later, but recurring respiratory complications from the injury took their toll. He collapsed May 1, 1991, from a blood clot in his lungs and died five days later. He was 21.

Everett, a 25-year-old reserve tight end for the Bills, suffered a similarly catastrophic injury Sunday when he tackled the Broncos' Domenik Hixon with a helmet-to-helmet hit on the kickoff starting the second half of Buffalo's 15-14 loss. At a somber news conference Monday in Buffalo, orthopedic surgeon Dr. Andrew Cappuccino said Everett was under heavy sedation in the intensive care unit of Millard Fillmore Gates Circle Hospital with an injury that remains life-threatening. Even if Everett survives, the surgeon described the chances he'll regain use of his limbs as "dismal."

"I'm born to be an optimist," Cappuccino said, "but as a clinician and a scientist, I never lie to my patients. Kevin is a patient of mine right now, and I told Kevin that the chances for a full neurologic recovery were bleak & I believe there will be some permanent neurological paralysis."

The severity of Everett's injury stunned teammates, friends and fans across the nation, from his southern Texas home of Port Arthur to the tiny eastern Texas campus of Kilgore College to the University of Miami, where the Bills found Everett with their third-round pick of the 2005 draft.

"It's just a great tragedy," said Leah Gorman, coordinator of student activities at Kilgore College, where Everett played from 2001 to '03. "We're just really sad here today when we all gathered together to talk about it. & We were very excited when he went on to Miami and when he got drafted. He's just a good person. I can't say that enough."


Here is a great time waster for the Brett Favre admirer...
The Brett Favre Touchdown Database
…
Unintentional Comedy of the Week
…
Great Email:


Bob,

I did a little research on the Colts and Boys first or second round
picks since 1996....

1996-Marvin Harrison (starter)
1997-Tarik Glenn (retired)
1998-Payton Manning (starter)
1999-Edgerrin James (starter in Arizona)
2000-Rob Morris (starter)
2001-Reggie Wayne (starter)
2002-Dwight Freeney (starter)
2003-Dallas Clark (starter)
2004-no first round pick, first pick was round 2 #44-Bob Sanders
(starter)
2005-Marlin Jackson (starter)
2006-Joseph Addai (starter)
2007-Anthony Gonzalez-(3rd receiver-starter ?)

Cowboys-
1996-no first round pick, first pick was round 2 #37-Kavika Pittman
1997-David LaFleur (not in the league)
1998-Greg Ellis (not starting this year)
1999-Ebenezer Ekuban (not with team)
2000-no first round pick, first pick was round 2 #49-Dwayne Goodrich
(now starting for a penal league)
2001-no first round pick, first pick was round 2 #53-Quincy Carter (not
in league)
2002-Roy Williams (starter)
2003-Terrance Newman (starter)
2004-no first round pick, first pick was round 2 #43-Julius Jones
(starter)
2005-Demarcus Ware (starter)
2006-Bobby Carpenter (starter ?)
2007-Anthony Spencer- (starter)


10 out of 12 players for the Colts are STARTERS (if you count Gonzalez)
6 out of 12 players for the Boys are starters (Bobby Carpenter would
drop it to 5)

Only one Colt (Tarik Glenn-retired) is out of the league
3 Boys are not in the league, two got arrested

Of the 12 picks the Colts had, only two are not with them, and that is
James, who starts in Arizona, and Glenn, who retired last year.
Of the 12 picks the Boys had, 5 are not with the team.

And what is the fixation with TE's and LB's/DE's chosen by the Boys? 7
out of 12 picks were for TE's, LB's/DE's...

The Colts: 3 WR's, 1 QB, 2 RB's, 1 OL, 1 TE, 2 DlL's and two Def
backs....

I think the Colts had a better mix of players, don't you?

Cheers.....

~~~~~~~~~~~~~~~~~~~~~~~~~~
Phillip Ray Sharp


The Music Video that inspired Young Basketball Bob in 1981: Larry, Magic, Loverboy
They are going Streaking!