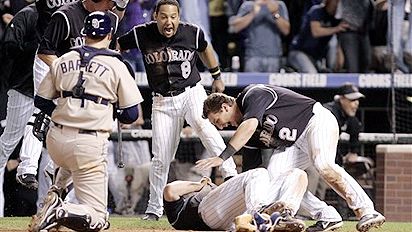 What a Thriller. Can't say I watched it – football was available on my television – but it looks like I missed it….
Rockies are somehow in the playoffs
…


The game was a baseball holiday, perhaps one of the best do-or-die games ever played. When Holliday scored in the bottom of the 13th -- if, in fact, he scored; there was some question afterward whether he actually touched the plate during his collision with Padres' catcher Marty Barrett -- it became the first walk-off win in a one-game playoff in major league history.

It certainly left the 48,404 fans in attendance at Coors Field drained.

Not to mention Rockies' first baseman Todd Helton.

"I can't believe it," Helton said. "Can you believe it? We were down. We battled back. We did it against the best closer of all time."

And that makes Monday night's game all the more remarkable. For 5 2/3 innings, the Padres' bullpen -- which had the best earned run average (3.00) in baseball this year -- kept Colorado smothered. After starter Jake Peavy left the game with one out in the seventh, trailing 6-5, three San Diego relievers (Heath Bell, Doug Brocail and Joe Thatcher) gave up one hit among them until the 13th.

Then it was Trevor Hoffman time. Hoffman has closed out 524 games in his 15-year career, including 42 this season. He is baseball's all-time saves leader; he is as automatic as it comes when he enters a game with a lead.

On Monday, he entered with a two-run lead, thanks to Scott Hairston's two-run home run in the top of the 13th inning.

But Carroll's sacrifice fly in the bottom of the 13th was the first -- and only -- out Hoffman recorded in blowing this save. He gave up a leadoff double to Kazuo Matsui, another double to Troy Tulowitzki to score Colorado's first run in the rally, and then Holliday's triple to right to tie it.

He intentionally walked Helton, and then faced Carroll.

And then Hoffman faced the questions, which might have been a harder matchup for him than even the Rockies' lineup.

That challenge, he met, though. With dignity and poise. And heartache.

"I'm having a hard time doing this," Hoffman said to a knot of reporters in front of his locker.

"It's not that I don't want to, but the way everybody participated in the way they did, and to have it come out the way it did, it's tough to deal with."

Someone suggested that Hoffman, like many pitchers, has had difficulty in the past with the altitude at Coors Field.

"I'm a professional, man" he said. "It doesn't matter where you're at. You've got to be ready to go wherever you're at."

Today, we would like to welcome hockey back to the blog. You may be wondering why hockey belongs on Bob's Blog, and my simple answer is because I am Bob.
Hockey lives and is healthy here. It gets mucho coverage, and embraced with open arms.
Sadly, my excitement for the Stars this season resembles that of
The great John Buccigross
…

10. Dallas Stars

For the second straight year, I've buried the Dallas Stars. Please forgive me, but I have a difficult time getting excited about a team when Mike Ribeiro is your leading scorer. That's my problem. That's my bad.

Mike Modano (23 games) and Brendan Morrow (42) missed a combined 65 games last season, which means Dallas has either a lot of underrated players or two overrated ones. How this offensively challenged, injury-depleted roster managed 107 points is something else. Of course, Dallas did it with defense. The Stars were one of four teams, all in the West, that did not allow more than 200 goals. All four of those teams made the playoffs (Stars, Wild, Sharks and Red Wings); an underrated defense led the Stars to the postseason. Good two-way play, a good goalie who had three shutouts against the Canucks and the Stars lost their first-round playoff series.

The Stars were 11-2 in their first 13 games and 12-4 in their last 16. That's 23-6 in 29 games, which puts them 27-26 in the other 53. So, Dallas was average more than they were good. Injuries certainly contributed to that, so perhaps their mix of youth, veterans, coaching and goaltending will be enough to get their 90-100 points and a playoff spot. I'm just a little uncomfortable with the age of some of the Stars' key players and the improvement other teams have made in the West.

It's strange because I like everything about Dallas. Modano's skating, the television announcers, Sergei Zubov's IQ, Jere Lehtinen's princely stature and Marty Turco's unique personality. There is so much to like, I don't know what my problem is.

As John noted, the Stars cannot score. They had no player in the
top 80
of NHL Scoring last year, which is nearly impossible to do.
On a related, yet unrelated note, the Stars have not drafted a 20 goal scorer (Yes, just 20) since Brendan Morrow in 1997. Also, it is nearly impossible to do that.
So, given the Stars only scored 226 goals last year (edited, 9:05 - thanks Mr Simic); given the fact that they actually lost a series in which they shut-out their opponent 3 times; and given the fact that they did nothing to address their lack of scoring this summer in free agency, I am prepared for a long season of competitive, but low-scoring and at times, dull hockey. Yes, there will be stretches this season when the Stars score 3 goals in 3 games. It will happen. Perhaps several times.
With that in mind, how
did this just happen?
…

The Stars assigned forward Chris Conner to Iowa of the American Hockey League. The 23-year-old tied for the team lead with nine points in the preseason, including two goals and an assist Saturday.

"Conner continues to open our eyes," Dave Tippett said. "Just because he's not on the team right now doesn't mean he won't be here at some point."

I realize it doesn't mean he is down there forever, but if ever a team needed someone under the age of 35 (even 25!) who can occasionally score, it is my Stars. And yet, they send him down. Here is one of my hard-core hockey buddies email from last night:

You mean to tell me that on a team STARVED for scoring and COMMITTED to youngsters stepping up in that department, there is no room on this roster from the first face off for Chris Conner??

YET, they are going to roster (and I know not dress) Ott, Winchester, Federuk and Barch!!!????

This organization talks out of both sides of their mouth almost as much as the Rangers.

I don't get...and I get it less and less each year.

I think that is well said. I don't get it, either.
Meanwhile,
Mavericks begin camp today!
…

Year 2 of the apologetic Mavericks tips off today at 2 p.m. when the team holds its annual media day.

No doubt the Mavericks will discover that it was far more enjoyable apologizing for their shortcomings last year when they had to revisit their NBA Finals loss to the Miami Heat.

This year, it's the continuing shame of being the winningest regular-season team in NBA history to lose in the first round and having to explain how it happened and why it won't happen again.

As frustrating as the loss to Golden State was, it's even more frustrating for the Mavs to know that if they had handled the Warriors, they would have faced an outmanned Jazz team in the second round and then would have matched up with the Spurs in the Western Conference Finals.

Instead of talking about their accomplishments, they will spend much of the season addressing their faults. Only five teams in NBA history have had a record better than the Mavs' 67-15 mark last season, but none of those teams faced as much criticism as the Mavs will confront at the beginning of the season.

And Mavs coach Avery Johnson knows that. He spoke late last week of the challenges facing his team in 2007-08.

Texas-Oklahoma Week begins,
with Colt McCoy Discussions
…

Texas will change its offensive approach for Saturday's showdown against Oklahoma. But not its starting quarterback.

That much became certain Monday when quarterback Colt McCoy was cleared by team trainers to practice and compete in this week's Red River Rivalry. McCoy was treated for symptoms of a mild concussion after last week's 41-21 loss to Kansas State.

McCoy said Monday that he is "fine" after passing a battery of tests that showed no lingering effects -- and no memory loss -- from hits he took from the Wildcats' defense while throwing a career-high four interceptions. He downplayed concerns about his health heading into Saturday's 2:30 p.m. matchup in the Cotton Bowl.

"I'm really not that concerned," McCoy said when asked if he might be returning too soon. "I obviously showed a lot of the symptoms and a lot of the signs [of a concussion]. They ran some tests on me and everything came out like it should. It matched up with the results [(from similar tests] I took before the season started. So I'm not concerned."

What does concern McCoy, as well as Texas offensive coordinator Greg Davis, is the number of missed communications between quarterback and receivers that showed up during videotape reviews of the K-State game. As a result, Texas coach Mack Brown said the 19th-ranked Longhorns (4-1, 0-1 Big 12) would "simplify some things" with the offense before facing No. 10 Oklahoma (4-1, 0-1).

In particular, Davis said coaches would limit the number of options available to players involved in pass plays after breaking the huddle. Wide receiver Quan Cosby said the move would result in fewer audibles at the line of scrimmage and fewer sight adjustments while running routes.

"We made some mistakes that we haven't made in a long time. Some communication mistakes. We were just on different pages," Davis said, summing up errors from the K-State game that "surprised" him because the Longhorns have a veteran quarterback and a veteran receiver corps. "We had way too many situations in the ball game where...
Colt was looking for one route [from a receiver] and he didn't get it. I felt like I had a hesitant quarterback, and that guy has to free-flow. I've got to find a way to get him back."

Davis said most of errors occurred in the second half and were self-inflicted, rather than the result of a confusing K-State defensive scheme. He attributed the gaffes to mounting frustration among players.

But it is worth noting that McCoy, a 63.4 percent passer this season, completed only 7 of18 passes in the second half and threw two of his interceptions after being checked for a possible concussion at halftime and cleared to return. During the first half, McCoy connected on 12 of 21 passes with one touchdown and two interceptions.

McCoy indicated Monday that his medical condition in Saturday's game had no bearing on his second-half stats. A bigger issue, to McCoy and Brown, was the fact McCoy was hit on release or had passes tipped at the line of scrimmage on each of his four interceptions.

DeSean Jackson – the man I think the Cowboys should take next April with the Browns pick
Email:

Hey Sturm, I was just hoping you could give a plug to FC Dallas on the blog and hopefully on the show tomorrow or Wednesday as Wednesday night they'll host the New England Revolution at 7pm at Pizza Hut Park in the Lamar Hunt US Open Cup championship. The trophy is one of the oldest in American sports(the tournament started in 1914) and is the only trophy FC Dallas has ever won(1997). They'll be trying to win their first major trophy in a decade and tickets start at just $10.

Thanks Sports Bully Bob!

Boomer

P.S. here's a youtube clip put up by the FCD Front Office of us winning the 1997 Open Cup in penalties over DC United.

Boomer, I am actually going tomorrow night. See you there.