Tuesday Morning in Phoenix:
We should likely cover the Cowboys rumor of the day
…Although it seems so stupid I cannot believe it…
So, the Cowboys trade Barber and #22 and #28 for Darren McFadden? Sorry. I have less than any interest in this. McFadden is a guy that you would hope would someday rival what Barber is doing right now. Then 2 more #1 picks?
P-A-S-S O-N T-H-I-S!

ESPN football insider Chris Mortensen has reported the Dolphins and Cowboys are considering a trade that would send the No.1 overall draft pick to the Pokes for their two late first-round choices (Nos. 22 and 28) and running back Marion Barber.

Cowboys owner Jerry Jones is said to covet Arkansas running back Darren McFadden. Jones not only is from Arkansas, but he also owns about a third of it. He's a proud Razorback alum.

The Dolphins have declared their No. 1 pick can be available to the highest bidder, mainly because of the expense that comes with drafting the nation's best college player.

Dolphins football operations boss Bill Parcells and GM Jeff Ireland have explained that if the pick doesn't work out — an injury, an incompatibility, an undetected character flaw — then the Dolphins potentially would be on the hook for a long time with little to show.

One wrong move, and the team might take years to recover. So the safe route would be to trade down, collect extra picks and spend less for players who still would be key contributors.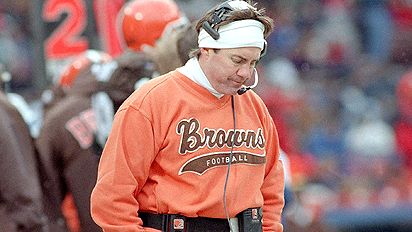 Belichick the Browns Legend
…

Nearly 12 years ago, when Modell took only a few minutes to fire Belichick over the phone, the decision was hailed as necessary and inevitable. An Akron columnist pithily wrote, "Bill Belichick's five-year reign of error is over.''

In 2000, a new reign began with the Patriots. This time the errors can be counted on a pair of mittens.

During his eight seasons as New England's coach, Belichick's Patriots have won three Super Bowls, are at the brink of a fourth and can become the first NFL team to finish 19-0. If his team beats the New York Giants on Sunday, you can argue that Belichick might be the greatest NFL coach of all time.

But what if he hadn't demanded that the Browns jettison the locally beloved Bernie Kosar from the team during the middle of the 1993 season?

What if in 1995 he hadn't insisted that Modell sign free-agent wide receiver Andre Rison ("A bad guy who could play,'' said a former Browns front office official) to a $17 million contract, a deal that forced the cash-strapped Browns owner to borrow money from five different banks and that later backfired?

What if Belichick, wound tighter than a hair braid, had been media friendly? Or if season ticket sales hadn't decreased in four of his five years there? Or if news hadn't leaked during the middle of the '95 season that Modell had negotiated a secret deal to move the team to Baltimore in 1996?

These were defining moments in Belichick's coaching career. Defining in Cleveland, where he was 37-45 with one playoff win (over, ta-da, the Patriots). Defining in New England, where he is 105-39 with 14 playoff victories.

"We all learn from our mistakes,'' said Ernie Accorsi, the former Browns executive VP for football operations who hired the 38-year-old Belichick as head coach in 1991. "Knowing Bill Belichick, he learned between Super Bowl victories.''

Belichick made mistakes in Cleveland, enough to alienate veteran players, the Browns' hyper-loyal fans, the media and ownership. But was it ignorance or arrogance? Inexperience or impatience? Was he simply too smart for his own good?

As a courtesy, Accorsi had interviewed Belichick for the same Browns head coaching position in 1989. Belichick didn't get the job, but he did get a fan. Accorsi remembered walking from the interview thinking, "This guy's been preparing to be a coach since he was 7.''


If ever there was a Super Bowl Jinx, it would have to be this:
Amazon.com offers: 19-0: The Historic Championship Season of New England's Unbeatable Patriots (Paperback)by The Boston Globe (Author)
…
They already are selling the 19-0 book???? What a bunch of jerks. I hope they lose…
Belichick coaching for immortality
…if he doesn't have it already…

Bill Belichick does not articulate what is at stake here Sunday night in Super Bowl XLII.

But he knows. He has to know.

If the New England Patriots complete their mission to achieve the first perfect record since the NFL went to the 16-game schedule, then Belichick's place in history is secure.

He moves ahead of Bill Walsh, ahead of Chuck Noll, ahead of Tom Landry, ahead of Joe Gibbs, ahead of Don Shula.

If the Patriots defeat the New York Giants as they are heavily favored to do, then the discussion of great NFL coaches begins with Vince Lombardi, continues with Belichick and then goes down from there.

There simply is no other fair way to look at it.

It is no knock on these Hall of Fame coaches – Noll with four Super Bowl titles in six years, Walsh with three in eight years and numerous offensive innovations, Landry and Shula with their incredible winning records sustained for nearly three decades and Gibbs, winner of three Super Bowls with three different quarterbacks.

These are legendary figures in the coaching business.

But a win Sunday night and Belichick beats them all.

His colorlessness in news conferences does not obscure his greatness. Neither does the charge of cheating that was labeled against the Patriots after the season opener for filming opponents' coaching signals from a forbidden spot in the stadium.

Belichick, Tom Brady and this incredible collection of Patriots don't win because they have stolen signals. They win because they are the most incredibly prepared team of all time.

As Brady said earlier this season, "I've been playing for him for eight years and he's never wrong. We come in on Monday mornings and look at the evaluations and if we do the things that he really talked about, usually we come out ahead."

And if Belichick won't engage any discussion of what's at stake Sunday night, some of his players will.

"This is a special Super Bowl," linebacker Junior Seau said. "We could hide behind the fact that there's going to be another Super Bowl. But this is a special day because we can do something that will be here forever."

If the Patriots do the job, then Belichick will be 6-0 in Super Bowls – 2-0 as defensive coordinator with the New York Giants and 4-0 in seven years with New England.

His teams have won Super Bowls when they were the underdogs – Giants against Buffalo following the 1990 season and Patriots against St. Louis 11 years later.

Anyone remember the Rams and "The Greatest Show on Turf?" Belichick was the architect of the defense that slowed it down just enough for the Patriots to capture their first Super Bowl, 20-17.

In the wake of that game, I don't remember anyone talking about the beginnings of a dynasty. Most of us still viewed the Rams as the superior team and felt that the Patriots had simply enjoyed a perfect night.

Well, they have gotten more perfect through the years. If the Patriots go 19-0, then Belichick will always be the first to have done that.

Brandon Jacobs was a bargain
…

The Giants have the ground game to execute that game plan, having finished fourth in the NFL in rushing, with Brandon Jacobs, Derrick Ward, Ahmad Bradshaw, Reuben Droughns and Madison Hedgecock generating 134 yards per game.

That tells me the Giants either have great coaching or great scouting.

Jacobs, the team's 1,000-yard rusher, arrived in the NFL as a fourth-round draft pick. Ward, Bradshaw and Hedgecock entered the league as seventh-rounders, and Droughns defines the term "journeyman." Though he arrived as a third-round pick, the Giants are his fourth team in eight years.

New York claimed Hedgecock off waivers from St. Louis, signed Ward off the Jets' practice squad and traded a spare-part wideout to Cleveland for Droughns.

If any NFL team wanted any of those backs, they were there for the taking.

"You've got to get lucky sometimes," Giants general manager Jerry Reese said.

The Giants sweated only one of them, waiting anxiously to take Jacobs with the 110th overall pick of the 2005 draft.

"We were nervous," Reese said. "We thought Dallas was moving up to get him. We already had Tiki [Barber]. We had the little guy. We wanted a big bruiser to complement him."

The Cowboys did move up to 109, where they selected Marion Barber. He's going to the Pro Bowl this season. The 264-pound Jacobs is not – but the Giants are ecstatic with him.
Jacobs rushed for 1,009 yards, averaging 5 yards per carry. He finished 15th in the NFL in rushing despite missing five games and parts of two others with injuries.

"If he played in all 16 games, he might have led the league in rushing," Reese said.
Jacobs is healthy now. Ward is not. When Jacobs missed three September games with a knee injury, Ward stepped in and rushed for 90 yards against Green Bay, 94 at Washington and 80 against Philadelphia.

The Mavs are carried early by Josh Howard
…which leads me to a sports thought that has been on my mind: Why is Josh so much better in the first half of games? Every time he has a big game, take a look: He had 21 of his 26 last night before the intermission. This is a constant theme. I will get some numbers for "Ask Sports Sturm" to prove my point on Friday. I would think that would have to be perceived as a negative if it continues for his career. Legends are made when the game is on the line. Regardless, though, 26 is 26…


If Josh Howard's All-Star push were part of the presidential primaries that are in full swing, he would have swept the Tennessee vote Monday night.

Anybody who wanted to conduct an exit poll could have declared Howard a clear winner by halftime of the Mavericks' 103-84 crushing of Memphis at FedEx Forum.

Howard hit all eight of his shots in the first half en route to 21 of a game-best 26 points as the Mavericks won for the fourth consecutive time. They started a road trip that is broken up with a trip home and numerous days off in dazzling style, dispatching a completely overmatched opponent.

There wasn't anything the Mavericks didn't do right. They limited the Grizzlies to four rebounds in the first quarter and dominated that area all night. Memphis collected only 33 rebounds.

The Mavericks shot lights out – 70 percent in the first quarter and more than 63 percent in the first half, at the end of which they were up by 17. The lead never dropped below 15 in the second half, although coach Avery Johnson took nothing for granted. He had his starting lineup on the floor with less than seven minutes left and a 20-point lead.

They owed all that second-half coasting to Howard, who was masterful in the early going. He added six rebounds and four assists (three in the first quarter) as the Mavericks went for the kill early.

"I had defenders in my face," he said. "I just rose up. Just shoot it. That's all you can do. We've been doing this all our lives. Eventually, you're going to have a game like this."

From the Mavericks' point of view, there can be no argument about Howard's credentials as an All-Star, even in a Western Conference with a slew of deserving guards.

"Josh was amazing, starting out 8-for-8," Dirk Nowitzki said. "He's been our catalyst all year long. He's been unbelievable, not only scoring, but overall. He's got to go [to the All-Star Game]."

Added Johnson: "Josh is fine. He's in rhythm now and he's strong. You look at those three assists he got early in the game, that's what we've been preaching for a while. He's playing on both ends. He's really having fun. He's really locked in right now."

look who is #1 in the NBA Power Poll
…
Stars health report as they head to Canada
…

Zubov not on trip: Defenseman Sergei Zubov, sidelined with groin and foot injuries, is staying in Dallas this week. He will go through conditioning and treatment and be reevaluated early next week. Zubov did not skate Monday and had a noticeable limp as he walked around the practice facility. Tippett said Zubov was "week-to-week."

Lehtinen practices: Forward Jere Lehtinen (sports hernia) practiced Monday and worked on a line with Mike Modano and Jussi Jokinen. Lehtinen spent the weekend battling the stomach flu but said he felt better and was pleased with how he practiced.

"Getting out there makes you want to play, but I have to be smart," said Lehtinen, who has been out of the lineup since Nov. 21. "If I can't play in Vancouver, I could get a few more days of practice before the weekend."

Lehtinen said he'll skate this morning in Vancouver and see how he feels. Tippett said the return of one of the top defensive forwards in the league would certainly give the team a boost, especially on special teams.

Teemu is back
...

Selanne put off his retirement for a few months at least as he signed a contract Monday to play the remainder of the season with the Ducks in the hope that he can help the team repeat as Stanley Cup champion.

"It's almost like I didn't miss a day when I stepped on the ice," Selanne joked at a news conference in the Honda Center after his first practice with the team.

The 37-year-old Finnish star signed a one-year, bonus-heavy deal that should pay him more than $1.7 million. Selanne will receive a pro-rated salary of $570,000 and a $1.2-million bonus will kick in if he plays at least 10 regular-season games or if the Ducks advance to the playoffs, both of which appear readily attainable.

The Ducks, who are 27-20-6, currently sit fourth in the Western Conference with 60 points. They are one point behind Pacific Division co-leaders San Jose and Dallas.

Now they add a future Hall of Fame winger who has scored 88 goals in the last two seasons. This after welcoming back superstar defenseman Scott Niedermayer in mid-December, following his own dance with retirement.

Wondering how the weather in Edmonton is?
…

Jan 29 Today

Bitterly cold. Some early morning breaks in the overcast, otherwise cloudy. High -22F. Winds light and variable.

Jan 29 Tonight

Bitterly cold. Cloudy. Low -31F. Winds light and variable.

Moment of truth on a publicity stunt
…

According to TMZ, the game show Moment of Truth sent a letter to Roger Clemens' manager asking him to appear as a contestant on the show. For those unaware, the former Yankees pitcher was mentioned in a document called the Mitchell Report which accused multiple baseball players of taking steroids and caused a big stir in the sport.

While as a viewer, I would find this entertaining (Clemens has not been proven to have taken steroids). That still doesn't stop me from thinking it's a bad idea for Clemens to do so. There is no advantage for him to it. The cynics of America will think either he takes steroids or the game is rigged (such as when it was revealed that one of the contestants was an actor).

I miss the Office
Chris Paul Mix Tape