The Mavs win, and as I am at the game, I wonder about early season statistical trends that explain the NBA team I love:
Game 1: Loss to San Antonio – Mavs FTs 16 – Mavs 3's 16 – Spurs FTs 37
Game 2: Loss at Houston – Mavs FTs 19 – Mavs 3's 12 – Rockets FTs 30
Game 3: Loss to Golden State – Mavs FTs 22, Mavs 3's 30 – Warriors FTs 31
Game 4: Loss at Clippers – Mavs FTs 20, Mavs 3's 23 – Clippers FTs 28
Game 5: Win at Phoenix – Mavs FTs 37, Mavs 3's 13 – Suns FTs 22
Game 6: Win at Portland – Mavs FTs 23, Mavs 3's 17 – Blazers FTs 22
Game 7: Win vs Chicago – Mavs FTs 24, Mavs 3's 23 – Bulls FTs 30
So, what do these numbers mean?
When the Mavs shoot as many or more 3's than FT's, the Mavs are 0-3. When they shoot more FT's than 3's, they are 3-1.
When the Mavs shoot more FT's than their opponent they are 2-0. When they don't, they are 1-4.
I think the bottom line is this: Settle for perimeter shots, and you are not very good. Demand that you take it to the hoop on a regular basis, and the Mavs are very tough to beat. Trouble is, one way (settling) is easy, and the other is a physical grind. And the Mavericks swing back and forth all season long. In fact, they went back and forth last night a few times. There is no reason to take 23 3-pointers. But they did last night, and still won.
Dampier steps up
…

It's not as if Erick Dampier hasn't come up big for the Mavericks before.

It just hasn't happened enough. Dampier and coach Avery Johnson would be the first to admit it.

With arguably the league's best defensive center in Ben Wallace on the floor, the Mavs' man in the middle won the battle inside. Dampier's team also won on the scoreboard, outmuscling Chicago 111-99 on Tuesday night at American Airlines Center.
"I know I have to make the most of every opportunity that I get," Dampier said after his first double-double (14 points and 13 rebounds) of the season.

The first home victory extends the Mavs' modest winning streak to three. Their record would get to even at 4-4 with a win at Memphis on Friday.

Though improvement has been made in the last six days, areas of concern continue to exist. The Bulls scored 30 points in the fourth quarter two nights after Portland had 32 in the last period.

Compliments from Skiles
…

Dallas pulled away late for a 111-99 victory, dropping the Bulls to 4-42 on this trip since the dynasty days. The Bulls haven't won the opening game on their annual extended November trip since the 1996-97 season.

That's a lot of starting lineups ago.

"I felt they were toying with us," Bulls coach Scott Skiles said. "They made it look easy."

The Bulls trailed 82-76 after Kirk Hinrich drained a jumper with 9 minutes 22 seconds remaining, no easy task for a team that shot just 60 percent from the line.

But Dirk Nowitzki buried jumpers on consecutive possessions, Jason Terry sank a three-pointer, Nowitzki drew a foul on Nocioni and made both free throws and Greg Buckner swished a baseline jumper.

$51 million dollars to talk to Matsuzaka?
…This is absurd. Unless the guy wins 24 games, he is not worth it. If you want to spend $100 million on a pitcher, don't you just get Zito for $75?

In a high-stakes gambit that could change the face of Boston baseball, the Red Sox are poised to spend as much as $90 million to land Japan's greatest contemporary pitcher, Daisuke Matsuzaka, a 26-year-old phenom whose value might be measured more in the anguish he could cause the archrival Yankees than in the Sox' chances to otherwise profit from their lavish investment.

The Sox, in a record-setting reach into the Japanese market, agreed to pay Matsuzaka's team, the Seibu Lions, $51.1 million for the right to negotiate a contract with the righthanded ace. Under the deal, the Sox have 30 days to sign Matsuzaka, and his agent, Scott Boras, may be seeking something in the range of a four-year pact worth at least $40 million.

When and if a deal is finally done, the annual investment could average out to the most the Sox have ever spent on a pitcher, which so far is the $17.5 million Pedro Martínez earned in his final season here, 2004. And that would be far more than even the marketing maestros on Yawkey Way could expect to reap from exploiting Matsuzaka's connection to his homeland, according to baseball officials and economists.

"That's pretty rich," said Andrew Zimbalist, a Smith College economist who specializes in baseball finances, of the projected investment. "But it looks like it's more about winning than revenues."

The Sox wanted not only to block the Yankees from acquiring Matsuzaka, the best player to depart Japan for the major leagues since Hideki Matsui arrived in the Bronx in 2003, but also to secure a star who could help them capture their second world championship of the millennium. That alone would trigger a financial windfall. Anything more could be gravy.

AMAZING!
Vinny is back
…

The Patriots signed 43-year-old quarterback Vinny Testaverde yesterday, and coach Bill Belichick said the move has nothing to do with the health of starting quarterback Tom Brady or backup Matt Cassel.

"Fortunately, both of them are healthy and we're happy with both of them," Belichick said, indicating that Testaverde will be the third quarterback.

"This is something we wanted to do for some time, but we were caught in some roster situations with other positions," Belichick said. "We were looking at it a while back but had a lot of other needs and were skating on a little bit of thin ice."
Belichick dismissed the notion that Testaverde was brought in simply to be a veteran mentor, saying the move isn't a "commentary on any quarterback, coaching, or anything along those lines."

"I think the most important thing is that if he has to play, Vinny has a lot of experience, and I think in an emergency he can run our offense without many [repetitions]," Belichick said. "If you have an emergency, I think he'd be able to go in there and be able to run the team in that third spot."

Because the team has carried only two quarterbacks, Belichick said, he needed to consider how quickly he could get an emergency option up to speed.

"When you have an insurance policy, you can't bring a guy in one week and expect him to learn the terminology that quickly -- you have to make the move ahead of time," Belichick said.

This marks Testaverde's 20th NFL season, and the Patriots are his sixth team, following Tampa Bay (1987-92), Cleveland (1993-95), Baltimore (1996-97), the New York Jets (1998-2003, 2005) and Dallas (2004). Testaverde, who turned 43 Monday, ranks in the top 10 in NFL history in four major categories: sixth in passing yards (45,252) and completions (3,691), eighth in touchdown passes (269), and seventh in attempts (6,526).

Get to know the Colts
…

Of course, the ride to a second consecutive 9-0 start may have seemed like a rollercoaster to those involved. It's safe to say, as evidenced by Sunday's 17-16 win over Buffalo, that Indianapolis is winning despite playing their best as of yet.

Instead of steamrollering opponents as they did a year ago, the Colts have won two games by one point, two games by three points, one game by five points and two games by seven points this season.

Indianapolis' only double-digit victories have come against Houston (the team's biggest margin of victory at 19 points, 43-24) and Washington (14 points, 36-22).

But the NFL is not a fashion show. Style points don't count. Winning games do.

"I actually feel better about how things are going this year. Last year, we were hitting on all cylinders. I think we had a lot of things go our way in that streak. And we never really got tested. One time, Jacksonville early [at the RCA Dome)]. But you feel good when you come through these situations," Colts coach Tony Dungy said.

"Your offense has to have a drive. Your defense has to have a stop. When you're making those plays to win games, you do feel good. And I wish we were doing some things more consistently. I wish we didn't have to talk about the kick coverage, those kind of things. But all-in-all, it's hard to win nine games in a row in the NFL."

The Colts have recorded a 23-2 regular-season record since the start of last year and have won 31 of their last 34 games overall. Dungy has been impressed with the consistency his team has shown the last two seasons.

"I've really been pleased with the way we've responded. We've worked well. We've practiced well. We haven't always played as sharp as we can play. But week in and week out, we're ready. And there's been no thought, I don't think, on our team of 'Oh well. We'll just wait until the playoffs.' or 'See what happens in January,'" he said.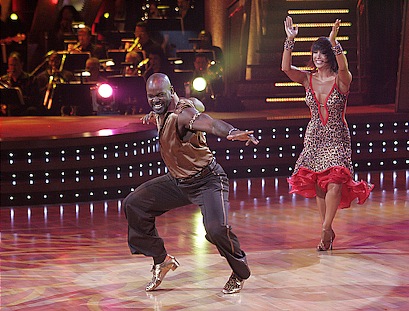 Uncle Barky reviews
Emmitt vs Mario
…
But, P1 James asks the real question:

If Emmitt Smith were in a dancing contest against Barry Sanders instead of Mario Lopez, who would win?

LeBreton on General Knight
…
Cool new blog:
Awful Announcing
…new to me, at least…
Youtube:
Derek Boogaard vs. Georges Laraque NOV/14/2006
TMS fun with drops
Indian Thriller