Nothing too special for you on a Sunday edition, except this gem. Over dinner last night, the topic of football cards came up between Mike Rhyner and me. I mentioned to him (and now to you, dear reader) that I had discovered a wonderful website
FootballCardGallery.com
that appears to have pictures of nearly every old football card.
This led us to the discussion of the 1960 Topps John Unitas card, seen below: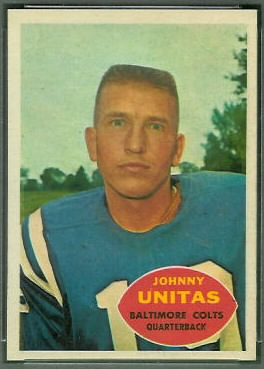 Rhyner suggested Unitas appears quite stoned. I will not assume anything, but it does make you wonder.
Links:
Rick Gosselin compares 90's Cowboys and 00's Patriots
…
Just when you thought you could trust the Mavericks….
They lose to Philadelphia AT HOME and WITHOUT IVERSON!!!
…
Mavericks notes
…including this number:

The Mavericks are 0-8 this season when scoring below 90 points.

Sunday Revo
…
Mark Stein on Nash for MVP
…