If you are relatively new to Bob's Blog, you may be shocked by the very random nature of the occasional football history post. In the past, I have featured Joe Kapp, the Immaculate Reception, and many other great old school football topics not because they are relevant, but rather because they are relevant to me. So, feel free to bypass my ramblings about the good old days, or sit back and enjoy today's entry.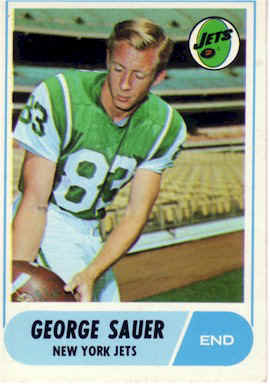 George Sauer
So, last night, I am enjoying another hour of viewing from a DVD set I received for Christmas,
Super Bowl Collection, I – X
, and was watching the summary of 1968 in pro football and then the historic
Super Bowl III
between the Colts and the Jets. I must tell you if you love old school NFL, you might need to buy this!
Anyway, I was enjoying the Super Bowl III highlights that I have seen a hundred times, and was watching WR George Sauer make catch after catch in this game for a total of 8 catches for 133 yards. Basically 2/3rds of every yard Joe Namath was credited for went to George Sauer. He was opposite Don Maynard, who had a far less significant contribution to the upset of the favored Colts. Of course, Sauer, is relatively anonymous to my generation, while Namath is constantly presented to us as the one of a kind superstar that he was (despite his statistics being very disappointing). By the way, Namath played well in this game, but the adoration seems excessive for his performance when you actually watch the game and study the statistics. Matt Snell's running and the Baltimore Colts 5 Turnovers were the reason that the 18-point favorite Colts went down to the biggest upset in football history. Of course, Namath did make the guarantee, so history will never forget him.
Anyway, my DVD had a few special feature vignettes at the end of the game, and one was a 5-minute story about Sauer. The details were pretty interesting about a guy I knew almost nothing about. Including:
· He retired at 27 after 4 Pro Bowls in 5 years, and being a star in Super Bowl III
· He claimed he retired because he lost any desire to play football and found football to be too savage and attempted to become an author
· His dad was the scout who signed him, and also a star for Nebraska and Green Bay in the 1930's and part of the Packers 1936 title team
· He was given a full scholarship at Texas when he was born (long story)
Anyway, a father-son combination in the NFL that I didn't know much about, but now I am a bit more familiar with the great George Sauer, Jr.
Here is a George Sauer Sr tribute site
…
Links:
Art Garcia with a long look at the first 41 Mavs games
…
Moore on the Mavs standing pat
…I really believe this is the right move. The pieces appear to be here, so no more trades, please!
Cowboys add fired Syracuse coach
…
Out of Town Links:
Terrell Owens says he is playing
…
Hockey slips into the sea of irrelevance
…
How Norway was shocked about Hook Em Horns
…
Is this funny, sad, scary, or pathetic?
9-year old soccer phenom being pursued by Manchester United, others
…

Jean Carlos Chera, a 9-year-old who is 4-foot-6, is attracting interest from Manchester United and other top European teams. Chera, who weighs 77 pounds, currently plays for the youth teams of Associacao Desportiva Atletica, a small club in the southern Brazilian state of Parana.
"Seven or eight European clubs have already contacted us to know more about Jean," team president Adilson Batista Prado said in a telephone interview Thursday. "They want to know what he is all about, and I tell them he's a phenomenon, probably the best player to come out of Brazil."