If only Efren Herrera was here to save us from our kicking spareness.
The Cowboys let a painful one get away. It is an interesting study in how to feel about a tough loss when you consider that there were plenty of good things to pull from the contest:
- They went toe to toe with one of the very best teams in the NFL, and for a good portion of the game looked to be the better team, and should have won.
- The Defense made it difficult on a very efficient Denver offense all day.
- Roy Williams is making game-changing plays routinely now (good ones).
- Jason Witten appeared almost unstoppable.
- Losing to Denver doesn't hurt you much at all. AFC opponents don't affect tiebreakers. Division showdowns next Sunday do.
Of course, we can also consider plenty of disappointing things from Thanksgiving Day:
- Julius Jones just doesn't look like anything resembling "game breaking".
- Billy Cundiff is still a very average to below-average kicker, and despite kicking a 56 yarder last week which gained a moment of love, has consistently been inconsistent since the day he arrived in Dallas.
- The offensive line's play is very, very concerning both protecting its QB and running the football.
- A golden chance to perhaps have the division lead all by yourself by Sunday is missed. This is a game that you let get away.
I am not too worried about this result. But, there are things I am worried about. 5 games to go, and a huge showdown next Sunday in Giants Stadium.
Golden Opportunities escape the Cowboys
…

The Cowboys missed two opportunities to win in regulation.

Cornerback Terence Newman, who had an interception and recovered a fumble, dropped an interception at the Denver 25 with 12:23 left in regulation that he probably would've returned for the go-ahead touchdown. After forcing a punt on that possession, the Cowboys drove from their 45 to the Denver 15.

But kicker Billy Cundiff missed a 34-yard field goal wide left with 7:42 left that would've given Dallas a three-point lead. Before that kick, Cundiff had made 36 of 39 career attempts (92.3 percent) inside 40 yards.

The Cowboys re-signed him six days ago for games just like this. He made a 56-yard field goal last week that propelled Dallas to a 20-7 win over Detroit.

This time, Cundiff didn't come through.

Broncos OL makes another hero
…

When the Broncos defeated the Cowboys 24-21 in front of a national Thanksgiving Day televised audience and a boisterous, sellout crowd at Texas Stadium, the real hero was not Dayne for that 55-yard jaunt that set up a game-winning field goal by Jason Elam.

It was those guys blocking in front of him.

"How about giving Matt Lepsis some love?" Plummer said at his locker before his postgame news conference. "That guy's been unbelievable, but just because those guys don't talk to the media, no one writes about him. He tears up guys every week. We ran that last play right behind him."

Right down Highway 78. Meaning no disrespect to Dayne, who was given the All-Iron Award by CBS broadcaster Phil Simms after the game, or to Mike Anderson and Tatum Bell, who generally have carried the Broncos' ground game this season.

Nor is this meant to diminish the talents of Reuben Droughns, Clinton Portis, Olandis Gary and even Terrell Davis. But how many tailback stars do the Broncos have to create, seemingly upon a moment's notice, before people realize this incredible running attack is not about the runners but the blockers?

Ekuban proud to see the Tuna fail
…

While teammates celebrated, Ekuban stared across the field so he could revel in the pain disfiguring the face of Cowboys coach Bill Parcells.

"I saw frustration, I saw a ticked-off coach, and that's bigger than anything, better than anything I've felt during my seven years in the NFL," said Ekuban, looking for vengeance against Parcells ever since being released by Dallas two years ago.

"I wanted this one bad. To see the look on Bill Parcells' face when he was walking off the field, that's all the Thanksgiving I need. I don't need no turkey tonight."

Cundiff continues to be a spare; but will he continue to have a job?
…

With reporters lined up four- deep around him Thursday, Cundiff summed up the tenuous job status of an NFL kicker.

"I've been around long enough to know if you see me on Sunday, then you'll see me on Sunday," he said.

"Until then, hopefully I'll be in practice.

"They go off how you do in the game, and I didn't do well in the game. So hopefully I'll get another chance."

Horns and Aggies talk up the showdown
…

Understandably, A&M coach Dennis Franchione is playing the anything-is-possible card, reflecting on past upsets in a rivalry loaded with them.

Franchione even had Jacob Green, a former A&M defensive end, talk to current Aggies about the 1979 game, when a 5-5 A&M team stunned No. 6 Texas 13-7 and knocked the Longhorns out of a Sugar Bowl matchup against Alabama, the eventual national champion.

The last time Texas arrived in College Station with a guaranteed berth in the Big 12 championship game, in 1999, the Longhorns lost 20-16. Likewise, the last time A&M took the field with a South Division title assured, the Aggies fell 26-24 in 1998.

Texas defensive tackle Rod Wright predicted the "mental thing" will work today for the Longhorns, just like it used to work against them when facing the Sooners.

"This game, for us, is a different kind of swagger," Wright said. "You feel like, 'We've beat these guys for five years. We own them.' It's all on us, just like it is every week. If Texas plays Texas football, we'll win our sixth in a row."

Mooch fired by Lions today?
…

The Lions are 15-28 since 2003 under Mariucci, including a 4-7 record this year, a year that began with high hopes in the organization. Thursday's loss dropped Detroit 3½ games behind NFC North-leading Chicago, and 1½ behind second-place Minnesota.

"I take the responsibility, because I'm the head coach, and I should," Mariucci told the Free Press. "And that's what makes it a little bit frustrating, because where do you start? You identify where we need to be better, and there's a multitude of things."

You heard it here first (and I say this as a prediction, not as my desire): Steve Mariucci will be hired in Green Bay within the next 3 months. And by the way, how does Matt Millen survive AGAIN?
Delgado to Mets not without some complications
…
George Best passes away
…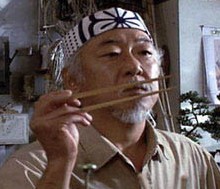 So does Mr. Miyagi. R.I.P.
...