First and foremost, GOLF MAJORS ARE SO GREAT! WOW! It never disappoints. The drama, the tension, the theatre, it is all right there waiting for you on Sunday at a major. Who needed Tiger yesterday?
Secondly, Did Sergio choke 3 times in 1 day? How many times did he need to have the tournament in the palm of his hand? Tough being him today, as he can surely chew on 0-36 for a while now…
Padraig Harrington seizes the moment, despite horrendous 18th
…

As García made his way down the 17th fairway, Harrington was walking down the rough line at No. 18, his golf ball twice rinsed in brown water and his British Open chances turning dark.

"If Sergio parred the last and I did lose, I think I would have struggled to come back out and be a competitive golfer," Harrington said. "It meant that much to me. If I had just thrown away the Open, if it turned out like that, it would have been incredibly hard to take."

When García missed an 8-foot putt for par on the 72nd hole that would have given him the claret jug, Harrington responded with vigor in outdueling García in a four-hole playoff to claim the British Open for his first major championship.

After Harrington rolled in a 3-foot putt for bogey in the playoff to finish one
stroke better than García, he raised the flag of Ireland as the gallery serenaded its first European major champion since Paul Lawrie won the British Open here eight years ago. The 35-year-old Harrington also became the first Irish winner of the claret jug since Fred Daly won in 1947. Harrington, who shot 67, and García, who shot 73, finished at seven-under-par 277.

García, who began the day with a three-shot lead, was inconsolable afterward. His best chance at a major had slipped away in a maze of missed putts. "I don't know how I manage to do these things," said García, now 0 for 36 in majors. "It seems to me like every time I get in this kind of position I have no room for error."

As it did eight years ago, Carnoustie's 499-yard par-4 18th hole played a central role in the theater. In 1999, Jean Van de Velde made a triple-bogey 7 there by hitting into the murky Barry Burn and losing in a playoff.

On Sunday in regulation, Harrington made a double-bogey 6 there by hitting his tee shot with a driver and his third shot with an iron into the burn. From in front of the burn, he hit his fifth shot — a spinning pitch — that stopped 4 feet from the cup and rolled in the putt to fall one stroke behind García.

Harrington's best hope was that García had to play the 18th, too.

"To try to win a tournament on that hole, there's just trouble everywhere,"
Harrington said. "I knew Sergio; it was going to be a tough hole for him to make par."

García found the fairway with an iron, but he had to wait several minutes before he could hit his next shot as Paul McGinley and Chris DiMarco finished on the green. After the group was finished, a course worker slowly raked a bunker to the right of the green, where McGinley had been.

"It's not fun standing there when you know you're hitting the ball well and you know what you have to do," the 27-year-old García said. "You're hitting a 3-iron, and you know you need to make par. It's not very easy."

García pulled his 3-iron into a bunker short and left of the green. He blasted out to 8 feet and read the putt from each side. With the claret jug in his grasp, García tapped his ball and watched it rim out of the left side of the cup.

García spoke as if external forces had conspired to keep the ball out.

"You know what's the saddest thing about it?" he said. "It's not the first time. So, I don't know, I'm playing against a lot of guys out there, more than the field."

With García's miss, he joined Harrington for a playoff that began on the first tee and concluded with 16, 17 and 18. The sun, absent for most of the championship, broke through just in time and began casting long shadows across the course.

Sergio just can't keep it on the road
…

Halfway down the ninth fairway, a dark-haired young woman stood against the ropes as Sergio García went by, tears welling up in her brown eyes. "Vamos!" she shouted, in a voice hoarse with feeling. This was García's sister, Mar, and she feared that she had just witnessed her brother's hopes of his first major championship crumbling in the mini-crisis of three bogeys in the preceding four holes.

It would get better for the García family, and then much, much worse. Two hours later Sergio was one 10ft putt away from the title and from finally fulfilling the destiny so many had predicted for him since he erupted on the scene eight years ago as a teenaged prodigy. One 10ft putt on the 18th green, with a slight break from left to right. It would have brought him home in a total of 72 for the day, eight under par for the tournament and one stroke ahead of Padraig Harrington. Harrington, too, had held the championship in his hand before seeming to throw it away with two shots into the water on the last hole. So now García, having lifted his third shot out of a greenside bunker, stood over the par putt. Applying the gentlest of touches, he watched the ball turn in towards the left edge of the hole before catching the lip and curling away. Head hanging in disappointment, now he was heading for a play-off with a man who was cuddling his infant son and smiling at the world as he breathed the sweet air of reprieve.

And therein, perhaps, lay the crucial difference between the two men as they fought it out over the extra holes. Relaxed and prepared to embrace his good fortune, Harrington made a swift strike that cut García off at the knees. To recover from a sudden two-shot deficit, after he had already struggled to get himself back within touching distance of victory, was asking too much. There would be further dramas to come as they completed the four-hole shoot-out, but the short putt that gave victory to the Irishman will have observers asking yet again what it is that prevents García from closing out a major tournament.


In other news, Here is a Must Read from
Bill Simmons about the Donaghy scandal
….

That should have been a movie. Now, it allegedly looks to have happened in real life. If true, it's the rarest of sports scandals, a shocker that shocked absolutely nobody but might end up becoming more significant than anyone imagines. After the most damaging NBA season in three decades, after a series of deep-rooted problems -- almost entirely self-inflicted -- that already had everyone concerned about the league's immediate future, we reached the tipping point with Tim Donaghy.

Guilty or innocent, we will never watch an NBA game the same way. He's going to hang over everything -- every referee, every shaky outcome, every bad call -- in ways the average fan doesn't fully realize yet. Maybe they'll throw Donaghy in jail, maybe they won't, but he'll linger over every court like a black cloud. You'll hear his name more than you think. You and your buddies will make "that guy looks like he's pulling a Donaghy!" jokes every time a referee is making calls against your favorite team. Hecklers will gleefully play the Donaghy card after every bad call against the home team. For honest referees still working games, it doesn't matter what happens from this point on -- their collective integrity will always be questioned, their collective track record won't matter, and that will be that.

So that's one problem. The second problem is more complex. When news of the scandal broke on Friday, as J.A. Adande pointed out in his column that day, every diehard NBA fan had the same reaction. They weren't thinking, "I can't believe it!" or "Oh my God, how could this happen?" They were thinking, "Which one was it?" This was like finding out that your grandfather who smoked three packs a day for 50 years just came down with lung cancer. It was sad but inevitable. It was only a matter of time. These guys never made enough money (as we learned from the airplane ticket scandal) and struggled at their jobs consistently enough that there was no way to tell the difference between blowing a call and intentionally blowing a call.

More than any other professional league, an NBA referee can directly affect the outcome of every game. We've seen it happen time and time again, only we always assumed that the refs in question were working for the best interests of the league, that they were following orders like Luca Brasi (even if there was no definitive proof) -- like the guys who worked Game 6 of the Kings-Lakers series in 2002, or Game 7 of the Suns-Sonics series in 1993, or the infamous Hubert Davis Game in 1994. After Dwyane Wade and Miami received some Vince McMahon-level assistance in Games 3 and 4 of the 2006 Finals, I wrote an angry column about the "officiating crisis" (my words) that prompted Mavs owner Mark Cuban (tired of being fined) to post the link on his blog along with the sentence, "I never have to say a word again." After Dallas squandered that series, Cuban was so traumatized by the officiating that he nearly sold the Mavericks before family and friends talked him out of it.

For anyone who loves the NBA, the officiating has always been the proverbial "elephant in the room." No league has endured more jokes along the lines of "I'm not sure where the NBA ends and the WWE begins." Whether it's because of bad luck, poor training, measly pay or the thanklessness of the profession itself -- maybe it's all of those things -- the NBA employs a handful of good referees and an astonishing number of bad ones. In the playoffs, there never seems to be enough quality officials to go around. If that wasn't bad enough, the league displayed a nasty "habit" (note: I'm using quotation marks because you could never prove anything more than a series of coincidences) of assigning better referees if they needed road teams to prevail (like a marquee team trailing 2-1 and playing Game 4 on the road) and weaker referees if they needed home teams to prevail (because weak referees are more likely to have their calls prejudiced by a raucous home crowd). This "habit" was miraculously cured this past spring, one year after the fallout of the 2006 Finals, when the officiating assignments became noticeably more haphazard and we ended up with just one Game 7 in four rounds. Maybe it was a coincidence, maybe not.

3 Questions about this mess
….


1. How big is this scandal?

The New York Daily News reported Sunday that federal authorities believe Donaghy will cooperate with investigators and possibly name other officials or players involved in the scandal. Stern has already come out publicly and said that Donaghy was the one and only referee under suspicion of affecting the outcome of games he officiated, but if the opposite is true and even more referees are involved, Stern's credibility will take another enormous hit. The Daily News said Donaghy has hired former federal prosecutor John Lauro, who specializes in representing whistleblowers, as his defense attorney.

2. When was the NBA informed that Donaghy was under investigation by the FBI?

The Denver Post reported Sunday that the answer to that question is January, which, if true, would mean the NBA allowed Donaghy to continue refereeing games, including playoff games, despite knowing he might be crooked. Who in the league office signed off on that?

3. What about all the red flags?

According to data compiled by Stats LLC and reported in the New York Post Donaghy led the NBA in technical fouls called, whistling 177 of them -- 20 more than anyone else. Donaghy also ranked fourth in blowing personal fouls; was third in ordering free-throws, and second for fouling-out players for the 2006-2007 season.

The NBA is meticulous in gathering data on its referees and the calls they make, and if it had a referee calling an inordinate number of technicals, you'd expect they'd speak to Donaghy about it, no?

Also, The Post reported that NBA officials knew that Donaghy was gambling on football and ordered him to stop.

Further, the New York Times reported Sunday that Donaghy refereed in 11 games after Jan. 1, 2007, in which the consensus Las Vegas line moved 2 points or more. The team on which bettors wagered heavily enough to move the line that far won 7 of those 11 games. On Jan. 15, the Philadelphia 76ers were originally favored to beat the Toronto Raptors by a point. Bets came in so heavily on the Raptors that they eventually were favored to win by a point instead. The Raptors won in a blowout, 104-86. Two nights later, so much money was bet on the Phoenix Suns against the Houston Rockets that the consensus Las Vegas line, which opened at the Suns favored by 4 ½ points, moved to 8 by tip-off. The Suns won by 9, 100-91.

I think we could all use more leg tattoos.
In yesterdays, Boston Globe Sunday Magazine, who was the cover story? Who was the feature?
Our Boy, Gabe Kapler
…Click on the link and read the whole thing...

What's a former Red Sox cult hero - a married, laid-back, muscular, tattooed Jewish guy from California with a charity for domestic abuse victims - doing in the Carolina hills with a bus full of kids and their baseball gloves?

Dan McGraw has another go at Tom Hicks
…

Anyone who is a baseball fan in this part of Texas knows the Rangers stink — and, aside from a few good teams in the late '90s, have stunk for most of their history. This year's last-place team is really just part of the pattern. What's becoming clearer, however, is that it's not an accidental pattern — but a part of owner Tom Hicks' business plan.

A perpetually last-place team wouldn't seem to make much sense in the regular business world, but the business of baseball in Arlington is quite different from the rest of the country, and Hicks has figured this one out.

Consider some basic facts about the Rangers: They are 21st in the league in payroll, and when you crunch the numbers and the odds, payroll has a great deal to do with winning. In the past 11 years, since major-league baseball went to the wild-card play-off format, 65 percent of the teams that made the play-offs were in the top third in payroll. And the numbers don't lie when you move down the list: A quarter of the play-off teams came from the middle third in payroll terms, and just 10 percent from the cheapest-paying bottom third.

So Hicks is playing the odds here, but doing it from the bottom. Attendance for Rangers games is fairly constant whether they win or lose — about 2 to 2.5 million a year. When you look at it from Hicks' perspective, it makes little sense to spend more money on better players for odds to win. Because he makes the same regardless.
Keep the payroll low, and you're assured of a profit. That team also has a slight chance to move up and increase the profit numbers with higher attendance. Increasing the payroll would give the Rangers a better chance of winning, but there's still a chance that the team could finish lower in the standings. So an increased payroll just risks the profit certainty, a proposition anyone in business would avoid.
Some have called for Hicks to sell the team, but I don't think he will, at least not for three to five years. That's because the Rangers are an important part of Hicks' biggest investment, the Glorypark real estate deal surrounding the ballpark.

When Jerry Jones got Arlington voters to help pay for his new Cowboys stadium, the voters also gave Hicks a big present. Since the baseball stadium was built in 1994, there's always been a plan to develop the 200 acres around it. But the risk was too great with just the baseball games to bring customers in. With the Cowboys next door, the acreage has become very hot, giving owners a better chance of making huge profits. Hicks is planning a $600 million mixed-use development — residential, entertainment, and offices — on 75 acres. The Arlington City Council recently approved a $135 million tax break for Hicks' company to help pay for infrastructure.

But Hicks needs the Rangers for more than an anchor to bring people to Glorypark. The team is no rich man's hobby — it's his bread and butter. In fact, since they bring him about $11 million a year, you could say the Rangers are his cake and caviar, too. When he controlled the Hicks Muse Tate & Furst investment company, that was where his money came from. But bad investments by Hicks Muse forced Tom into early retirement, and his sports teams are now his basic paycheck providers.

Rob Tejeda cannot throw strikes
…

Tejeda has 60 walks in 95 1/3 innings this season, third-most in the American League. That's eight walks behind AL leader Daniel Cabrera of Baltimore, who has pitched 37 more innings than Tejeda.

Tejeda has walked at least three batters in his last 13 starts and has averaged almost a walk per inning in that span.

On Sunday, Tejeda allowed five runs – three of them earned – in five innings. He walked a batter in four of his five innings but managed to pitch out of jams in the first and third. But a walk and an error by third baseman Travis Metcalf hurt Tejeda in the fourth as the Indians scored two runs on a two-out single to take the lead. Tejeda walked Jhonny Peralta with one out in the fifth. Peralta ended up scoring the third and final run of the inning on another two-out single.

"Right now, it's difficult out there," Tejeda said. "I was a little more aggressive, but I keep walking batters so that's what's hurting me right now, the walks. I need to stop that."

Tejeda is 2-7 with an 8.33 ERA and 50 walks (in 58 1/3 innings) in his last 13 outings. The walks have kept Tejeda's pitch count up, preventing him from lasting six innings. He's done that only once in his last 13 starts. The walks have obviously forced Tejeda to pitch with runners on base. He was third in the American League among starters in base runners per nine innings coming into Sunday's game. Vicente Padilla still leads the league in that category.

What bothers Tejeda most is that he hasn't won since June 8, a span of seven starts. In that stretch, the stats don't look any better. He's averaging about 4 1/3 innings per outing and has issued 30 walks.

But Tejeda isn't the only Rangers starter that's walking too many batters these days. Texas starters walked 18 batters in losing three of four to the Indians.

Jamey Newberg writes about the Michael Young trade with Toronto from back in the day
…
Bringing the room down with this tragic story:
Coach Dies in Texas League
…

A minor league baseball coach died after being struck in the head by a line drive as he stood in the first-base coach's box during a game, police said.

Tulsa Drillers coach Mike Coolbaugh, 35, was hit during the ninth inning Sunday by a foul ball off the bat of Tino Sanchez of the Arkansas Travelers. He was taken to Baptist Medical Center-North Little Rock, where he was pronounced dead.

The Texas League game was suspended after Coolbaugh was struck.

"It's a tragedy for all of baseball," Drillers president Chuck Lamson told the Tulsa World in a story posted on the newspaper's Web site early Monday. "He just joined the staff and was a former Driller player. Our thoughts and prayers go out to his family."

Travelers spokesman Phil Elson said Coolbaugh was hit on the right side of his head or on the forehead -- "I'm getting conflicting reports," he said -- and fell to the ground immediately.

According to a report on the Drillers' Web site late Sunday, Coolbaugh was knocked unconscious and CPR was administered to him on the field.

Sgt. Terry Kuykendall, spokesman for North Little Rock police, said Coolbaugh was still alive when he was put in an ambulance, but stopped breathing as the ambulance arrived at the hospital.

"They tried to resuscitate him, but he was pronounced dead at 9:47 p.m.," Kuykendall said.

Coolbaugh played 44 games in the major leagues for the St. Louis Cardinals and Milwaukee Brewers over two seasons. The Drillers' Web site said Coolbaugh joined the Tulsa staff on July 3 as a batting coach. He played for the team briefly in 1996.
Tulsa is the Colorado Rockies' Double-A affiliate.

Preseason All Big-12 Team is voted upon
…

WR Limas Sweed Texas 6-5 219 Sr
QB Colt McCoy Texas 6-3 205 So.
RB Jamaal Charles Texas 6-1 200 Jr.
RB Mike Goodson Texas A&M 6-0 197 So.

Aggies have tough schedule
…Fran speaks bravely in July…

"I'm excited about this season because I'm fired up about these kids, these guys," Franchione said. "They're all mine. It's taken us awhile to get to this point. We really have a group that likes each other and enjoys being around each other. And they're a team.

"We've got some talent, we've got some belief."

But will that be enough when A&M goes to places like Lubbock, Lincoln, Norman and Columbia. Four of A&M's final six games are on the road.

The Aggies haven't won at Oklahoma since 1997. They haven't won at Texas Tech since 1993. And don't forget, A&M has beaten Nebraska only twice since 1955.

In addition to the Big 12 road tests, the Aggies face a Thursday night clash at Miami in September.

"I think people don't know how we can match up with that road schedule, for sure,"
Franchione said.

At least one former coach believes a special season is possible.

"It's hard to know what kind of football team you have until the middle of the year," said Gene Stallings, former A&M coach and now a school regent. "If A&M can stay healthy and their quarterback can compete on the level he can compete on, I think they're very capable of having an outstanding year."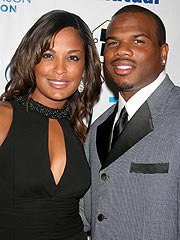 Ali and Curtis Conway?
…

Boxing champ and Dancing with the Stars finalist Laila Ali wed retired NFL star Curtis Conway in L.A. on Sunday, Ali's rep tells PEOPLE exclusively.

Among the 200 guests were Laila's parents, Muhammad Ali and Veronica Porsche Anderson, along with her sister Hana Ali, who was a bridesmaid. Conway's twin sons, Kelton and Cameron, 12, were the ringbearers while his daughter Leilani, 8, stepped in as the flowergirl.

For her big day – which Ali planned while competing on Dancing with the Stars this past spring – "I don't want a big poufy dress," Ali told PEOPLE in April. Instead, the bride, 29, opted for a knockout champagne-colored silk charmeuse strapless mermaid gown by Amy Michelson.

"Laila's approach to the wedding was simple but elegant," says wedding coordinator Juliet Ryan. "There were no lions and tigers and bears. It was about the love."

The pair met two years ago when Conway hosted a small get together at his house, which Ali attended with a friend. Conway, 36, then popped the question last Thanksgiving.

"People think she dominates the relationship," Conway told PEOPLE in May, "but she's a sweetie pie."

A few pieces of email:

Bob

Since you were discussing documentaries I thought I would send you a clip
Dallas Diamonds Highlight Film …

This is a short (3 minute or so) highlight compilation of Dallas Diamonds highlights (Women's football) set to an original rap song.

If you don't feel it was a complete waste of time, maybe you can give it a little love during a segment The new season is fast approaching and the team is still looking for potential spectators and sponsors

Let me know
Thanks,
Stay BaD!
Mikal, formerly of the real little mavericks (aka UTA), presently of the brothers' black
----


Sturm,

I know you are out of town right and probably not answering email, but if you do get this email, can you please link me from your blog?

I know you probably get requests like this all the time, but I am desperately in need of readership and my blog is a DFW sports blog with a bunch of other random commentary. I may not have a ton of readers but we have the blog up and running since 2004 so getting a link from your blog would do wonders to my motivation to keep it going.

I have listened to the ticket since it came on the air and your show is definitely the best on the station right now. Please give me motivation to keep my blog going and you won't regret the decision.

Gracias,

Chris Trampe

LINK

Idiots guide to sports …


First Michael Vick, Now this – Bad Week for Dogs.
Taser Fun