VLAD
Vlad Wins a non-descript Derby
…But at least we had a chance to enjoy the great Vlad…

The bayside ballpark at China Basin seemed like an ideal venue for Monday's Home Run Derby. It was tantalizing to picture homer after majestic homer soaring over the right-field wall, plopping into the chilly waters of McCovey Cove and causing an all-out, souvenir-seeking kayak frenzy.

Or maybe not.

No home runs reached the crowded cove -- zero, zip, nada. Instead, the derby evolved into Vladimir Guerrero, Alex Rios and their right-handed hitting friends peppering the left-field bleachers.

Guerrero emerged the winner, smacking three home runs in the final round to dispatch Rios, who hit two. That came after a lively second round in which Rios brought the capacity crowd to its feet with a string of long balls, Guerrero launched one homer into a parking lot and another more than 500 feet, and Albert Pujols threatened to catch Guerrero and reach the finals.

But the most feverishly anticipated sight -- Bonds-ian blasts finding a watery home -- never happened. All three left-handed hitters in Monday's contest - Justin Morneau of Minnesota, Prince Fielder of Milwaukee and 2006 champion Ryan Howard of Philadelphia -- were eliminated in the opening round, without making any official splashes in McCovey Cove.

Morneau and Fielder each sent one foul ball into the water, but that was the extent of the activity for the flotilla of kayakers. Howard offered the most imposing threat, but he made seven "outs" before his first home run -- and then he hit one to straightaway center field and two to right-center.

Asked about the kayakers heading home empty-handed, Howard shook his head and said, "I thought about that a little. They must be upset, a little disappointed. Sorry."

If the absence of soggy theatrics disappointed the crowd of 43,615, it also highlighted the difficulty of reaching McCovey Cove. Remember, there have been only 58 "splash hits" in 7 1/2 seasons at the ballpark, and Barry Bonds has hit 34 of those.

By contrast, five home runs landed in the Allegheny River in Pittsburgh -- beyond the right-field wall at PNC Park -- during last year's derby, including two by Howard. Curiously, there had been only one "splash hit" into the Allegheny in the previous six seasons of Pirates games.

At any rate, Guerrero earned his victory. He hit nine homers in the second round, including one (measured at 469 feet) into the Giants players' parking lot beyond the left-field seats. Guerrero later launched an epic, 503-foot blast to left-center -- the ball clearing the seats, sailing toward the giant mitt and ultimately landing beneath the walkway fronting the mitt.

The display probably tormented Giants fans who wanted their team to pursue Guerrero when he was available as a free agent after the 2003 season. The Giants showed no interest in Guerrero, who signed a five-year, $70 million contract with the Angels.
"When I was a free agent, I didn't know where I was going to end up," Guerrero said after the derby. "But I've always swung the bat well in this park."

Our Friends at
Awful Announcing Documented all of the notable quotes from last night's broadcast
….

"Albert Winnie the Pujols"- Chris Berman

"it could be a national "Holiday" by the time we're done here"- CB

"I think that one landed on Treasure Island"- CB

"It was the Counting Crows!"- CB

"it's off the platform in right centerfield….how interesting is that"- CB

That's to Sausalito"- CB

This one's to Alcatraz- CB

"That tootsie roll pop looks a little un-used"- CB

"This is SOLID GOLD!"- CB

"Coming down the line is Alex Rios….He's to the Quarter Pole!"- CB

Stop me if we have already talked about this:
Michael Young talks rebuilding
…

The face of the franchise, their only All-Star player, their best player wants no part of a rebuild.

"The reason that rebuilding is such a negative word for me is I have been through it," Young said. "It is not like I haven't been through one. I've been through two. And I don't want to sign up for a third one.

"Listen, anything I say about rebuilding is from experience, not what I think happens or what it might be like. I know what it is like."

Sure Young has his "big" contract, but he did not sign it with the hopes of cashing
checks while losing 90-plus and having his biggest games be of the All-Star variety.
So how do you sell even a modified rebuild to Young?

The answer was easy three weeks ago: scoreboard.

That steaming pile of underachievement at the The Ballpark in Arlington screamed:
Trade everybody with value. Period.

What was once a no-brainer is a little less so now that Ws have been strung together, although a little perspective is needed with respect to this winning. The Rangers are still 12 games under .500 and 15 games behind the division-leading Angels with an Astros-like finish needed to sniff respectability.

And while we chew on that reality, let's tap a keg of honesty -- 2009 is a more realistic time frame for serious contention than 2008. So it is still a no-brainer to me. Trade everybody who you do not see playing a major role in 2009.

Sammy Sosa? Gone.

Kenny Lofton? See ya.

Bye, bye AkiO.

Where this becomes trickier is what to do with Tex and closer Eric Gagné.

Both qualify as anchors for a normal team, relatively young and uberly talented. Both have been mentioned as possible trade bait anyway -- Tex because re-signing him is unlikely and Gagné because he has immense value.

"There will definitely be a certain shock factor involved [if they are traded] because a team I want to play for is consistently contending," Young said. "Teams in contention have the same club every year.... They do the same thing when they have talented players who want to play there. They keep them."

They do exactly what the Rangers did with Young, signing him to a five-year, $80 million extension in spring training.

He's a Ranger until 2013. By choice.

Keeping him a happy camper, though, is going to necessitate winning, or at least the hope of winning. He said he has talked to Rangers GM Jon Daniels a little, although, not about any specifics. And he believes Texas has a chance to win.

"Yeah, it can happen here," Young said. "When you make smart decisions, there is no doubt about it. You need players to do well on the field and to be making the right decisions off the field in the process of trying to build a winner."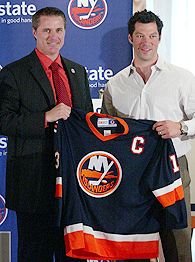 Our Captain, Bill Guerin
….

Bill Guerin's young daughter yelled with delight when a picture of her goal-scoring father appeared on a big television screen.

The 36-year-old right winger had nearly the same reaction moments later when he saw the "C" on his brand-new Islanders jersey. Guerin had no idea he had already been chosen by general manager Garth Snow and coach Ted Nolan to be the 11th captain in team history.

Guerin was formally introduced to Long Island on Monday, less than a week after signing a two-year deal with the Islanders. Outside of a four-game, injury fill-in stint in Edmonton, Guerin hasn't served as an NHL captain.

"I'm a little surprised," he said, drawing laughter from a banquet room filled with team sponsors, fans and media. "I'm thrilled about it. It's a tremendous honor. I don't take this responsibility lightly."

He donned the team's blue sweater after his three new teammates Mike Comrie, Ruslan Fedotenko, and Jon Sim -- all fellow free-agent acquisitions -- stepped up to accept their jerseys from Snow.

Guerin is the latest fresh face of the Islanders, a franchise that still embraces its dynasty days of the 1980s while trying to matter again in the 30-team NHL. New York is looking for Guerin to show the form that led to a 36-goal campaign last season with St. Louis and San Jose, and not the 13-goal output he posted the season before with Dallas.

"I think I've been closer to the 30 goals more than 13," said Guerin, who has hit the mark five times in 14 full NHL seasons. "I think it was just a bad year."
So do the Islanders, who will pay him $9 million over two seasons.

Meanwhile,
The Stars sign a punching bag
…

Fedoruk, 28, signed a one-year deal worth $875,000 after sales pitches from Armstrong, coach Dave Tippett and captain Brenden Morrow, a friend from junior hockey.

At 6-2 and 241 pounds, Fedoruk plans to bring a different dimension to the Stars.
"From playing in Anaheim, they had certain guys who could muck it up a little bit but they didn't have that one big guy that could deal with other big guys," Fedoruk said by phone. "I'm looking to take on a little bit of that role and help them out in that area."

He's also ready for a fresh start after suffering through a nightmarish 2006-07 season.

A fight with Minnesota's Derek Boogaard left him with a fractured cheekbone and orbital bone. Fedoruk had four small titanium plates inserted into his face, giving him 10 total.

Later, he was traded from eventual Stanley Cup champion Anaheim to struggling Philadelphia. His season ended on March 21, when he was knocked out by the New York Rangers' Colton Orr and carried from the ice.

Fedoruk suffered a concussion and sprained knee. The incident also prompted a public debate about fighting in hockey.

"It looked worse than it was," Fedoruk said.

Armstrong said Fedoruk was examined and cleared by Stars medical personnel before the signing.

Fedoruk and Winchester potentially give the Stars an abrasive and large fourth line, something the team lacked much of last season because of injuries to Steve Ott and Matthew Barnaby. Armstrong said he would like to see a unit that creates "ill will."
"When you talk to Todd, there's no question that he's ready to take on comers that need to be taken on and that's just the spirit of that role," Armstrong said.

Colton Orr destroys Fedoruk
Derek Boogaard obliterates Fedoruk
The 2006-07 Fight Card for Fedoruk
…
Baron Davis agrees that Nelson needs more money
…

Baron Davis knows what it'll take to bring coach Don Nelson back.

"A lot of hugs and kisses," Davis said. "And some stocks."

The Warriors' point guard, fresh off a trip to France for the wedding of Spurs guard Tony Parker and actress Eva Longoria, dropped by Monday night's summer league game and threw his support behind his coach's desire for a huge pay raise.

Davis believes the 67-year-old Nelson deserves to have his contract renegotiated after resurrecting the Warriors last season and leading them into the playoffs for the first time in 13 years.

Asked if he was worried about Nelson not returning in the fall, Davis sounded confident that he'd be playing for his favorite coach again.

"I'm worried, but at the same time, I'm not," Davis said. "I know that Chris Mullin
and our management team, they'll figure it out with coach. Everybody will play fair."

Davis, however, will no longer be playing with Jason Richardson after his backcourt mate was traded to Charlotte on draft night for rookie power forward Brandan Wright. Whle Davis called the loss "unfortunate," he also looked forward to next season with his new teammates.

"What can I say? Personally, I'm disappointed. He's a great player and a great teammate," Davis said. "But it's a business. I think he'll do well in Charlotte. It'll give him an opportunity to get all the accolades he deserves as an All-Star. And hopefully, some of these guys will step up for us."

Antoine Walker robbed
…

Miami Heat forward Antoine Walker's home in Chicago was robbed Monday, the player's agent said.

Police and witnesses said two offenders held Walker and at least one other person at gunpoint during the robbery, Chicago broadcasters reported from the scene in the city's River North neighborhood Monday night.

Walker's agent, Mark Bartelstein, confirmed the incident took place but said he could not give specific details.

"He's OK," Bartelstein told The Associated Press. "There was a robbery. It's a scary thing. It's a terrible thing. He's trying to get himself back together. Police are there and he's getting it taken care of."

Chicago Police spokesman Hector Alfaro said officers responded to a robbery at a home in the neighborhood about 7:30 p.m. EDT, but could not confirm that the home belonged to Walker. A vehicle, cash and jewelry were reported stolen and there were no injuries, Alfaro said.

Bartelstein said Walker was with a relative at the time of the incident.

Walker was not available for comment. The Heat were aware of the incident, a team official said, but had no other comment while they attempted to gather facts.

In July 2000, Walker -- then a Boston Celtic -- was the victim of an armed robbery along with NBA center Nazr Mohammed as they sat in a vehicle waiting for a restaurant on Chicago's South Side to open. Police said at the time that three men approached and demanded cash and valuables, which included a $55,000 wristwatch.


The Dream is alive:
FC Dallas' Cup dream continues
…

After a 1-1 draw in the regular and overtime sessions, FC Dallas got by the Atlanta Silverbacks of the United Soccer League on penalty kicks, 4-3, in the third round of the U.S. Open Cup on Monday night.

With the penalty kicks tied 3-3, Atlanta midfielder Scotte Buete missed over the crossbar, and FC Dallas midfielder Arturo Alvarez calmly converted for the victory.

FC Dallas dominated the match, taking 27 shots to Atlanta's seven and 19 corner kicks to the Silverbacks' one.

Despite being a man up for the last 38 minutes of the match, FC Dallas couldn't muster the winning goal in front of 2,510 fans at Pizza Hut Park.
---
FC Dallas' Dominic Oduro missed a golden opportunity to win the game in the 115th minute, misfiring on an open goal.

FC Dallas on Aug. 7 will face the winner of tonight's match between the USL's Charleston Battery and the Houston Dynamo in the quarterfinals. If the match is against Houston, it will be held at Pizza Hut Park.

The U.S. Open Cup is a competition open to all United States Soccer Federation affiliated teams, from amateur adult club teams all the way up to the professional clubs of Major League Soccer.

Lengthy article on the state of Houston Sports Radio
….
Feeling like some Hank Kingsley this morning: