First off I would like to apologize for not doing this in the AM, but life got in the way as it can from time to time. I could have said screw it, but I decided better late than never. Second, I want to thank Bob for allowing me to guest-blog once again. Our thoughts and prayers should be with his family this week.....

I had a really good view of the destruction in the safe confines of the Reverchon Plaza Tower when the chaos began.....It was sort of surreal to see it unfold as it hapaned and considering what happened it was amazing that only 3 individuals were injured. It's a good thing that the incident happened where it did.
If you didn't catch the ch.8 footage of the whole thing going down, you missed out on some awesome stuff, but dallasnews.com posted
this
.

On to sports.....

Day one of practice at the Alamodome as football season is offically here (Thank Goodness)
When the Cowboys were seacrhing for Parcells replacement, I didn't think too much of Wade Phillips as the head coach of "America's Team"....but I think that he will succeed here working under Jerry. I really don't know how much instant success he could have immediately(By Dallas standards that is a Lombardi Trophy)....
Jean Jacques wrote about that in the DMN

I think he will allow the talent to feel a greater level of comfort and he could fortify the 3-4 scheme that was painfully vanilla under the Tuna.
The Boys probably not too concerned as they hit the Practice field without signing their 1st round Pick Anthony Spencer and 3rd rounder James Marten....but here is a list of the
6 they did get under contract
today.

There will be plenty of time the rest of the summer to go nuts over the Cowboys....no doubt Bob and The Ticket will cover it head to toe, so to avoid getting burnt out too soon I want to move on to some other NFL news.....
The K.C. Chiefs are saying
"What's up Holmes?"
....which is pretty exciting if you like football....I know that everyone will be eyeing L.J. in your upcoming fantasy draft, but how soon we all forget what kind of
ridiculous numbers
the former backup to Ricky Williams at Texas put up in an injury shortened career....
You know it's football season when you bury the fact that the Texas Rangers have a real shot at sweeping a series as they try to send division rival and AL Wild Card contender Seattle to the dust-bin tonight at the Ballpark.

I had the pleasure....yes I said pleasure....of watching a doubl-header yesterday at the Temple and I'llbe damned if it wasn't some of the best baseball I have seen all season long. If you told me that John Rheinecker would get called up and toss innings in game one and not allow an earned run I would have called you a liar. Then to see Kam Loe fight through some jams and go 6 and 2/3's made my baseball pants all warm....
The common factor in both wins was Rookie 3rd baseman Travis Metcalf with a
career day
and I have to say it is great to see a guy like this develope in front of our very eyes. I am not saying that he is as good as Hank Blalock, but hopefully he will force Wash to made some tough decisions when Hank returns. And if you look at his size and frame he looks like he could maybe even play some 1st base if the Rangers trade Tex....which could happen by next week (I hope).

Brandon McCarthy goes tonight and it would be good for his confidence to beat a good team in Seattle and get his 1st win since May 20th.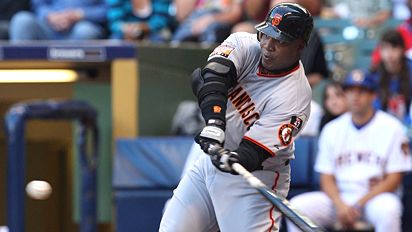 756 is inevitable and it just sucks
For some reason after getting home last night I stayed awake and caught the end of the Giants /Braves game...which went 13 innings....just to see if this jack-ass would get closer to history and move a step closer to dethroning one of the classies athletes ever as the new homerun king.
We all know deep down that this guy is a cheater and a jerk, and it pains me to know that he will be atop the record book in homers....however I think it's nice that he keep getting attacked, and when everything eventually comes down there is a slim chance that he might have to face a fitting punishment for helping hurt the game that I love so dearly. And Bud Selig makes me want to vomit just thinking about him...he could have grown a set and this fabricated history would not be on the horizon. The more I think about Bud Selig, the more I really grow to like Roger Goodell and his no BS was he conducts business.
And before I wrap this up I would like to hit the Mavs page and take a look at Brandon Bass who Dallas signed to a 2 year deal....and no i am not talking about him because we have the same last name.



This dude was great in the summer league, he is a big guy that can get up and down the court. I wish he was 3 inches taller, but if he was there is no chance that he would be available for us to sign....i am not saying this guy will be a huge help, but i think many of you will be pleasantly surprised in any minutes he might get with the team. A team like the Hornets should not have given up on him...something to keep up with early in the season.


Well that's it for this extremely tardy edition of Bob's blog. I will have one up tomorrow morning at the normal time.
And in a final chance to make an unfortunate joke....and to give you some good-ass music that is probably off your radar...I give you Austin's own Explosions in the Sky.....