Tiger was pushed; never gave in on Sunday
….

There was a different texture to this five-mile walk, an appearance of tension and conflict in Tiger Woods's midst as he stepped into the furnace of Southern Hills Country Club on a broiling Sunday on the Plains.

As an old foe and a hot-tempered journeyman prodded at his perch, Woods pushed back during the 89th P.G.A. Championship, throwing a roundhouse punch into the air after an early birdie as he tried to navigate toward another milepost.

After he made par on the last hole and thrust his arms in victory, the 31-year-old Woods walked into the scorer's room to sign his scorecard and found his wife, Elin, and daughter, Sam Alexis, waiting.

The baby, born in June, was dressed in red, just as her father was. Woods said that was when he felt the goose bumps.

"To have her here brings chills to me, even now," Woods said.

With a one-under-par 69 in the final round with two dogged competitors in pursuit, Woods snared a two-shot victory over the Tour journeyman Woody Austin to claim his first major championship of the season and the 13th of his career. Austin shot a 67 and Ernie Els, a three-time major winner, shot a 66 to finish three shots back.
With an eight-under-par 272 total, Woods won his fourth P.G.A. Championship and claimed at least one major title for the third year in a row. He also improved to 13-0 when holding at least a share of the lead after 54 holes in a major.

Although he won four PGA Tour events earlier in the year, Woods said Saturday night that his year in golf could only be great if he won a major title. He is now five behind Jack Nicklaus's record of 18 majors. Nicklaus did not win his 13th until his 53rd professional start in a major. Woods captured his 13th title in his 44th major as a pro.

"I could not ask for a better start to my career," said Woods, who now has 59 PGA Tour victories. "If you would have told me that 12 years into my career I would have had this many wins and this many majors, there's no way. I've exceeded my own expectations."

After runner-up finishes at the Masters and the United States Open and a tie for 12th at the British Open, Woods was able to maneuver his golf ball through the doglegs and tall trees of Southern Hills on a 102-degree day to win back-to-back P.G.A. Championships for the second time. (He also won in 1999 and 2000.)

And the chase for Jack continues
…

On this plateau, the only other name that matters belongs to Nicklaus.

Woods is five behind Jack Nicklaus' record of 18 major-championship victories. That's five, and counting.

"When you first start your career, 18 is just a long way away," Woods said. "And even though I'm at 13, it's still a long way away.

"It's one of those things where it's going to take some time. And hopefully, health permitting and everything goes right and I keep improving, I'll one day surpass that."

His race against Nicklaus just picked up some speed. Nicklaus won his 13th major title in his 53rd major as a professional, the 1975 Masters. Nicklaus won his 14th major in his 56th start in a major, at the 1975 PGA Championship.

Woods' 13th major title was in his 44th major as a professional.

Nicklaus was 35 when he won his 13th major; Woods is 31.

"If you would ask me that 12 years into my career would I have had this many wins and this many majors, there's no way," Woods said. "I've exceeded my own expectations, and I'm certainly not against that."

His 13 major championships are more than the rest of the players ranked in the top 10 put together.

Victory has its rewards, of course. Woods, who has won 59 PGA Tour events, five of them this year, banked $1.26 million for his latest triumph.

I love this stat every year. They make a quick list of ALL of the players to make ALL 4 cuts at this year's majors. Here are this year's 7, with their scores…

Lee Westwood +41
Niclas Fasth +40
Scott Verplank +35
Ian Poulter +33
Paul Casey +27
Justin Rose +15
Tiger Woods -1

Phil? Sergio? Els? Vijay? Bueller?
Mike Vick to go down this week? Peter King has more
…

Vick is rumored to have been suspended for the year by commissioner Goodell, who awaits a fact-finding report from former U.S. Attorney Eric Holder as to whether Vick violated the league's Personal Conduct Policy.

Yahoo! reported Sunday night that the commissioner will likely suspend Vick for the season "this week or next.''

Though I don't doubt the suspension will come, I believe strongly this is not a decision the commissioner has made yet. As I said on NBC on Sunday night, when Goodell hired Holder, he committed to waiting for Holder's report -- which, I'm told, is at least a week from being completed. Two things, though, would seem to point to a lengthy suspension eventually. Goodell told me if Vick lied to him when he told the commissioner he had no involvement in dogfighting (which Vick said to Goodell in April), that would be a violation of the policy. And if the co-defendant who rolled over on Vick and the other two defendants tells the feds there was dog-fighting and gambling on Vick's property, that would be another bad strike against the idle quarterback.

Goodell hates dogfighting. Who doesn't? But he might hate the gambling allegations almost as much. Particularly if Vick was gambling with low-lifes and/or organized-crime figures who could someday come back to him and threaten him with any number of scenarios, none of which would be good for Vick or the NFL. I agree that Vick is probably going to be sent away by the league. I just don't think Goodell, in any way, has made a decision on it, and he won't until he reads Holder's report.

"And with the first pick of the 2008 draft, the Atlanta Falcons select ... from the University of Louisville, quarterback Brian Brohm.''

Thank you, commissioner Goodell. Delicious irony, wouldn't it be? The Falcons lose Vick, probably forever, and replace him with the protégé of the coach who tried to fit Vick into his offense, Bobby Petrino. Brohm, who learned under Petrino at Louisville before the coach defected to Atlanta last winter, could be the first selection of the draft next April. And the way things look now, it's not out of the realm of possibility the Falcons could have that pick.

Brohm has the accuracy Petrino strives for (67, 69 and 64 percent in his three Louisville seasons so far) and the ability to keep his mistakes to a minimum (41 touchdowns, 12 interceptions). Anything factual here? Absolutely not. I just wanted to join those who have already suggested the Logical Draft Rumor of the Year.

Greg Ellis story about to end?
…

Greg Ellis wants to play in 2007, but for the first time since training camp has started, he's losing confidence that will happen.

On Saturday, Ellis, the Cowboys' outside linebacker, voiced concern that he might miss some preseason games and the season opener against the New York Giants, but he also wondered if his career could be over.

"This may be it for me," Ellis said after practice. "I may have played my last game in Arizona. I pray it's not, but that's the reality."

Ellis, one of the team's best pass rushers, is still recovering from pain in his surgically repaired left Achilles' tendon suffered on Nov. 12 at Arizona.

He stopped practicing on the first day of training camp and a MRI revealed he is suffering from bursitis.

Team doctors and trainers told Ellis the pain is normal and that it's nothing to worry about. Ellis' agent, James Williams, has spoken to doctors who supported what the Cowboys are saying.

Yet, Ellis, a self-described worrywart, is concerned.

"I didn't anticipate this," he said.

Ellis said he thought he could return from the injury sooner, but the process has gone slower than he would like.

Former Cowboys quarterback Drew Bledsoe gave Ellis the phone number of Takeo Spikes, who suffered the same injury.

Spikes, who was playing linebacker for Buffalo at the time, was injured in Sept. 2005 while tackling Atlanta's Michael Vick. Spikes didn't return until the start of the 2006 season and played in 12 games. The games he missed were because of hamstring issues. In March 2007, Spikes was traded to Philadelphia.

Ellis, frustrated with his health, didn't call Spikes until recently.

"I've been waiting for your call," Spikes said to Ellis.

"I talked to Spikes, and he was back in 11 months, we don't have 11 months," Ellis said. "I want to play in the first game, and we need to beat the Giants."

Team trainers and doctors told Ellis he's ahead of schedule in his rehab and that he's day-to-day. Ellis said most of the pain he feels is in the heel of his foot and not where the tear occurred in the Achilles' tendon.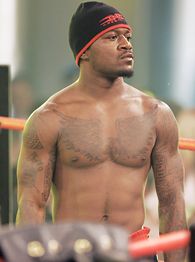 Pacman just being Pacman
…


Adam "Pacman" Jones ended up surrounded by police Sunday night. This time they were actors trying to help the suspended cornerback, who had been allegedly "attacked."

Not a finger was laid on Jones on-camera Sunday at the Total Nonstop Action Wrestling event, but several were awfully close. A wrestler rushed the stage after jawing with Jones, but four actors with police clothing tackled him just out of reach.

Minutes later, the studio television screens flashed to Jones backstage, lying on the ground after being purportedly attacked.

The Tennessee Titans got a court order prohibiting Jones from participating in any wrestling activity after he promised in a taped segment Thursday on TNA's weekly Spike TV show to appear.

Jones, the team and TNA reached an agreement Friday allowing him to perform -- under extensive stipulation. He could not touch or be touched, grapple, shove, throw or have anything thrown at him by anyone working for or watching the show.

The Titans did not immediately return phone messages late Sunday night.

Jones didn't show until several hours into the event, emerging through a tunnel to laser lights and fireworks. The announcer called him the most controversial man in professional sports today, and Jones spurned his try for a handshake.

Jones has been suspended from the NFL for the 2007 season for violating the league's personal conduct policy by being arrested six times. Police records for various incidents in Tennessee and Georgia show five different arrests for the former first-round draft pick.

His sixth arrest came in June when he was booked by Las Vegas police in the most serious case. He is under indictment there on two felony counts of coercion stemming from a February fight at a strip club that left a bouncer, a former wrestler himself, paralyzed.

Jones' in-ring appearance lasted about 10 minutes. He wore black trunks, a sweat shirt and shirt reading "Pacman" that featured characters from the video game. Some of the roughly 1,000 watching in the Universal Orlando broadcast studio booed, but others seemed to be on his side. Admission for them is free, but the pay-per-view event cost $29.99.

TNA said it wouldn't immediately know how Jones' involvement affected sales.

Jones paced the ring and scowled, then picked up the microphone. He said he always dreamed of wrestling when the announcer asked why he came. The interviewer seemed surprised by his short response, then asked what Jones' goal was.

"To show the world that I am the best team player that ever lived," he said, repeating a statement from earlier this week.

Jones turned around as wrestler Ron "The Truth" Killings appeared with a beef. The two jawed some from 20 yards apart.

"You know what sickens me? You say something about being a team player? A team player? Allow me to welcome you to the snake pit," Killings said. "You see, Pacman, professional wrestling is not a team sport."

Killings said in an expletive-marked tirade that several wrestlers were in line to take Jones down, and it was bad luck he couldn't fight.

"You talk a lot, know what I'm saying," Jones said. "You talk a lot. But one thing about me, I don't talk the talk, I walk the walk."

Killings then rushed to the ring before being tackled.

"This ain't what you want anyway. You act like this is what you want but this ain't what you want," Jones said as Killings was led away by four "policemen." Jones strutted in the ring, then hopped out.

There was no word from Jones after the video of police trying to help him.

TNA said Jones would not speak with reporters, but might issue a statement later.

Gabbard hurt; Salty showing ability
…

More than seven years after they last called themselves a battery as Royal Palm Beach High School Wildcats, Rangers starter Kason Gabbard and catcher Jarrod Saltalamacchia reunited Sunday night.

As sequels go, the 9-1 win over Tampa Bay was about as memorable as Fantastic Four: Rise of the Silver Surfer.

The reunion lasted all of five batters.

Gabbard, who has had four surgeries on his left arm, threw just 18 pitches before signaling to the dugout that he was hurting. He had just retired Delmon Young on a fly ball to start the second. After a brief consultation on the mound with manager Ron Washington, pitching coach Mark Connor and trainer Jamie Reed, he was replaced by Willie Eyre. He is listed as day-to-day with left forearm stiffness. His next scheduled start is Friday at Minnesota.

"It's just a minor setback," said Gabbard, who acknowledged having some stiffness in the forearm after his throwing session on Friday. "I told them I'd stay out there and pitch. I'll be ready to go on Friday."

Manager Ron Washington also said Gabbard shouldn't miss a start. But the Rangers have had issues with forearm stiffness this season. Akinori Otsuka dealt with what was initially termed minor forearm stiffness for three weeks before being placed on the DL. Otsuka, who hasn't pitched since July 1, isn't expected back until the end of August at the earliest.

So, while the big reunion quickly faded, the spotlight ended up shining on David Murphy, one of the two other players acquired from Boston along with Gabbard in exchange for Eric Gagne. Murphy, who played at Baylor, had three doubles in four at-bats to tie the club record for doubles in a game. He scored the Rangers' first and last runs.

With Gabbard gone, there was still more for Saltalamacchia to do than sing the alma mater. For him, the show must go on. The Rangers want to get as much of a handle as possible on his catching skills.

The Rangers decided this week to more evenly mix the playing time after some internal conversations. Under the two-starts-per-week scheme the club initially planned on going with after he was acquired, the club would be evaluating his catching skills on about 15 starts this season. With playing time split up evenly between he and Gerald Laird, the club will get to see Saltalamacchia about 25 times.

Saltalamacchia made strong impressions for his work with the starting pitchers in his first two games behind the plate. In each game, the starter was credited with a quality start. At Toronto last Sunday, Brandon McCarthy went six innings and allowed a pair of runs on six hits. Kevin Millwood allowed Oakland three runs in six innings on Wednesday. The Rangers, however, lost both games because they scored a total of just four runs.

Sunday's performance may have been better than the first two. After Gabbard left, Saltalamacchia and the pitching staff came within five outs of the team's first shutout since June 14. Long reliever Willie Eyre worked through 3 2/3 innings with minimal trouble.

---
At the end of the night though, the ERA with Saltalamacchia behind the plate stood at 3.81. Those are the kinds of numbers the Rangers crave. Saltalamacchia will get more chances this season to prove he can help the pitching staff amass those kind of numbers on a regular basis.

Signing Day approaches for Rangers draft picks
…

The thaw may be breaking on the signing of first-round Draft picks, and that can only help the Rangers get a deal done with pitcher Blake Beavan before Wednesday's deadline.

According to MLB.com, the Braves have reached an agreement with outfielder Jason Heyward, who was the 14th overall pick in the 2007 First-Year Player Draft. That could be the first in a wave of signings leading up to Wednesday's deadline for signing players from this year's Draft.

Heyward is just the 18th of 30 first-round picks to sign. Sixteen have signed for
less than what the player picked in the same slot last year received.

Teams have been under pressure from the Commissioner's Office to hold the line on signing bonuses. But the speculation within the industry is that once clubs start signing players for more than "slot" money, it might open up a wave of signings before Wednesday' deadline.

All players must be signed by 10:59 p.m. CT Wednesday or a club loses its rights to those who remain unsigned.

The Rangers have yet to reach a deal with Beavan, a right-hander from nearby Irving High School who was the 17th overall pick, but something could get done in the next 72 hours.

"They're all big days right now," general manager Jon Daniels said. "We've got three days left, and I'm still cautiously optimistic."

The Rangers had five of the first 54 picks in the Draft, but they have signed just two so far: pitchers Michael Main and Tommy Hunter. They have yet to reach an agreement with Tennessee outfielder Julio Borbon, who was the 35th overall pick, and right-hander Neil Ramirez, a high school pitcher from Virginia who was the 44th overall pick.

Ramirez said on Saturday he is close to signing. A deal with Borbon also is expected to get done.

"I'm hopeful that we'll sign all our top picks," Daniels said. "But there's got to be some give and take on both sides."

Main, the 24th overall pick, signed on June 19 and already is being rewarded. After posting a 1.42 ERA in five games in the Arizona Rookie League, Main was promoted to Class A Spokane.

The Rangers have been told they will not sign their fourth-round pick, outfielder Garrett Nash from Draper-Jordan (Utah) High. He is going to Oregon State. The Rangers also are unlikely to sign fifth-round pick John Gast, a high school pitcher from Florida.


Opening Weekend in the English Premiership, and
Liverpool has not been eliminated!
…They best Aston Villa 2-1, thanks to Steven Gerrard, Gerrard!...Also, Chelsea, Arsenal win; Manchester United drop points at home to Reading, and lose Rooney to a fractured foot??? Maybe everyone has a chance this season!

"The Colorado-Texasfranchise defeated Ohio's in Saturday's Yankee Derby in the EPL." Thus might the US media have reported events from Villa Park, which pitted George Gillett and Tom Hicks's acquisition against that of Randy Lerner. But for all the cosmopolitan nature of the EPL [as the English Premier League is known Stateside] it was a native Scouser who settled the points, and underscored his enduring importance to Liverpool's perennial championship quest.

Steven Gerrard took 14 games to score his first league goal last season, by which time Liverpool were floundering in mid-table with Manchester United long over the horizon. This campaign was 87 minutes old, with all the familiar doubts about Liverpool's away form resurfacing, when he won and scored the free-kick which earned the first opening-day win since 2002. That the free-kick was a soft decision only confirmed Gerrard's stature. As Sheffield United found on the opening day last season, referees have a habit of saying "yes" when Gerrard appeals.

Afterwards, confided John Arne Riise, Gerrard addressed the team in the changing room, driving home the need for Liverpool to make a good start. Champions League qualifying means they will miss the midweek round offixtures. Losing to Villa could have sent them into the home match with Chelsea on Saturday six points adrift.

"Finally we have three points from the first league game," said Dirk Kuyt. "That was important for us. It's very important that you don't lose many points at the start of the season. We have been too far behind in the last few seasons. We had a really good second half last season. But that's not good enough if you want to be champions."

The problem, last season, was matches like these. Liverpool finished 21 points behind Manchester United. The gap was almost entirely attributable to their away form. On the road United won 42 points, Liverpool 22. Liverpool scored 18 goals away, fewer than Wigan and less than half United's tally.

Woody Austin breaks putter on his head
What about Nicole Ritchie, Kige?