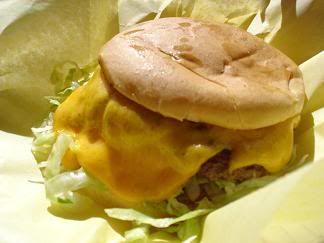 Happy Monday. I am now on Day 8 here in San Antonio, and ready to leave.
I will say this, though, we did find
Chris Madrid's
this weekend, and that might be the greatest burger ever.
So, in this day where I try to find what is so great about San Antonio, allow me to put that Tostada Burger at the top of the list. It also may explain the weight problem down here…
In sports,
The annual "Roy Williams will be better this year" story
….

Roy Williams said he's going to play with more joy this season.

There will be no more haggling over his play at strong safety, no more worries about the media and fan criticism.

Williams is at peace with himself and his team as the season starts.

"He's more focused and more determined," secondary coach Todd Bowles said. "I don't know what he does in his personal life, but he does seem to have a lot more peace in his life right now. At times last year, maybe he didn't and it looked like he had a lot of things on his mind that he didn't share. But this year, he has a clear conscience and has his mind on football."

For as much as inside linebacker Bradie James is the heart and soul of the Cowboys defense, it is Williams who provides the edge.

Last season, he couldn't provide it consistently. The Cowboys' 3-4 defensive scheme kept Williams far from the line of scrimmage.

Williams didn't register a sack for the second time in three seasons. He also had two tackles for loss, tying a career low. And for the first time in his career, he didn't force a fumble. What Williams did was register 17 pass breakups, a career high.

Williams had to help rookie Patrick Watkins, who started at free safety, especially on long pass plays.

It led to a belief in the media that Williams was poor in pass coverage.

"I forgive you," Williams said of the media criticism.

It's that criticism that pushed Williams to spend more time with the fans. After almost every practice here in training camp, Williams is signing autographs. He walks toward the end zone and grabs pens and Sharpies and signs footballs, helmets, jerseys and posters.

Last week, after one practice, Williams left a golf cart where he was in the middle of a phone conversation and started playing two-hand touch with some kids on the field. He became the quarterback and started diagramming plays.

"I just want to tell as many fans as possible, don't believe that I'm a bad guy," Williams said.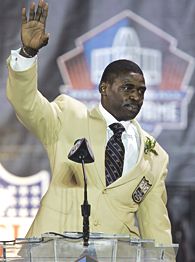 This guy is sure that you saw the Real Irvin Saturday Night
…


To find the real Michael Irvin, all one had to do was watch Saturday night as he stood at a podium inside Fawcett Stadium and gracefully, gratefully accepted the honor of his lifetime. Irvin may well be the first inductee into any pro sports Hall of Fame to speak without notes or prepared words, and it played wonderfully.

"I want to send love to every fan everywhere because you hear so often that people say, 'Oh, these are the guys that built this game,'" he said, the words engulfed by cheers. "No. It's your hunger and your love for the game, your love for what we do that make this game what it is. I thank you for loving the game like we love it."

Irvin was who he has always been -- spontaneous and heartfelt. Rambling and babbling. Poignant and insightful. Most of all, Irvin was humbled. He spoke of gridiron triumphs, but the most jarring moment came when Irvin discussed his two sons, Michael, 10, and Elijah, 8, and how he prayed for them to avoid the lapses that, sadly, pock his brilliant 12-year career. It was a page out of latter-day Mickey Mantle; a snapshot of a flawed hero succumbing to his shortcomings.

"I say, please, help me raise them for some young lady so that they can be a better husband than I," he said. "Help me raise them for their kids so that they could be a better father than I. And I tell you guys to always do the right thing so you can be a better role model than dad."

The tears streamed from Irvin's eyes, forming small puddles alongside his nose that refused to dry.

They told the story of a broken man.

Of a redemptive man.

Of a triumphant man.

Of a Hall of Famer.

In a very curious move,
Mavericks sign Eddie Jones
…Here is my question: Can he play? I haven't seen him do anything that resembles useful NBA contribution in quite a while…

The Mavericks upgraded their depth at shooting guard and small forward, agreeing to terms on a two-year deal with three-time All-Star Eddie Jones.

Owner Mark Cuban and Jones' agent, Leon Rose, confirmed the pending deal.
Jones, 35, is expected to fly Monday to Dallas where he'll take a physical and officially sign. He'll receive $1.83 million in the first year from the Mavericks' bi-annual exception and holds a player option for the second season.

The team retains its $5.3 million mid-level exception to use for another free-agent acquisition.

Rose said Jones was drawn to the Mavericks as a title contender.

"Obviously, it's a top-flight organization," Rose said. "It's a team to which he believes he can contribute and help take to the next level."

Donnie Nelson, the Mavericks president of basketball operations, declined comment until the deal is official.

Earlier Friday, Johnson made no secret of the team's plans in a telephone interview from his office.

"Before training camp, we're going to add two key veterans to our team," Johnson said. "It's not going to be anybody that's going to necessarily lead to a championship, but two key veterans who we think can help us achieve our goal of winning a championship."

With Jones aboard as an outside presence, the Mavericks will almost certainly start focusing on a veteran unrestricted big man.

Chris Webber and P.J. Brown each meet the criteria. Johnson acknowledged making a sales pitch to each, as he did with Jones before he signed.

Steelers get the NFL Season started
…

Mike Tomlin got to meet "Prime Time" in prime time.

Other than that, he claimed, there was nothing abnormal for the new coach of the Pittsburgh Steelers about a 20-7 win over the New Orleans Saints in his debut Sunday night.

"The only thing that was really different was talking to Deion [Sanders] just before kickoff," Tomlin said after the Hall of Fame game. "I had never given an interview just before kickoff. That was the only thing that was new and exciting."

Well, not really. Less than three minutes into the game, the Steelers were ahead to stay under the man replacing the retired Bill Cowher. Just the third head coach in the past 38 years in Pittsburgh, Tomlin had to be thrilled about his team's quick getaway.

"We had a good first step," the no-nonsense Tomlin said. "We did some good things, got some big plays, some chunks [of yardage].

"I took myself out of it. I tried to create an environment for the coaches and players to do their jobs. You do that, you get involved in the process."

Ben Roethlisberger was sharp in his only series, completing two of his three throws for 73 yards to Cedrick Wilson. On a 55-yard play, Wilson got behind safety Kevin Kaesviharn, then
he beat New Orleans' top cornerback, Mike McKenzie, on an 18-yard crossing pattern.

"He came up to me at practice," Wilson said of Roethlisberger, "and told me he was going to
be looking for me. I appreciate that and can be thankful for that. I just want to go out and make plays for him and make sure he is one of the best quarterbacks in the league."

Najeh Davenport, starting for 1,400-yard rusher Willie Parker, bulled in from the 4 for a 7-0 lead.

Pittsburgh's first-stringers were, by far, more efficient than New Orleans' starters, who missed blocks and dropped passes on offense and couldn't handle Roethlisberger or Charlie Batch when they threw. And that was just in the first quarter.

In the first half, Pittsburgh outgained New Orleans 305-56, including 205-32 in the air. Overall, it was 413-214

Glavine gets to 300
…

On a sports weekend highlighted by the most criticized, asterisk-plagued home run in baseball history, a blast that left baseball's commissioner motionless and its ever-growing fan base unsure if it should clap or cry, leave it to a pitcher who has never intimidated a stop watch, no less a radar gun, to give us a moment we should have no qualms about standing up and cheering for.

"Chicks dig the long ball," is what Tom Glavine and then-Atlanta teammate Greg Maddux insisted eight years ago in a Nike commercial. If they just lifted more weights and tossed more medicine balls, they too, could be loved like Mark McGwire.
Well, what a difference almost a decade makes. Twenty-one years after the baby-faced left-hander first stepped to the mound for the then-dreadful Atlanta Braves, New York Met Tom Glavine became the 23rd member of the 300-win club Sunday night in an 8-3 victory over the Chicago Cubs.

And at 9:24 p.m. Central time, when the Mets pitcher walked off the Wrigley Field mound staked to a 5-1 lead, every one of the 41,599 fans stood and roared in approval.

The message was clear: Chicks dig soft-tossing lefties, too.

"As a player and a person, you want people to respect you and respect what you're about," Glavine said. "The response tonight was overwhelming. That's something you never expect to hear on the road."

It shouldn't have been a surprise. Glavine received a similar ovation when he walked off the mound five nights ago in Milwaukee, his Mets leading the Brewers 2-1 in the seventh inning.

The praise is easy to understand. In an age of bulked up supersized home run hitters, baseball fans are desperate for someone they can wrap their arms around and trust. And Glavine is as good a bet as anyone.

There's no entourage, no pimped-out Hummer with oversized wheels. Just a hardworking 41-year-old pitcher who wanted to get this honor out of the way tonight because he has just one more start before his kids return home to Atlanta for school.

Classic Glavine – Chicks dig the Long Ball
Manchester United and Chelsea blast off Football Season
…Premiership schedule begins Saturday!!!!!
P1 Kent's Blog:
NotexRant.blogspot.com
….
Biggest Time Waste ever.
Here
…
P1 Kyle sends this:
Fantasy football has grown by leaps and transformed into a multi-billion dollar industry since the good old days when it was an "underground game" played by geeks in the basements of New York City. For the modern day NFL fan, it represents an opportunity to be virtual GM of your own team and compete against friends, family, co-workers and strangers for bragging rights and in some cases very attractive prizes. Drafting, signing players and pulling off trades with other league members combined with message boards and chat rooms which allow fans to talk smack, make for a very entertaining experience. For many fantasy football is actually more anticipated than the NFL season itself; it has truly taken the NFL experience to another level. Some take it more seriously than others. However, for those who see it as an arena to outwit, out-compete and out-strategize their competition, it often fails to provide an equal playing field. Have any of these instances ever happened to you?
1) Your friend drafts the rookie/star player you had been targeting.
2) Your top pick blows out his knee in training camp or in the first few weeks of the season, leaving you with a void at that position.
3) The head coach of your running back decides to air it out instead of sticking to the running game and as a result, you miss out on much needed points.
4) A first time fantasy player wins your league with a squad that was auto-drafted?
Some might say the above scenarios make the game realistic, but for those who take the competition side seriously the "luck factor" is the one thing fantasy football will never be able to eliminate.
Ideally, it would be nice to compete on an equal playing field and still have a vested interest in each game while incorporating some of the fantasy side into the equation; a game where you are required to utilize knowledge and skill that will ultimately determine where you finish compared to your competition. Well, that game has finally arrived!
PlayAction PickIt (http://www.PlayActionPickIt.com) is a game that is still in the infant stages, still underground if you will, but is quickly capturing the attention of NFL fans all over the country, at least those who know about it. Here's how you play:
1) Pick the winner of each game (just like a Pick'em game).
2) Predict how many games you will pick correctly (strategy can make or break you).
3) Select one team that is a "lock to win" (just like a Survivor game).
4) Pick 3 Offenses and 3 Defenses that will outperform the rest (the fantasy football element).
Each week you earn points based on your performance; most points at the end of the season, wins. The playing field is level from the get-go and the smarter you are, the way you play the game, strategize and play percentages, the better the chance you have at staking your claim as a true champion. PlayActionPickIt.com offers public and private leagues; just like fantasy football so you have the ability to compete against the usual suspects, only this time, they better bring their "A" game.
If your an NFL fan, this is a must play in '07 and for the foreseeable future as it is gaining in popularity. If you're a fantasy football fanatic, I recommend putting it to the test and comparing your experiences. Either way, sign up soon and start sending out your invites as registration ends September 4th at http://www.PlayActionPickIt.com.
Enjoy the season, NFL fans!
And now, some Youtube fun:
OJ Simpson Pranks
Who Farted with the win!