Because of a High-Level Meeting at work, I must keep it short and sweet today on the blog.
So, I give you a brief report on the Cowboys march to the Super Bowl….
I liked how the offense looked, as Romo looked very familiar with the offense, and was quite efficient. They just look like they have weapons all over the field. If the offensive line can hold its own, I have almost no non-health concerns at all about the offense.
The defense looked like last year's defense to me. I know Wade doesn't want to show too much this time of year, so I am just sitting back and waiting until September, but I am somewhat skeptical about this defense still, and I cannot imagine that opinion will change until they put up some big-time performances in the regular season.
But wasn't the best part of the game this?
Clarence Hill's Quick Hits
…

Romo shines

Quarterback Tony Romo was efficient, if not spectacular, completing 10 of 11 passes for 93 yards, with no interceptions. He also had a mis-read on a play that could have led to a touchdown by tight end Anthony Fasano.

Lineman injured

The Cowboys got their wish and kept Romo healthy despite playing without starting offensive tackles Flozell Adams and Marc Colombo. The bad news was that rookie tackle Doug Free, who played well in place of Adams, went down with a sprained knee.

Edge to Gramatica

The placekicker battle between veteran Martin Gramatica and rookie Nick Folk is a good one. Gramatica got the best of it Thursday with two field goals -- one a 47-yarder -- and surprisingly better kickoffs. Folk made a 25-yard field goal.

Pressure missing

Phillips noted the lack of sacks by the Cowboys' defense. The "Phillips 3-4" alignment produced only one sack, none by the first team. The unit was stout against the run.

Today's Gold is brought to you by Pac Man Jones….
Click Here for the interview
, where he invents a new word…

-- Suspended Tennessee Titans cornerback Adam "Pacman" Jones appeared on television Thursday to promote his foray into wrestling and tried to untangle his legal record. Maybe he should have brought a lawyer with him.

Jones appeared on ESPN2's "First Take" and immediately disputed how many times he's been arrested.

"Everybody keeps saying I've been arrested six times," Jones said.

"I haven't been arrested six times. I've only been arrested twice. I've been accused and people have put warrants out on me numerous other times, but as of today I'm on no probation, I haven't been charged with anything, so I'm just keeping my head up and make sure I'm doing everything to make sure I'm all right with myself."

The NFL has suspended Jones for the season, with a review set for November, because it ruled he violated the league's personal conduct policy. A string of five arrests, documented by police records, since he was drafted in April 2005 was a factor in the suspension.

Jones' sixth arrest came in June when he was booked by Las Vegas police in the most serious case. Jones is under indictment there on two felony counts of coercion stemming from a February fight at a strip club that left a bouncer paralyzed.
Jones also confirmed Thursday that he will be professionally wrestling during his suspension and defended his decision.


This blog has a nice Pac-Man rapsheet
…

Here is a rap sheet look at all of Pacman's brushes with the law since joining the NFL's Tennessee Titans:

July 13, 2005- Arrested and charged with assault and felony vandalism after a nightclub altercation. This began Pacman Jones NFL rap sheet. He already had a lengthy one from high school and college.

September 5, 2005- Adam was invited to attend the Nashville Sports Council Kickoff Luncheon. Jones went off on a verbal tirade while being told to wait for his car after the event. He then refused to tip the valet service.

October 2005- State of West Virginia filed a petition stating that Jones had not been contacting his probation officer and that he had not reported his July 2005 arrest. The judge extended the probation for just 90 days.

March 23, 2006- Charged with marijuana possession in Fayetteville, Georgia. He went on to claim that he knew how to beat the NFL's drug test.

August 25, 2006- Arrested for disorderly conduct and public intoxication after being ordered by the cops to leave a Murfreesboro night club several times. Jones claimed a woman stole his wallet. The woman claimed that Jones spat on her. The judge in the case gave Pacman six months probation and told him to stay away from the club.

October 26, 2006- Jones was issued a citation for misdemeanor assault after a female student from Tennessee State University claimed that Jones spit in her face at a Nashville night club.

Feburary 19, 2007- The facts are disputed and no charges have been made yet, but Jones was in the middle of a fight and shooting at a strip club in Las Vegas that left one man paralyzed and two more wounded. The fight broke out after Jones showered strippers on stage with $81,000 dollars. The club owner claims Jones was beating a strippers head against the bar while claiming to kill one of the club's employees.
The above time line doesn't include his sentence of one year in prison for a bar fight in Morgantown, West Virginia while in college. The sentence was later suspended in exchange for two years of probation (because he is a really good football player).

The Wonderful comeback of Rick Ankiel
…

Nearly 2½ years after pitching became so traumatizing that he decided to call it a career, Rick Ankiel proclaimed his remarkable reinvention with a home run Thursday night in his major-league debut as an outfielder.

The once and current phenom arrived three hours before first pitch to find his name in the lineup and a team eager to welcome him back. Manager Tony La Russa called the clubhouse greeting "enthusiastic" and "moving." The reception went public with a standing ovation as Ankiel went to bat in the first inning.

It grew to a curtain call in the seventh inning after a home run in his fourth at-bat of his second chance as a big leaguer.

"Unbelievable," Ankiel said after stowing the ball he hit in his locker. "You almost can't put it into words. I couldn't have written that any better. No way. It felt so good I can't describe it. It's almost ... euphoric."

The Cardinals purchased Ankiel's contract from Class AAA Memphis before Thursday's game, started him in right field and batted him second against San Diego. His arrival concludes a 29-month journey to recapture a blinding-bright but derailed career. Bringing Ankiel to the major leagues before initially planned is more than a promotion for him.

It's a commitment to him.

Ankiel, 28, is out of options and will not be returned to the minor leagues this season — or "ever again," several club officials said. The Cardinals plan to give the outfielder time to show he can hit a ball with at least as much authority as he ever pitched one.

He had been pegged as a September call-up so the Cardinals could get a look at him for next season. Instead, he has arrived in August because "he's had a hell of a year" La Russa said, and he has earned more than an audition.

"He's going to give us a boost," La Russa said, later adding: "He's a big leaguer from now on to forever. He has the talent to pull it off."

Beckham plays; Wilbon is there
…

Just because something hasn't happened recently doesn't mean it never happened. Hardly anything is truly new. Most things, even in this day of global branding and genius marketing strategies, have been tried at least once. And that includes bringing aging international stars to boost interest in soccer in America.

Don't get me wrong, the excitement David Beckham's presence created last night in Washington was irresistible. From the camera flashes that popped in the 36th minute when he stood and began to warm up behind the visitors' bench you'd have thought Barry Bonds was in the house trying to hit 756. Beckham, with or without his hottie wife, is a stylish, fabulously handsome world celebrity. He's a star even when he sits, or warms up, or indicates before the game he might play 20 minutes of a 90-minute game. There simply aren't a lot of athletes who can pack the house in D.C. when it's 95 degrees or thereabouts, humidity smothering, rain threatening. Beckham did that last night, put 46,686 fannies in RFK Stadium, which is five grand more than ever watched the Nationals at RFK this season.


And despite the rain, he played. Beckham put on a dry jersey in the 72nd minute, exposing his famously cut abs to the kind of screams reserved for only true superstars, and trotted onto the wet turf. Just seeing him in these first few games is enough. He doesn't have to score, doesn't have to make a great pass, doesn't have to do anything yet except be there so the people who pay to see him can see him. Even he said afterward, "It's not nice to disappoint people who've paid a lot of money to come and see [the game]." And by simply playing he didn't disappoint, though he did nothing heroic or special or even noticeable.

But even if Beckham can become great here, it doesn't mean he's going to lift Major League Soccer to unprecedented heights. Signing Beckham is a huge splash for MLS, a league that has been restrained in its 11-year history. But don't think for a minute that last night was the first time RFK was packed to watch a European star. You've got to be nearly 35 years old to have any real sense of the incomparable Dutch midfielder Johan Cruyff, who played for old Washington Diplomats of the North American Soccer League in 1980 and '81.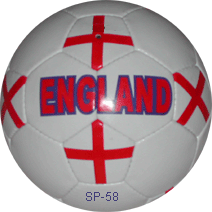 And, a very, very happy day for me tomorrow as the English Premiership Season opens…
I love English Football so very much. I love the team I love (Liverpool). I love the teams I hate (Chelsea, Manchester United). I love the teams I like (West Ham, Portsmouth). And, I love the other teams, too.
They play on Saturday morning and Sunday Mornings from August to May, and the competition is fierce and electric. You laugh at soccer? Go ahead, but I assume you have never seen Chelsea play Arsenal or Manchester United play Liverpool. If you gave it a chance (and I am not asking you to do so) I think you would probably love it.
Anyway, a few thoughts. Manchester United is the defending champions, and are the odds on favorite to do it again. They have added and added, and on paper, I have to go with them.
Chelsea looks vulnerable, but still are silly-talented. They have world-class players all over the place, but I just don't like the mix. Frank Lampard has not been elite in a while, and with Terry and Drogba already banged up, I don't see them winning the title.
My Liverpool boys have not won the league in 17 years. They have made many improvements, but to expect them to make up 20-some points in the standings this year is not realistic. I think they can catch Chelsea for 2nd, but I don't see the top of the table. And, Tom Hicks now owns them, so how good could they really be?
Arsenal and Tottenham are huge rivals in North London, and with Thierry Henry gone, I think they are pretty close for 4th place, but give me the Gunners to grab that.
Blackburn, Portsmouth, Newcastle, Everton, and Fulham should round out the Top Half of the Table.
Birmingham, Derby County, and Wigan are my picks to go down at the end of the year to the dreaded relegation.
It is a glorious weekend, where I may watch 4 or 5 matches. I am giddy with anticipation.
Here is the Schedule:

Sat Aug 11 06:40AM Central
Setanta Sports USA
Sunderland vs Tottenham Hotspur

Sat Aug 11 08:55AM Central
FOX Soccer Channel (FSC) - US
West Ham United vs Manchester City

Sat Aug 11 08:55AM Central
Setanta Sports USA
Bolton Wanderers vs Newcastle United

Sat Aug 11 11:00AM Central
FOX Soccer Channel (FSC) - US
Aston Villa vs Liverpool

Sun Aug 12 07:25AM Central
Setanta Sports USA
Chelsea vs Birmingham City

Sun Aug 12 10:00AM Central
FOX Soccer Channel (FSC) - US
Manchester United vs Reading

Here is my lengthy essay from 1 year ago, entitled
English Football 101
…
Sooners hit Tony Dorsett (Random enough, eh?)
Pac-Man Jones seems like he is changing his image