photo credit to rangersfans.com
The Rangers spend one more day at the top of the blog, as Daniels/Hicks wraps up the trading season with one more deal and then Hicks leaks the details of an offered extension to Teixeira.
Of course, it is highly defined as "spin", much like the 2nd place offers to Dice-K and Zito, but if all of this is true, and I would like to hear from the other side to confirm that, then there is almost no blame that can be put on the Rangers on this one.
Like I have said; He didn't want to be here. He didn't. $140 million is crazy money, and Teixeira wasn't interested.
So, write this day down as the day Bob's Blog said, "Good Job, Tom Hicks."
Wow. That was weird even to type it. Don't expect that again anytime soon.
Gil Lebreton on the case
…

Two trades. Eight new players. A reinvigorated farm system.

And one well-timed revelation.

Namely, that before the Rangers pulled the trigger Monday on the blockbuster trade that sent Mark Teixeira to the Atlanta Braves, they offered the first baseman an eight-year, $140-million contract.

"I was hoping that he would say yes," Rangers owner Tom Hicks said Tuesday from his home in La Jolla, Calif.

But Teixeira's agent, Scott Boras, told the Rangers that his client wasn't interested.

Which proves, I suppose, that they don't teach math after all at Georgia Tech, where Teixeira attended. By 2007 salaries, the deal would have made Teixeira the fourth highest-paid player in baseball.

Is Teixeira the fourth-best player in the major leagues? Not even close.

Teixeira turned down Manny Ramirez money, but you can't convince me that he's as talented a player as Ramirez. Or Vladimir Guerrero. Or Miguel Tejada. Or David Ortiz. Or any of the other true stars that Teixeira apparently wants to be paid more than.

Hicks, nonetheless, said that he was prepared two weeks ago to roll out the cash to keep Teixeira. And, as the trade deadline neared, to keep closer Eric Gagné, who also turned down the Rangers' offer and was traded Tuesday to the Boston Red Sox.
Local cynics are suggesting that Hicks was bluffing, that he knew there was no way that Boras would accept a new deal for Teixeira. The accusation is ludicrous. No one makes a $140 million bet playing liar's poker.

If he were bluffing, who would Hicks be trying to impress?

It's hard to fault the owner for spilling the beans about the spurned contract offer. The deal with the Braves was done. If the club was trying to trade Teixeira, what good would it have done to tell potential suitors on July 15 that the first baseman had already turned down an eight-year, $140-million contract offer?

The offer to Gagné was for two years with two additional automatically renewing years based upon games finished -- roughly, a $34-36 million deal.

Giving Gagné, with his injury history, what amounts to a four-year contract is also not exactly bluffing.

"[General manager Jon Daniels] and Eric had made a lot of progress talking about the new contract," Hicks said. "And then Scott got involved."

Listening to Hicks talk about Agent Evil leads me to think that the owner isn't scared of Boras. But he clearly has grown tired of him, tired of the wedge that Boras drives between player and team.

Like a stray dog, Boras wanders into a neighborhood, does his business and moves on, leaving the local citizenry to contend with the smell. Hicks, the owner, lives here, and so he is left to weather the daily public relations heat.

Unable to sign either Teixeira or Gagné, therefore, Daniels found the two teams most willing to blink: the Braves and Red Sox.

Depending upon which scouting source you listen to, Jarrod Saltalamacchia projects as a likely .300 hitter each season, with 25-30 home runs and 100 RBI.

Meanwhile, Teixeira's last three seasons have averaged 38 homers, 122 RBI and a .288 average. The difference between those two sets of stats can't possibly be worth $20 million per season.

It was vital that the Rangers obtain some sort of starting pitching in return for Teixeira and Gagné. Kason Gabbard, 25, goes a step further by being left-handed, an under-utilized asset of late with the ample left field at Rangers Ballpark in Arlington.

"Especially a guy, like Kason, who's a groundball guy and who knows how to pitch," Daniels said. "Kenny Rogers, who's been one of the most successful pitchers in the history of this ballpark, clearly has shown the value of that style here."

A scout from a rival American League team said Tuesday that both deals, in the end, favored the Rangers.

"Atlanta got mugged," the scout said.

It's become trite to say that Hicks needs to loosen his wallet and spend what it takes to keep the Rangers intact. If Teixeira was truly worth the 10-year, $200-plus million contract that he apparently wants, the Rangers wouldn't have finished in third and fourth place in every season that he was with the club.

Talk about bluffing. Teixeira was hailed by some local sheep for "telling like it is" about Hicks. He chastised the franchise for operating "like a small-market club."
That "small-market" team offered him $140 million -- $60 million more than Michael Young -- to remain a Ranger. But Mark Teixeira said no way.

Meanwhile, I am less impressed with the
Gagne trade
, as I think Gabbard is awfully average, but 3 more faces to the system….

Kason Gabbard, LHP Gabbard, 25, started the season with Triple A Pawtucket and went 7-2 with a 3.24 ERA. Three of his past four outings for Boston have been quality starts, including a three-hit shutout of Kansas City on July 16. In 2006, he was 1-3 with a 3.51 ERA for Boston. Gabbard, drafted in 2000, had left elbow surgery in 2003.

David Murphy, OF Murphy, 25, will head to Triple A Oklahoma. He has spent most of the season with Pawtucket, where he hit .280 with nine homers and 47 RBI. He was the Red Sox's 15th-ranked prospect, according to Baseball America. Murphy played at Baylor and was a first-round pick in 2003 after an All-America junior season.

Engel Beltre, OF The 18-year-old Dominican is one of the youngest players in the minors. ESPN rated him No. 2 of the available players in the international free-agent signing period last summer. He played in 34 rookie league games, hitting .208 with 11 extra-base hits and 13 RBI. He's headed to the Rangers' rookie league team.

So who is the closer now?
…

Closer by committee: Washington said he hasn't designated a closer to take the place of Eric Gagne since Akinori Otsuka is out with right forearm inflammation.

"We're going to try to match up with those last three outs and see what happens," Washington said.

On Tuesday, C.J. Wilson got the final five batters of the game – the first five in
the Cleveland lineup – to record his first save since late last season. Washington was ready to go to Joaquin Benoit if Wilson allowed a runner in the ninth.

"It was great to close it out," Wilson said. "It was cool to do it in front of a hostile home crowd."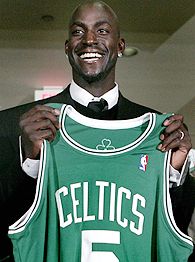 The Celtics Get R Done
….

Kevin Garnett has already given his new team something substantial.

A discount.

To clinch his Tuesday trade to the Boston Celtics, Garnett agreed to a three-year contract extension worth just over $51 million.

By extending his current contract and eliminating the early termination option that would have allowed him to be a free agent after next season -- in a complicated transaction best described as an "extend-and-trade" -- Garnett also earned $8.8 million in trade bonuses that will be spread out evenly over the next five seasons, taking the value of the extension to $60 million.

Garnett, 31, was eligible for a three-year extension worth nearly $90 million including trade bonuses.

Salary figures obtained by ESPN.com show that Garnett's salary will be $14.7 million in the 2009-10 season, $17.1 million in 2010-11 and $19.5 million in 2011-12, when he'll be 36. Garnett was already scheduled to earn $22 million and $23 million over the next two seasons.

(For salary-cap purposes, however, his salary in each of those years will jump by $1.75 million to account for the trade kicker, making it $23.75 million for 2007-08, $24.75 million for 2008-09, $16.4 million for 2009-10, $18.8 million for 2010-11 and $21.2 million for 2011-12.)

All of the above is still elite-player money, obviously, but will rank Garnett as Boston's third-highest-paid player behind Paul Pierce ($19.8 million) and Ray Allen ($18.8 million) in 2009-10. Pierce, who turns 30 in October, is signed through 2010-11 and Allen, who just turned 32, is signed through 2009-10.

Garnett agreed to a similar reduction in Minnesota in October 2003 when he signed a five-year, $100 million extension with the Wolves. The final year of his original $126 million megadeal paid him $28 million, with a drop to $16 million for the 2003-04 season.


In Cowboys news, it is a slow camp, so here is all we got:
#1
Jones to discuss things with Ellis
….

Jerry Jones met with disgruntled outside linebacker Greg Ellis on Monday night to discuss several issues.

Ellis said he's been trying to meet with Jones since spring to discuss his status with the team.

Ellis has been upset the Cowboys have been unwilling to renegotiate his contract, but it seems the team is now willing, at least, to speak about it.

James Williams, Ellis' agent, declined comment and Jones was unavailable. Ellis said Tuesday night that his situation has not changed.

Jones is scheduled to meet with the media today.

If Jones decides to renegotiate Ellis' contract, Williams could meet with the Cowboys owner and general manager Sunday.

Ellis has missed the last nine practices as he continues to recover from a torn left Achilles' tendon. Ellis was cleared to practice last week, but left less than 30 minutes into the first training camp practice because of pain from bursitis caused by the injury.

And #2,
Brian Stewart is scolded
…

Defensive end Jason Hatcher missed Tuesday's practice, but Cowboys owner and general manager Jerry Jones didn't miss a chance to show his disdain.

Jones was upset with defensive coordinator Brian Stewart after Stewart made the defensive linemen run sprints Monday that left Hatcher with a strained left hamstring.

At a coaches meeting following practice, Jones was angry about the drill being run without the players warming up.

Hatcher was injured when Stewart made the linemen run during special teams practice Monday at the Alamodome. Hatcher, who tied for the team lead with seven quarterback pressures last season, is day-to-day, and he has a slight limp.

By Tuesday afternoon, Jones had calmed down.

"I'm fine now," Jones said. "It was an important reminder that we can't let our guard down. Sometimes, this place can be deceiving. It can get a little warm in here and you might not think you're dehydrated, but then a player might wind up with a pull."

11 goals scored last night in Frisco
….in 1 game!

Fans who missed out on David Beckham but attended Pizza Hut Park on Tuesday received a consolation of sorts: FC Dallas' most exciting match of the season.

FC Dallas, playing in front of an announced crowd of 21,576, allowed four goals in the first 20 minutes of its SuperLiga match against Beckham's Los Angeles Galaxy.

However, FC Dallas roared back with three unanswered goals in the second half and joined Los Angeles in a flurry of goals that closed out the match, a 6-5 Galaxy victory.

Landon Donovan, the designated star with Beckham out because of an ankle injury, scored in the 84th minute and had two assists in eliminating FC Dallas from the tournament.

"I'm ashamed of our team's performance in the first half, especially in the first 20 minutes," FC Dallas coach Steve Morrow said. "Second half, I'm proud of the guys, the way they came back.

"But you go 4-0 down in a game like this, and it's very hard to come back."
FC Dallas finished SuperLiga play with two points. The Galaxy advanced to the tournament semifinals with six points.

LA 6, FCD 5 – The Landon Donovan Throat Slash included after LA's 5th Goal
Kige Ramsey's Big 12 Preview
Hammer + Deion = less than gold