Kenny is back
…And then tomorrow, Raffy is back. I wish I could tell you I was shocked that he was reinstated, but how can you be?
Remember CB last season? How the Cowboys did nothing to address the CB opposite Terrence Newman and it ended up being a line of spares all season trying to plug a hole that was never plugged? This year, it is Right Tackle, I think. The Boys are banking that it will sort itself out, starting with Jacob Rogers (above), but I do not like what I have seen. In fact, let's put it this way, If Demarcus Ware could go against the Cowboys OL, he might have 20 sacks this year…
Gil Lebreton on the OL in Oxnard
…

At Southern Cal, where he was converted to offensive tackle, Rogers already had two shoulder surgeries before his sophomore season.

He underwent another shoulder surgery seven months ago, after what can only kindly be called a disappointing rookie year.

When healthy, Rogers appears to have a legitimate shot at taking away the starting right tackle spot from Torrin Tucker. The incumbent had a dreadful scrimmage Saturday, prompting Parcells to go on a long discourse to the media about how "your bad habits become you." Tucker had allowed three sacks during the scrimmage.

Thus, for a few hours Tuesday, the Cowboys' depth chart at right tackle was as sparse as it's been since Parcells arrived in 2003. That eventually became a season in which the Cowboys stopped running to the right side - why bother?

Perhaps this is a good time for me to go on record and suggest that I might be the only media member around here who is not buying all of this "Jacob Rogers for RT" baloney. There are real stories early in training camp, and there are stories from camp that when reviewed a few months later are quite humorous that the media believed it when the mighty Tuna floated it out there. But there is every paper, lapping up the information that Jacob Rogers, a guy who could not get on the field for even 1 offensive down last season, is the best option at Right Tackle. OK, sure, he is a lot stronger, and he is a lot smarter, but c'mon.
Now, Rogers has a right shoulder issue, which matches up with his injury history, and also his toughness questions. But we are to believe that Rogers will be ready to go head to head with Jevon Kearse and Michael Strahan this fall? Right. Not buying it. At this point, I should likely admit that they don't have very good options,
and as I wrote before I think Larry Allen might be the best option
. But for now, that is not something they will look at, and we can all ponder whether Rogers, Tucker, or Vollers will be the bad player at RT.
Fraley not high on Modano signing
…

The course of the Modano negotiations sounds much like the developments that led to the Rangers' paying about $185 million for infielder Alex Rodriguez and right-hander Chan Ho Park.

The hockey operation is interested only in a short-term deal. Owner Tom Hicks says he would be willing to strike a long-term deal only if the Stars knew for a fact they would be getting the Modano of 1999, a long time ago.

The Stars do not make an offer during the exclusive negotiating period. Modano goes into free-agency and receives multiyear offers. Hicks rides in and brokers a five-year contract without putting Modano into Peabody's Wayback Machine.

Remember Gooden at 19?
King Felix dominates Twins
…This kid is so great, it is scary…
TV Contract for the NHL?
…I am not sure how I want this to play out. My first instinct is go far away from ESPN, because they act like they hate hockey until April every year. But the flipside is that to get away from ESPN, you would have to put your games on the OLN channel, which is known for carrying the Tour De France, and that is about it. Pretty small number of people that know where to find OLN on their TV, if it is even available.
Dirk's Holger is in jail
…
Kurt Busch leaves Roush Racing
…Silly Season begins…
KNBR stands behind employee, then receives pressure, and fires him
…What business has a stronger spine than a radio station?
FWST Soccer Insider
…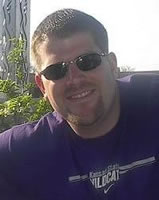 Meet Ty Walker
…a friendly lummox...
Yesterday, Ty Walker, Norm, and BaD Radio made the road trip to Los Angeles. We left after the show, and had dinner at
Aunt Kizzy's Back Porch
…Soul Food was the cuisine. And you know what? Aside from some stomach issues hours later, I really, really enjoyed it. Then,
Dodgers Stadium for Dodgers – Phillies
…Let me tell you something, that is a bad lineup the Dodgers run out there. But, Brad Penny gave them a fine start, until his bullpen gave it up. Phillies win, and Gribble is pleased…