LeBron is awesome in Game 3,
Cavaliers win
…

LeBron James said Sunday night's game was the most important of his NBA career.

Now it's his biggest victory.

An inspired James rallied the Cavaliers with 12 of his 32 points in the fourth quarter to propel the Cavs to an 88-82 must-win victory over Detroit in Game 3 of the Eastern Conference finals at The Q.

The Cavs trail, 2-1, in this best-of-seven series with Game 4 Tuesday at The Q.

James dom inated the score book, chipping in nine assists and nine rebounds.

"In order for us to win, I have to play like this," James said. "And that's not holding the ball as much and not allowing their defense to set. They're very good when you allow their defense to set. I was a little more aggressive on the post. Once I got easy baskets, that opened up my outside shot."

James' biggest moment arrived with a poster dunk over the outstretched arm of Rasheed Wallace for a 70-68 Cavs lead in the fourth quarter.

"It's hard to rate that dunk because it was off the charts," said Cavs forward Drew Gooden. "That dunk sparked us."

Gooden also saw an unseen side of James.

"That's the most focused I've ever seen LeBron James before a game," Gooden said. "He didn't say anything. He had his headphones on. He got here early and he wanted to win, and it showed."

The Dunk
Rangers are so bad it hurts
…

Washington is fond of saying the Rangers are one hit, one pitch and one play away from winning most nights. He believes it when he tells you he's just waiting for one of his players to deliver that game-winning play.

As mama used to say, "He can wait until he's blue in the face and it's not going to happen." You know why? Bad teams find ways to lose the same way good teams find ways to win.

Take Sunday's game. Kameron Loe turned in a good performance, allowing three runs in six innings. The Rangers scored four times in the bottom of the sixth, giving Washington an opportunity to use the bullpen the way he drew it up in spring training.

Joaquin Benoit was going to pitch the seventh and the Rangers' two most reliable pitchers – Akinori Otsuka and closer Gagne – would handle the final two innings.
Only Benoit did his job

Otsuka, the Rangers' best pitcher this season, allowed two runs and Gagne gave up a homer that proved to be the difference-maker in the ninth.

"I wouldn't think Otsuka would give up two runs or Gagne would give up a bomb," said Washington, "but it happened. ... This is baseball, you can't predict what's going to happen."

It didn't help that Texas failed to do the little things that help teams steal close games. Leading 4-3 in the seventh, Lofton led off with a double to right. Young, who excels at moving runners over, grounded out to shortstop, so Teixeira didn't have an opportunity to drive him in with sacrifice fly.

"That was a bad at-bat," Young said.

In the eighth inning, Sosa threw home when he had no shot to get Kevin Youkilis, allowing J.D. Drew to take second. Mike Lowell followed with a run-scoring single as Boston took a 5-4 lead.

Again, it's the little things hurting this team.

Of course, Boston made the only great play it needed to win the game. Coco Crisp made a lunging catch in right-center field to rob Catalanotto of at least a double that would've driven in a couple of runs and given Texas a three-run cushion.
Now, do you see the difference between teams that win and those that lose?
No team has won fewer games than Texas. Not Washington. Not Pittsburgh. Not Cincinnati.

Not even perennial loser Kansas City.

Perhaps you think the Rangers are better than those other clubs. Maybe, but I don't get to watch those other teams play bad baseball on a regular basis.

Meanwhile, the New York papers,
wonder about Teixeira in a Yankee uniform
…I suppose it has not occurred to them that the Yankees are also 12.5 games out of first place…

If you look at the potential sellers at the July 31 non-waivers trade deadline, there's a whole lot of nothing available from Tampa Bay, Kansas City, Washington and Colorado. Cincinnati could offer supplementary pieces such as Jeff Conine and David Weathers, and there surely will be the annual discussion of Ken Griffey Jr. possibly waiving his no-trade right. Prediction: He won't.

Which leaves the Texas Rangers, a team that never expected to be in sell mode this season and still hopes to avoid it.

But they'll need a significant turnaround from every department, and if that doesn't happen, they'll be shopping some inventory.

Including, possibly, the biggest catch of the summer.

Could the Rangers trade All-Star first baseman Mark Teixeira in the middle of the season? You'd have to think the Yankees, among others, would be interested.

"My hope is that Mark is a Ranger for his whole career," Rangers general manager and Queens native Jon Daniels said Friday in a telephone interview. "It's good for the industry when a guy sticks with one team.

"But you have to consider all possibilities, too."

Daniels stressed that he has not offered Teixeira to anyone and added that no team has called him about Teixeira, even though he made similar comments this past week to the Dallas-Fort Worth media. Yet Teixeira's contract runs through 2008, and given that he's represented by Scott Boras, there's virtually no chance that he'll forego free agency.

If the Rangers deal Teixeira in July, they'll be giving their trade partner a year and a half of the switch-hitting slugger, which would raise Texas' asking price. Perhaps the Yankees, suddenly replete with pitching prospects and lacking an everyday first baseman, would bite. Or the Red Sox, or Teixeira's hometown Orioles.

This guy doesn't figure Sosa belongs
…

Yes, Bonds-and-756 makes me uneasy. But Sosa-and-600? That makes me sick.
Six hundred was special. In its own way, 600 was as special as 755. Only gods need apply for either number, and while there can only be one home-run king, there were only four players with 600 home runs. Here's the roll call: Aaron, Bonds, Ruth, Mays.

Aaron, Bonds, Ruth, Mays? That's four of the greatest players in history. Possibly the four greatest players in history, though arguments can be made for Cobb, Williams or DiMaggio.

Bonds belongs in that group, asterisk or no asterisk. Don't let the steroid issue confuse the issue of his greatness. Before the steroid era hit baseball in the late 1990s, Bonds was the best player of his generation, a three-time MVP, a first-ballot Hall of Famer. On an annual basis he was good for a .300 batting average, 30 home runs and 30 steals (if not 40 and 40), with 100 runs, 100 RBI and 100 walks. He won eight consecutive Gold Gloves. Before steroids turned baseball into a lie, Barry Bonds was the truth.

The home runs that came in record-setting bunches from 2000 to 2004? Those are tainted. No question about it. Bonds has been linked to the BALCO scandal. His bulky body, his escalating power numbers, both coming at an age when most (clean) athletes start to shrink in stature and statistics? It looks bad. For crying out loud, an entire book has been written about his usage of steroids, and the book has not been discredited.

But make no mistake: Bonds was a great player before the steroid era. He had 394 home runs at age 34, before his body began to change. Was he going to reach 756 no matter what? It's possible, though not likely. Either way Bonds was -- is -- one of the best ever.

Sammy Sosa? He wasn't great. He was good, maybe very good, but he wasn't great. He wasn't headed for the Hall of Fame. And he damn sure wasn't headed for 600 home runs.

The steroid era basically began in 1998, when a reporter noticed a bottle of Andro in Mark McGwire's locker while McGwire and Sosa were erasing the known limits of baseball power. By the time that season was finished, McGwire had an unthinkable 70 home runs, Sosa had a crazy 66 and the steroid era was in full bloom.

But don't forget who Sammy Sosa was before 1998. Midway through the 1997 season, the Cubs signed him to a four-year, $42.5 million contract extension that was ridiculed in the media. Why? Because Sosa hadn't been that good. He had good power and speed, but he hit .251 and struck out 174 times in 1997. He was no star.
When the Rangers lose, there are always blog wars
…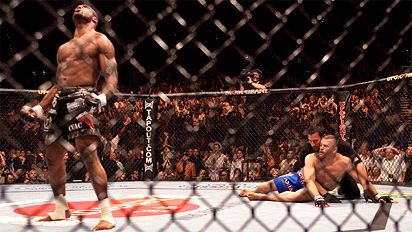 To my surprise,
Rampage dominates Chuck
…

The magnetic light heavyweight from Memphis, Tenn., put his mark on mixed martial arts Saturday evening by stopping hard-hitting UFC light heavyweight champion Chuck "The Iceman" Liddell early in the first period of their title fight.

Saturday night's UFC main event inside a sold-out MGM Grand Garden Arena boiled down to two very separate yet intertwined questions:

Would Liddell, who found redemption versus Randy Couture and Jeremy Horn, fulfill his quest for a clean slate by taking out the last man to defeat him? Could the challenger, who was hounded by questions surrounding his mental strength heading into the 205-pound showdown, perform at a high enough level to thwart Liddell's mission?

Clearly both answers were going to be known at the same time, but no one expected to find out so soon.

Less than two minutes into the opening period of the five-round clash, referee John McCarthy dove in to save Liddell from serious punishment after Jackson countered a risky hook to the midsection with a fully-extended overhand right that met the champion's jaw.

"Ya know, I got caught," said the 37-year-old Liddell, who absorbed a handful of strikes while he remained dazed on the canvas. "What are you gonna say man? I made a mistake, got caught. Nothing else you can say."

Andrew's previews the Stanley Cup Finals
…

The only thing that has been able to slow down the Senators since late December has been the long layoff since they eliminated Buffalo in the Eastern Conference Final back on May 19. After a sluggish start to the season, the Senators finished the regular season with a 31-7-8 record over their final 46 regular season games and are 12-3 in the playoffs for a combined record of 43-10-8 over a 61-game stretch. They've been impressive in beating each Pittsburgh, New Jersey and Buffalo in five-game series to advance to the Stanley Cup Final.

The Ducks were billed as Stanley Cup contenders from the start of the season and have lived up to the hype. They started strong, got derailed by some key injuries at the midway part of the season but were able to get it together by the playoffs, where they have put together a 12-4 record. The Ducks were clearly the better team in first and second round series wins against Minnesota and Vancouver. They struggled at times against Detroit, but found a way to win Games 3 and 4 despite getting outplayed and beat the Red Wings in six games.

The painful to watch Dick Stockton gets demoted
…

Not earth-shattering news, but from a very reliable source AA has learned that Dick Stockton has been demoted from the #2 team for the upcoming season.

Here's the breakdown. Basically their trading Dick with Kenny Albert. FOX is high on Albert as they've put him on playoff baseball coverage and most recently their Bowl coverage this past season. Daryl Johnston stays as analyst with KA, and Dick Stockton now works with....get this....Brian Baldinger. I don't think I could put a worse team together if I wanted to (I can't wait to get the NFL package on DirecTV this year).

The other interesting tidbit is that this team might drop to 4th on the Announcing Depth Chart for next year. Matt Vasgersian and JC Pearson

The teams should look like this come the 2007 Season (Sideliner in parenthesis):
Buck and Aikman (Pam Oliver)
Kenny Albert and Daryl Johnston (Siragusa)
Matt Vasgersian and JC Pearson (Jay Glazer)
Dick Stockton and Brian Baldinger
Sam Rosen and Tim Meyers (Chris Meyers)

I don't believe this story for a second
…

Jacqueline Gagne has had 10 once-in-a-lifetime experiences in less than four months.
Since Jan. 23, the 46-year-old from Rancho Mirage, Calif., has hit 10 holes in one, or just eight fewer than were hit on the entire Ladies Professional Golf Association tour last year.

Her local paper, the Desert Sun of Palm Springs, Calif., has corroborated Ms. Gagne's feat, running notes alongside articles from editors saying they're just as skeptical as readers, but everything has checked out.

The paper also asked a local statistician, Michael McJilton of the College of the Desert, to compute the odds against the feat. The result, which headlined the article: 113,527,276,681,000,000 to 1. And that was after just seven aces. I asked Mr. McJilton to repeat the computation after Ms. Gagne hit three more in the following couple of weeks, over a total of just 75 rounds. He returned the astronomical number of roughly 12 septillion (12 followed by 24 zeroes) to 1. Such an unlikely event should never happen. It's like winning the lottery four straight times. No wonder David Letterman came calling.

Rampage destroys Iceman
And here is some holiday email:

Sports Sturm:

Couldn't agree with you more about your rule for not being allowed to be a "die hard" of more than one team in any sport, or even more than one team period, across the four major sports. Maybe "allowed" isn't the correct word; the better word would be impossible, because it is impossible mentally, physically and, more important, emotionally to be a "die hard" of more than one team. Period!

I always thought this was the case, but it has been proved to me at ever increasing levels with the Mavs run to the Finals last year and their first round exit this year.

I'm a born and bread Dallas-ite and have always been a fan of what was mostly the three major teams. Now that the Stars are local, I'm a fan of them too. However, the ranking is 1) Mavs 5) Cowboys 6) Rangers 7) Stars.

My affinity for the three "other" teams is not even in the same hemisphere as my affinity for the Mavs and, like I wrote earlier, this is only a new revelation to me.
For the longest time I thought it was a dead heat between the Mavs and Cowboys. However, the Mavs run of last May and June, and the Cowboys little playoff excursion showed me just where my allegiances truly lie.

Do I want the Cowboys to win? Sure, more than any other team in the NFL. My first formidable football years were the late Tony Dorsett and Danny White days. I went to all the playoff pep rallies in the early-90s and cheered as much as anyone when they won SBs XVII, XVIII, and XXX.

However, I've never had more sleepless nights than I did during May and June last year. Starting in the Western Semis against the Spurs last year I averaged about an hours sleep after a loss, and maybe got two or three after a win. And, if there was any controversy that went against the Mavericks (i.e. Game 5 in Miami and when Terry was suspended after Game 5 in San Anotnio) I slept not one wink. It was devastating. It wrecked me. It was to the point this year that I even tried to not watch the games against GSW. I had a really bad feeling going into the series. It was so bad that I even bet against the Mavericks each game; my rationale being that maybe that would make the losses sting less. If they lost, hey, at least I won some money. If they won, I really didn't give a darn about the money. You know what, it did not help my emotional well-being AT ALL. I feel like to traitor now. I keep thinking that maybe I jinxed the Mavs by going about it as I did. I feel horrible.

However, you'd think a loss as devastating as the Cowboys experienced against the Seahawks in January would have been crippling to me. Down by one, about to kick a FG. Went upstairs. Played a little FIFA '07 on the Playstation 2 (Fulham's my team). Went to be bed and right to sleep. Sure, it sucked, but not as devastating as the loss my Mavs and I suffered.

The one wrench in this whole theory could be the fact that the Cowboys won three SBs
during my late high school years, which was a time that my love for my local sports teams had become fully engrained in me. Maybe because the Cowboys have already provided me with the joy and satisfaction that a world title for the favorite sports team provides a person has left me satisfied with whatever they do for the following 15 - 20 years. Who knows?! Maybe that's the reason my passion is for the Mavs instead of the Cowboys.

Anyway, great theory.
P1 Joel
Allen, TX
---

Hey Bob,

I just wanted to chime in on this discussion. YOU'RE ABSOLUTELY RIGHT!!!!
I am a die hard Cowboys fan, nothing in the sports world (or probably anything in the world, don't tell my wife) is better than the Cowboys winning the Super Bowl. I love the Mavs, Stars and Longhorns; however, I recognize that I am pretty fair weather when it comes to these teams. The Cowboys on the other hand I stand by win or loose. When they suck, they are still my team…they just suck.

I have lived in Houston for 9 years, and I try to root as hard as it may seem for the Texans. But I don't know every player, college attended and birthday of the Texans.

Your pyramid analogy is a perfect way to put it.

• Stars Stanley Cup….Awesome, but not as sweet as Cowboys Superbowl
• UT National Championship….Awesome, but not as sweet as Cowboys Superbowl
• Mavs run last year….great, but give me a Cowboys Superbowl.

BTW, I have always had a rooting interest for Dallas teams, but I have jumped ship from the Rangers to the Astros. But hey if by miracle the Rangers turn things around I will be a Ranger fan.

Giddy up,
---

Sports Sturm,

Just wanted to get a proper ruling from you (or maybe Dan, since he has a little Cleveland experience with this).

I was born in 1978 in Houston and grew up there for my entire childhood. I was an Astros, Rockets, and at the time, Oilers fan. This was during the days of the Run-N-Shoot, Warren Moon, Ernest Givens, the Meltdown of Epic Proportions in Buffalo, etc - a memorable time to be a young fan.

As you know though, in 1996 the Oilers - led by the Great Satan that is Bud Adams - packed up and moved to Tennessee. I was an impressionable 18 yearsold at the time and vehemently swore off any allegiance to the Oilers/Titans/whatever-they-called-themselves-that-week.

I left for college at A&M and then moved directly to Dallas. Raised in Houston (and as an Oiler), I grew up learning to hate the Cowboys, and even though I've been here for 6 years, I don't think that will ever change.

Since I left, Houston got a new team - the pitiful Texans - but having never lived there during their tenure, I can't claim allegiance to them. Plus, they give me no reason to even try and fake it.

The closest I've come to rooting for a NFL team is with Green Bay since my high school football team's uniforms were exactly like the Packers (though with an S instead of a G on the helmet) - but the older I get, the shakier that logic seems.

So, basically - I've committed myself to Sports Bachelorhood with the NFL - not unlike a guy whose dirty hooker of a wife cheated on him while they were married, so he's sworn off the marriage in general. Or, you know, something like that.

Anyways, just wanted to get a ruling from the Great Sports Sturm - is it possible (and acceptable) to commit to being the George Clooney of NFL fans and eternally play the field? To just turn on the TV on Sunday, pull for whoever I like more/hate less, hope the game is entertaining, and leave it at that?

Travis