8 games in, and with the showdown in New York in Game #9, we are all trying to size up where this season is headed.
Are the Cowboys the favorite to be in the Super Bowl from the NFC? Absolutely. Not unbeatable, by any means, but when you size up the competition, I would say that they are the team with the least number of weaknesses. So, it is up to them to roll through these final 8 games at such a pace that will insure them that anyone that wishes to defeat them in January will have to do it in Texas Stadium. To do that, you better plan on finishing the 2nd half at 13-3. 12-4 will likely do the trick, but just to be safe, plan on a 6-2 second half.
So who is the most likely team to play the Cowboys in the NFC Championship game?
Green Bay? I don't buy it. Not to be cliché, but I do believe they have a weak interior offensive line, that will keep them from running the ball. Any Packer fan knows that weather can make throwing the ball next to impossible from mid-December on, and in a 1-game elimination world, those winter winds will derail them at some point, without a run game. I would love to be wrong, but I just don't think this can continue for 3 more months.
Detroit? No way. They have lost by 35 to the Eagles and 31 to the Redskins. Sorry, good teams do not do that. They may go 4-4 the rest of the way.
Anyone from the NFC West? Don't think so.
Redskins? Too slim a margin for error on that offense. They have midget receivers and a young QB who can be anywhere from awesome to absent.
So that leaves to teams in my mind…
New York and New Orleans.
New York? Possibly. Eli still has to prove the big stage doesn't scare him, and this defense depends on a dominating pass rush. And, they seem to have a tricky schedule the rest of the way.
New Orleans? Yes. I said it. I picked them to be in the Super Bowl in July. Wondered what I was thinking in September, and now fully expect them to get to about 11-5, and be more than willing to play in Texas Stadium for all the marbles in January. Pretty easy final 8 games should keep their ball rolling.
Mid-season picks:
NFC East: Dallas
NFC North: Green Bay
NFC South: New Orleans
NFC West Seattle
Wildcards: New York, Detroit.
I thought about Tampa Bay for the final wildcard, but they are one game behind Detroit, and they lost a head-to-head meeting, and therefore are basically 2 games back.
NFC Title Game: New Orleans at Dallas
New York Newsday looks at the showdown this week
…

If the Cowboys are indeed what they appear to be - the best team in the NFC - then the six-game winning streak the Giants have ridden into contention could come to a crashing halt. Despite their ascension, the Giants in this game - they'll stamp the event as special by wearing their red alternate uniforms - are an underdog, albeit by a single point. That's rare for a club on a roll and playing at home, unlike the Cowboys, who for the second consecutive week must travel east to face a reviled divisional rival.

In virtually every significant category the Cowboys (7-1) are more consistent and often more dominant than the Giants (6-2). The Cowboys run the ball as well, stop the run better, with Tony Romo throw the ball more efficiently, are slightly better at forcing turnovers and kicking long-range field goals and score eight more points per game. The evidence is prevalent but certainly not overwhelming, even factoring in the Cowboys' season-opening 45-35 torching of the Giants. No one is likening the Cowboys to the Patriots (who pummeled the 'Boys 48-27 at Foxboro in mid-October) but the team Wade Phillips inherited from Bill Parcells undeniably has the ingredients to get to the Super Bowl.

A Giants loss would sour the start of the second half of their season and open the floodgates, with torrents of reminders crashing through about how they crashed and burned down the stretch in two of Coughlin's three previous seasons. How that scenario, if it arises, is handled will truly test the Giants' mettle.

A year ago, a 6-2 record midway through the season opened the door to possibilities that suddenly vanished when what was billed as a statement game turned into a dismal 38-20 loss to the powerhouse Bears.

"We won five in a row, we lost and all of a sudden it turned the whole entire season," Toomer recalled. "We just can't let that happen again."

Recent history tells us the spate of injuries that hit the Giants around this time a year ago was significantly more harmful than any psychological scars created from one loss. Still, players are mindful of the need to get back up after every stumble.
"I'm hoping the experience we take from it is the lack of success we've had in the second half of the season," guard Chris Snee said. "It's a different feel I have around this team, it's definitely a different team than we've had in the past. I just have a feeling the guys in this locker room won't let it spiral the way it has in the past."

Noise around the league, at least before the Cowboys went into Philadelphia this past weekend and toyed with the Eagles, was that the Giants stood as good a chance as anyone in the NFC. This was classic bandwagon attraction directed at a team that has defeated exactly one opponent (Redskins) with a winning record. The Giants cleaned up on the dregs littering their schedule with commendable alacrity, a stretch that is now over and done with.

"If you look at the next eight games you'll get no sleep," Snee said.

Here is the stretch run for the New York Giants. Looks mighty 5-3 or 4-4….


Week 10 11/11/2007 vs. Dallas Cowboys

Week 11 11/18/2007 @ Detroit Lions

Week 12 11/25/2007 vs. Minnesota Vikings

Week 13 12/2/2007 @ Chicago Bears

Week 14 12/9/2007 @ Philadelphia Eagles

Week 15 12/16/2007 vs. Washington Redskins

Week 16 12/23/2007 @ Buffalo Bills

Week 17 12/29/2007 vs. New England Patriots



And then, here is the Saints remainder – which looks 7-1 or 6-2…


Week 10 Sun. 11/11/2007 vs. St. Louis Rams

Week 11 Sun. 11/18/2007 @ Houston Texans

Week 12 Sun. 11/25/2007 @ Carolina Panthers

Week 13 Sun. 12/2/2007 vs. Tampa Bay Buccaneers

Week 14 Mon. 12/10/2007 @ Atlanta Falcons

Week 15 Sun. 12/16/2007 vs. Arizona Cardinals

Week 16 Sun. 12/23/2007 vs. Philadelphia Eagles

Week 17 Sun. 12/30/2007 @ Chicago Bears


Gosselin points out that Brandon Jacobs makes the Giants a different deal altogether
…and I would like to point out that Osi was hurt very early in that game, too….

The New York Giants will bring a full toolbox Sunday when they attempt to even the season series with the Cowboys and claim a share of the NFC East lead.

The last time the Giants played the Cowboys in the season opener, they were without their hammer much of the night.

The hammer is 6-4, 265-pound tailback Brandon Jacobs. He's bigger than three of the four Dallas linebackers and more explosive than all but one NFL running back this season. Jacobs is averaging 5.6 yards per carry, which ranks second in the NFL.

Jacobs started against the Cowboys in the season opener but suffered a sprained knee early in the second quarter. That knocked him out of that game – and the next three. The Giants started off 2-2 without him but are 4-0 with him.

Jacobs returned against the New York Jets Oct. 10 and has hit 100 yards rushing in three of the four games since then. In the one game he didn't rush for 100, Jacobs gained 86 yards and averaged 6.6 yards per carry against Atlanta.

A healthy Jacobs changes the complexion of the New York offense. The Giants become a power running team, which opens the door for the play-action passing game.

Without Jacobs for much of the opener, Eli Manning had to throw the ball a season-high 41 times. He scorched the Cowboys for four touchdowns – but Tony Romo matched him throw-for-throw with 345 yards passing and four touchdowns. The Cowboys outlasted the Giants, 45-35.

The return of Jacobs allows the Giants to slow games down, control the clock and limit the offensive opportunities for the opposition.

New York ranks sixth in the NFL in rushing and leads the NFC in time of possession at more than 32 minutes per game. That keeps the defense fresh and productive. New York ranks seventh in the NFL in defense.

In Fran News
…

Dennis Franchione tried a business-as-usual approach during Tuesday's news conference. Considering he ignored the elephant in the room, it was a routine day at Texas A&M.
One day after various Internet and newspaper reports predicted his departure as the Aggies' head coach, Franchione walked into a room full of reporters and asked, "All right, what do you guys need to know?"

When a reporter started to ask about contract buyout negotiations, Franchione said, "Let me just stop you before you go any further, OK?

"I am not going to get into the rumor game with you guys," Franchione said. "I'll be glad to sit here as long as you want to and talk about Missouri and the games. But there's no facts to that, and I'm not into it.

"I'm sorry that you guys have to deal with it. I know you have your work to do and your questions to ask. I'm a non-participant in those."

Franchione was then asked if he expects to be the coach at A&M beyond this season.
"Let me say this one more time, if you want to talk about Missouri, if you want to talk about the games, I'm willing to sit here with you," Franchione said. "You guys go ahead and speculate and all the other things. That's not my concern at this point and time. My concern is trying to get this team ready to play Saturday at 11:30."

Sources close to the A&M athletic department have told The Dallas Morning News that Franchione, 56, will probably be removed as head coach after the season.

He's 31-27 in five seasons and 3-15 against ranked teams. Also, a secret e-mail newsletter was an embarrassment.

A&M players said they're convinced the coach's job status has not changed yet, because they expect Franchione to tell them first. Franchione was roasted nationally for not telling his Alabama players he was leaving for A&M in 2002.

and More from San Antonio
…

There are valid reasons to hold off coaching decisions until the end of a season, and some of them probably applied to A&M at one point. But after a surreal afternoon at the Bright Football Complex, it's difficult to come up with one persuasive argument for why the Franchione Era hasn't already come to an inglorious end.

The decision-makers have already made up their minds, according to reports in this newspaper and several others. The Aggies are no longer competing for a conference championship. Franchione is not a revered, R.C. Slocum-like figure, owed a final hurrah, and his players have apparently come to grips with the idea he won't be coming back next season. Even quarterback Stephen McGee, one of Franchione's fiercest loyalists, tempered his comments about fighting for Franchione's job Tuesday.

So if details of a buyout can be worked out later, who benefits from two games under a lame-duck coach, other than maybe Missouri and Texas?

It isn't as though people are on the edge of their seats waiting to find out what
happens. All of the distractions the Aggies have experienced — and continue to experience — are nothing more than what A&M tight end Martellus Bennett called "foreshadowing" ("That's my literary term of the day," Bennett said.)

Another literary device is dramatic irony, in which the audience is aware of something the characters aren't. For about a month — after Miami embarrassed the Aggies and Franchione's secret e-mail newsletter was uncovered — dramatic irony seemed to be the perfect description of what was happening at A&M. Everyone could see Franchione's firing coming except for the coach and his players.

But now?

Even the characters know how the story ends, even if they try to hide it. Franchione said Tuesday he's a "non-participant" in what he called the "rumor game," but his dodging of discussions about his future spoke volumes.

Video of the big plans at Oklahoma State
…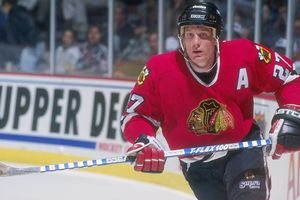 Weekly Bucci with Jeremy Roenick who discusses NHL93 on Sega
…

Question from Diddles (Boston): You are the single most dominant NHLPA '93 player of all time, it's not even close (as immortalized in the movie "Swingers"). I used to rack up 17-0 victories with the Blackhawks and you'd walk away with 17 goals. It was so unfair, my buddies and I created the "no Roenick rule" to even the playing field.

My questions are a) Did you know how dominant you were in video-game form? b) If you did know, is that something you hold over fellow real-life teammates/opponents? c) Does it make you sad that you never scored 17 goals in an NHL game?

Roenick: My biggest claim to fame is my '93 Sega Genesis "domination." I have more people compliment me on my video-game ability than my actual real-life ability. People tell me they have gotten through college by being JR and the Blackhawks and wagering on the games. I have also heard about the "no Blackhawk rule."

Lindros Retires
…


Eric Lindros is expected to announce his retirement Thursday after 13 seasons in the NHL, according to a report.

The 34-year-old forward played for the Dallas Stars last season and became an unrestricted free agent at the end of the season. He had 372 goals and 493 assists in 760 games for Philadelphia, Toronto, the New York Rangers and Dallas.

Lindros is expected to announce his decision at a press conference in his hometown of London, Ontario, according to The Canadian Press wire service, which cited an anonymous source.

Rockets bounce back by smacking the Spurs
…

Aided by a dominant Yao Ming, a plus-27 rebounding advantage and a breakthrough game from professional glass cleaner Bonzi Wells, the Rockets knocked off the Spurs, 89-81, in the kind of pushing, punishing game only a blue-collar player like Hayes could love.

"I think we all understand how good we can be," Houston's Tracy McGrady said. "If we can do this on a consistent basis, then we would be tough to beat."

Yao scored a season-high 28 points to go with 13 rebounds and six assists — "he made life hell for us," Spurs center Francisco Elson said — while Wells turned in the first double-double of his Rockets career with 14 points and 15 rebounds.

With the victory, the Rockets (4-1) ruined the Spurs' perfect start. The Spurs (3-1) will try to rebound — in every sense of the word — tonight against Miami at the AT&T Center.

Houston bounced back from a 107-98 loss at Dallas on Monday by hitting the offensive glass.

Duncan called it a "very, very, very bad rebounding night" for his club — yes, he used three "verys" — and still probably understated the case. The Rockets had 25 offensive rebounds, part of the reason they outscored the Spurs 21-3 on second chances.

"If they get 20-some-odd second shots," Duncan said, "it starts and ends right there."

Manu Ginobili led the Spurs with 24 points, while Tony Parker added 21. Duncan, who never really recovered from a horrendous first-half shooting effort, finished with 14 points and five turnovers.

Hayes' noggin was about all Duncan accurately hit in the first half. He made just 1 of 9 field goals for four points as the Spurs fell into a 45-32 hole.

Thanks to Kevbo, I watched another great documentary over the weekend. Check out the greatness that is
Wordplay
…

They are self-professed word nerds. Their numbers include former President Clinton, Jon Stewart, the folk-rock duo Indigo Girls and New York Yankees pitcher Mike Mussina. Their idol is a guy named Will Shortz.

Crossword puzzles and the people who love them are the subject of the lively documentary "Wordplay," which premiered over the weekend at the Sundance Film Festival.

Shortz is the pastime's key figure, The New York Times crossword puzzle editor who's also heard on public radio.

"He's the ambassador of the crossword puzzle world. He's really the pinnacle of this community," Patrick Creadon, a cinematographer making his directing debut with "Wordplay," said in an Associated Press interview alongside Shortz.

Playing the festival in search of a theatrical distributor, "Wordplay" proved to be a crowd-pleaser in its initial Sundance screenings, with potential to capture the sort of commercial audience that made hits out of such documentaries as "Spellbound" and "Mad Hot Ballroom."

The film uses Shortz's career as a focus, from his love of puzzles as a boy, to the creation of his own academic major — "enigmatology," or the study of puzzles — at Indiana University, through his professional work and his shepherding of the American Crossword Puzzle Tournament each year in Stamford, Conn.

Creadon and his wife, producer Christine O'Malley, also feature rank-and-file puzzlers, colleagues who help Shortz create the Times crosswords and lovably fierce tournament competitors.

Ellen Ripstein, the 2001 tournament champion, calls herself a "little nerd girl," but she doesn't mind firing back when people mock her passion for crossword puzzles.

"I had a boyfriend once who would kind of put me down, and I'd go, `Well, what are you the best in the country at?"' Ripstein said.

Shortz said the film has left him pleasantly puzzled at how crosswords resonate emotionally with people.

"Crosswords are such a cerebral thing, you don't expect it to have so much emotional connection with people. But this movie is funny, you laugh a lot, there are touching moments, people crying. It's exciting. You usually don't associate crossword puzzles with excitement, but every time I watch this movie — and I've seen it four times — every time I watch it, my hands get clammy and I start to sweat."

WordPlay Trailer
Ballet Soulja Boy