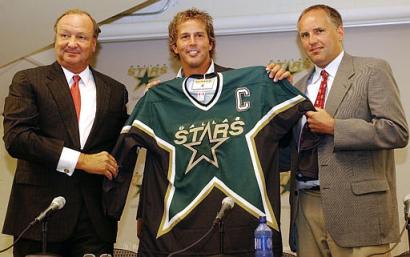 What a crazy day. It started in the morning with some goofy website and some goofy FM sports radio station in Dallas claiming it was done, Mike Modano was a Boston Bruin. Then, it developed into word that no deal was done anywhere. Then, I spent all of my energy pleading with the Stars to "do something while you still can!" (I do realize that the noon hour on BaD Radio had nothing to do with the scenario, but it is my story and my blog. At least I Hope the Stars are not going to determine the path of their franchise based on a dopey radio show.)
Then, came the news that they are talking again, and the Stars are now back in the game. Then, my phone exploded with news that it was done – He signed in Dallas. Then, the waiting game ensued….and we waited. Nothing. Then, reports that Boston is still in this. And then, Mikey Mo goes to sleep. Why? Because he was annoyed for a few weeks, and now he is going to be a bit stubborn and make the Stars sweat a bit, I suspect. And honestly, I don't blame him.
But, what was with the Stars reversal? Or did they just have a poor way of negotiation? Is it possible that Tom Hicks put on his cape and saved the day? The final chapter is still being written. But as of this second, I am very pleased for two reasons: 1) it appears the face of the franchise is here for the rest of his career and 2) it appears that the contract is incredibly reasonable. He will get a 5 year deal, but years 4 and 5 (when he is 38 and 39) are both incredibly cheap and you could very well pay that and not sweat the fact that he is no longer half the player he was.
Modano almost done
…
Hicks says:

"The last thing I said was, 'Do we have a deal?' and he said, 'Yes.' So I said, 'Congratulations on finishing your career with us,' and we left it at that," he said. "Is it legally binding? No. Could Mike change his mind? That's his prerogative. But in my mind we have a deal."

But, Modano still is dragging his feet:

Modano said he wanted to sleep on the offer and would give Hicks an answer in the morning.

"Boston is still out there, and if they were to make an offer I think I would have to listen," he said. "I think we agreed in principle [with the Stars] and said we need to still take a little more time."

When asked to put a percentage on it, Modano said that 90 percent sounded "about right."

Lebreton says Modano is making the Stars wait
…

The Stars' offer to Modano is fair, mostly because it addresses the long-term issue that Mike was searching for. If he can't play hockey four or five years from now, Modano can be the franchise's best ambassador, same as always.

On Tuesday night, Modano slept on the offer. Just because he could, probably, and maybe also because he wanted to give Armstrong a taste of his own medicine.
But don't push it, Mo. There's a puzzle still to be assembled. There are Stars fans' hearts, already wounded, who can't take any more suspense.

Save by Hicks. Goal by Modano.

Anything else, and the news conference would have been a wake.

Meanwhile,
NY Times says Raffy knew what he was doing
…

The positive drug test that has left Rafael Palmeiro's legacy in doubt involved the potent anabolic steroid stanozolol, a person in baseball with direct knowledge of the sport's drug-testing program said yesterday.

Stanozolol, known by its brand name, Winstrol, was most notably linked to the Olympic sprinter Ben Johnson of Canada, who was stripped of a gold medal in 1988 after testing positive for that steroid.

Now Palmeiro, one of only four major league players with more than 3,000 hits and 500 home runs, is being associated with the same substance.

The person who said that Palmeiro tested positive for stanozolol did not want to be identified because the testing policy prohibits anyone in baseball from disclosing information about test results without authorization.

Palmeiro said Monday that he had never intentionally taken steroids, but stanozolol does not come in dietary supplements and is among the most popular steroids on the market. It can be ingested or injected and usually remains in a person's system for at least a month.

In other news, the Stars grabbed former Avalanche and Duck defenseman
Martin Skoula
…
Pronger joins Edmonton
…
Chris Young – shelled again
…
Revo examines the transition of the Cowboys to the 3-4
…
Peter King on Deion's closet
…

I'm in the lobby of the Ravens' team hotel here in Westminster on Sunday night and two 40ish men are sitting at a table a short spiral away with fabric samples and big binders. One of the guys was David Corbitt, who tells me he makes men's suits. He's Deion Sanders' tailor.

We get to talking, and this might be the stat of my summer. Deion, playing beyond the twilight with the Ravens, has 1,900 suits. His closet at home is 2,500 square feet.

Which compares to my sartorial stats: I have two suits, and my closet is, I'm guessing, 25 square feet.

How to know you are rich: If you have a closet that is 2,500 square feet.
Napoleon Dynamite Action Figures
…
Sports By Brooks on the
marriage of Derek Lowe and why it isn't doing so well
…