I was living in Virginia in the Michael Vick High School era. I followed closely what was supposed to be the Ronald Curry sweepstakes, with UNC beating Virginia for Curry's services, all the while Virginia Tech silently chuckled to themselves because they had this Vick lad all locked up. I watched almost every second of Vick's college career, and fancy myself an eye-witness to how good he was BEFORE Atlanta traded up to get him at #1 in the 2001 NFL Draft.
Then, I have lived in Texas during the Vince Young era. I followed closely the recruiting battle (had to, I was on TXCN at the time) between the big schools to secure the services of the two great state QB's, Reggie McNeal and Vince Young. A&M won the battle the first year, with McNeal beating #1 Oklahoma on a glorious day at College Station. But, Texas silently chuckled as their franchise QB was red-shirting that year. I have watched almost every second of Young's college career, and fancy myself an eye-witness to how good he was BEFORE the 2005 NFL Draft.
So, who was better?
I believe it is close in some respects, but not close in others. Winner = Vince Young.
I will elaborate more on the air as to why I feel this way (either today or tomorrow when we do the segment(s)), but I dug up some information on both of them from their college days that you can look at and draw some conclusions for yourself. Look at the opponents, and the game-by-game passing numbers in particular, because they both had critics saying "they are all running QB's". Look at yards per game (games in which each player threw for more than 200 or 250 yards) and Touchdowns to Interceptions.
Vick's Game-by-Game Stats
Young's Game-by-Game Stats
Again, Vick loses the comparison in my opinion, and he still was the #1 pick. Of course, did Atlanta make a poor choice? Anytime you have to trade L Tomlinson and plenty more to get your guy, you have to feel that you likely did make a poor choice.
Links:
Who would have guessed it? The Stars trade for another Finnish player!
Janne Niinimaa for John Erskine
…Erskine was never going to fit here it did not seem where any meltdowns on the blue line are just not to be tolerated. Like former favorite of mine, Brad Lukowich, a change of scenery might be perfect for the big tough Erskine. So much for the theory that he was a Derian Hatcher clone. Size is only one of Hatcher's positive traits in his career.
Meanwhile, Niinaimaa is a very responsible defenseman, who while he will make a mistake from time to time, he also will not allow it to stay in his head and affect his play. Also, the coveted left-shot d-man, so they can spread out their talent a bit now on the blue-line and relax that they have some composure on that left side, rather than the freak-out play that Erskine brought.
Lendale White joins the draft
…so does Wisconsin's stud RB, Brian Calhoun…
Which reminds me that I want to start blogging mock Top-10's for the draft now to get some credible mocks on the record. Send me the one's you find that our credible. No offense, but blogs written by Paul in Grapevine or Jim in Denton does not constitute a credible mock draft.
Here is the January 3rd Mock from Scouts Inc:

1. Houston Texans (2-14): +Reggie Bush, RB, USC
2. New Orleans Saints (3-13): Matt Leinart, QB, USC
3. Tennessee Titans (4-12): D'Brickashaw Ferguson, OT, Virginia
4. New York Jets (4-12): +Vince Young, QB, Texas
5. Green Bay Packers (4-12): A.J. Hawk, OLB, Ohio State
6. x-Oakland Raiders (4-12): Demeco Ryans, OLB, Alabama
7. x-San Francisco 49ers (4-12): Jimmy Williams, DC, Virginia Tech
8. Buffalo Bills (5-11): +Haloti Ngata, NT, Oregon
9. Detroit Lions (5-11): Jay Cutler, QB, Vanderbilt
10. Arizona Cardinals (5-11): +Mario Williams, DE, N.C. State

They had Lendale White at #28 to Pittsburgh which seems crazy to me.
Jim Caple with a good column about long-suffering in the NFL
…
Bruce Sutter gets in
…Jim Rice and Goose Gossage just miss…And Walt Weiss got a vote! Seriously! And Greg Jefferies got two!
Jayson Stark on the odd series of voting events
…

Unlike all those days when Sutter's managers handed him the baseball, though, this was no sure thing. Sutter missed by 43 votes last year. And best we can tell, he hasn't recorded a single save since. So there was no logical reason for him to pick up those votes.

But who ever said logic had anything to do with a process that forced a player this great to suffer through 13 elections before finally being anointed?

As recently as 1999, only 121 writers were voting for Sutter. By this year, he was up to 400 votes -- without throwing a single pitch in between. If you can figure that out, you're a lot more brilliant than we are.

Sutter wound up getting 56 more votes this year than last year -- which just about mirrored Gossage's increase (up 51). The Goose is now 54 votes short. So clearly, he is also going to make it one of these years -- which we'll regard as an official indication that closer-mania has finally arrived.

Finally, here are my two new fish:
Meet the Niger Trigger
And his friend, the Spanish Hogfish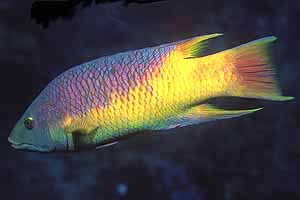 All of us at the Sturm Family wish them both a long life in the family aquarium.
Busy Day, so that is all I can squeeze in this morning, except to give last night's "Shield" an A+.