Babe leaves; Rhyner takes credit
…

The Cowboys will have a new analyst on their new radio station. Babe Laufenberg, citing a desire to spend more time with his family, told the Cowboys on Thursday he would be leaving the seat that has been his since 1997.

Laufenberg's decision did not surprise the Cowboys. His contract with KLUV-FM expired after last season. The team's move to The Ticket, announced last month, came with a twist. Cowboys broadcasters who had been employees of the radio station now work for the team.

In the comment section of the Dallas Morning News, there is a place where you the reader can suggest who will be Babe's replacement. Comedy followed:

April 13, 2006 07:18 p.m.
You all are crazy with the Dale Hanson suggestion. Who wants to hear his whinny voice. I turn off The Ticket when he comes on.,, Can't stand him. My Vote is for George Dunham or Bob Sturminator. Them boys can handle it.

Then, check out this response!

April 13, 2006 10:39 p.m.
Darren Woodson or Michael Irvin. Not the Sturminator for Pete's sake - he has a Packers tattoo.

Mavs lose to Golden State,
mail it in versus Phoenix:

Simple arithmetic shows the Mavericks still have a chance to finish with the best record in the Western Conference.

The reality is not nearly as hopeful. Avery Johnson revealed where his priorities lie in Thursday night's 117-104 loss to the Phoenix Suns.

Moments after San Antonio lost to Orlando, the Mavericks took the court at U.S. Airways Center with D.J. Mbenga as the starting center for the first time this season. Adrian Griffin, who has played a total of 11 minutes in the last month, joined him as the veteran tries to work his way back from a strained hamstring.

Clarence Hill on Owens
…

Is controversial receiver Terrell Owens getting off on the right foot in Dallas?
Several sources have noted that Owens has not been a regular participant in Cowboys coach Bill Parcells' off-season program.

His initial absences were understood because of a prior commitment, but Owens in the past has preferred to work with his own trainer.

Owens, who signed a three-year, $25 million contract with the Cowboys in March, was present at a Thursday workout.

His publicist, Kim Etheredge, said, "He is here when he is required to be here just like every other player on the team" and added that Parcells has expressed no concern about Owens' regimen.

The Cowboys are not concerned about Owens' conditioning. He always has stayed in good shape and his training methods have served him well.

However, Parcells' feelings on the subject are clear. The "voluntary" program requires players to work out four times a week and get in 40 workouts during the off-season.

"To [Parcells], it's about chemistry," a source said. "He wants you here."

Evan Grant on Alfonseca
…as Evan has joined the 6 finger craze…

Alfonseca doesn't see polydactylism as a condition, an affliction or a challenge. He was born with six fingers and toes on each extremity, just like his grandfather, Santiago. It's never been an issue. It never will be.

And it's really not that uncommon.

According to various Internet medical sites, polydactyly occurs about once in every 500 births. In many Western societies, doctors usually remove the extra digit, usually smaller than the others and of no real use, after the child turns 1 year old.

Alfonseca, however, was born in LaRomana in the Dominican Republic in 1972. Such surgeries were rare. The extra appendage was never an issue for his grandfather, either.

Alfonseca is adamant that the digits are more a sense of pride than a problem. It even cost him a chance to join the New York Yankees machine as a 16-year old. Upon meeting Alfonseca, Yankees scout Arturo Defreitas offered to have the extra finger removed by a doctor. Alfonseca's response: He ran away.

Instead, Alfonseca was signed by legendary Dominican scout Jesus Alou to the Montreal Expos. Alou promptly nicknamed him "Pulpo," the Octopus.

The extra fingers, both quite small and of little consequence, were of no concern to the Expos. They aren't on the ball when Alfonseca pitches. They don't give him any better ability to grip the ball.

Yesterday on the show, we discussed the Travis Hafner trade of 2002. I wanted to do some more research, and the wise men of Baseball America has some
expert analysis at the scene of the crime
on the day of the trade….

By Jim Callis
December 6, 2002

The Indians and Rangers each filled holes in their starting lineups and picked up rotation fodder with a four-player trade on Friday. Cleveland received first baseman Travis Hafner and righthander Aaron Myette, while Texas added catcher Einar Diaz and righty Ryan Drese. Shortly thereafter, Indians general manager Mark Shapiro was arrested for grand theft slugger.

Ovechkin hits some high targets
….

Washington Capitals star Alexander Ovechkin became only the second rookie in NHL history with 50 goals and 100 points when he scored against the Atlanta Thrashers on Thursday night.

Ovechkin scored his 50th goal at 13:01 of the first period with a shot from the top of the left circle. Atlanta goalie Mike Dunham appeared to be screened in front by defenseman Garnet Exelby.

Ovechkin picked up his 52nd assist in the second period, setting up a power-play goal for Dainius Zubrus with a perfect cross-ice pass.

Teemu Selanne was the first rookie to reach the double milestone. He set first-year records that still stand with 76 goals and 132 points for the Winnipeg Jets -- now the Phoenix Coyotes -- in 1992-93.

With three games remaining after Thursday, Ovechkin had no chance of breaking either of Selanne's records. But he was just three goals behind Mike Bossy, who had 53 for the New York Islanders in 1977-78 to rank second on the rookie list. Joe Nieuwendyk had 51 goals in his rookie season.

With his 101st and 102nd points, Ovechkin broke a fifth-place tie with Mario Lemeiux on the rookie list and pulled even with four-place Joe Juneau, who scored 102 in 1992-93. The only rookies to score more points were Selanne, Peter Stastny (109 in 1980-81) and Dale Hawerchuk (103 in 1981-82).

The Rookie Record holder, Teemu in his proper Winnipeg gear, below…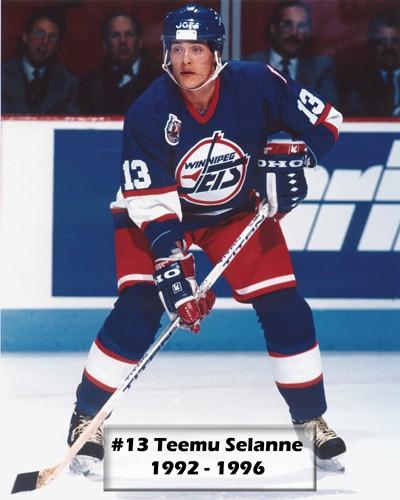 Bill Simmons mail bag
…
Saturday
UFC 59 is happening
…With our guy, Forrest Griffin, as the main event…sort of.
Tiger hit hard for "spaz" comment
…

The top-ranked golfer, who tied for third place three strokes behind winner Phil Mickelson, was criticized for using the term "spaz" to describe his poor putting in the final round.

"Tiger meant nothing derogatory to any person or persons and apologizes for any offense caused," Woods' agent Mark Steinberg said in a statement issued on the
player's official Web site.

Bidding for a fifth green jacket at Augusta, Woods produced a display of uncharacteristically shaky putting on his way to a closing two-under-par 70.

He took 33 putts in the final round, including three three-putts and a pair of missed eagle putts from inside 10 feet on the back nine. Mickelson took 29 putts in a closing 69.

When asked about his play on the last day at Augusta, Woods replied: "I putted atrociously today. Once I got on the greens, I was a spaz."

In several countries, "spaz" is an offensive term for people affected with spastic paralysis, a form of cerebral palsy.

Britain-based disability organization Scope, formerly The Spastics Society, said of Woods' comments: "Once again, Tiger Woods demonstrates that we are two nations divided by a common language.

"Although in the U.S. the term 'spaz' may not be as offensive as it is here in the UK, many disabled people here will have taken exception to his likening a golf stroke to that of 'a spaz.'

More from the McCarty bankruptcy case
as we itemize the debtors
…

DMA Holdings, Portage, Mich.: $2-million

Huntington Nat'l. Bank, Bloomfield Hills, Mich.: $1.5-million

Bellagio Casino, Las Vegas: $100,000

Palms Casino, Las Vegas: $60,000

MBNA America: $35,322

Law firm of John Schaefer, Birmingham, Mich: $28,000

MotorCity Casino, Detroit: $25,000

Chase Card Services: $24,415

American Express: $18,774

Chase Cardmember Services: $13,538.98

Law firm of Seyburn Kahn, Southfield, Mich.: $8,270

Capital One Services, St. Louis: $4,940

J.D. Candler Roofing, Detroit: $3,177

US Bank, St. Louis: $2,639

Exxon Mobil: $1,089

American Express: $902

DirecTV, Illinois: $537

Oakland County (Mich.)Drain Commission: $282

DTE Energy, Detroit: $264

Consumers Energy, Lansing, Mich.: $68

We were talking race radios yesterday, and I got this email:

Hey Bob Sturm Show,

If you really want to hear some gold, tap into the Terry Labonte # 44 Kelloggs Chevy channel. When things are not good, F bombs are flying like you wouldn't believe. Last November, Terry informed us that "on a scale of 1 to 10, this car was an f'%ing 12". Upon being asked if they should lower the rear of the car on the next stop, he stated that they should "just lower the gate of the f'%ing hauler and drive this piece of s$%# into it and go home. His crew chief merely followed up with "Ok guys, 4 tires and fuel on this next stop."

Enjoying the week.
John C

Here are some notes on the Rangers from Brian, although I am not sure if he is all over me or what:

First of all tape the brakes on the Rangers. We are only 6 games into it. Granted the 4th and 5th spots in the rotation are iffy. But Millwood will not be this bad. Padilla and Loe have looked great! I guess you are overlooking Kinslers .444 average this year when you say the bottom of the order is an easy 4 outs. I am not some crazy homer who is going to tell you the Rangers are going to win the World Series or even make the playoffs. But tap the brakes buddy. By the way your take on Blalock is nuts.

Hank in the clutch
Career OPS with no one on: .773
Career OPS with runners on: .849
Career OPS with RISP: .834
Career OPS with RISP and 2 out: .861

Brian in Waxahachie

And finally this one:

Help me out with something. I'm listening to e-news and Snake is talking about Matt Lauer signing a new contract for $13 mil a year. How is that guy making that much money? Whenever somebody brings up the issue of athletes making too much money, there is an argument. Big Papi makes $13 mil a year because very few humans in the world can hit like him. Is it morally messed up that a lady who's taught kindergarten for 30 years makes $40,000 and Papi makes that? Probably. But can nobody else do what Matt Lauer does? Sheesh.
Ross

The compound is over. It was fun. And so is ending it.