I don't know if you remember the idiocy of Monday night, but I do. I congratulate the must-read Gregg Easterbrook for pointing out that
Carlos Rogers is a dope
…

Oh Ye Mortals, Trifle Not with the Football Gods: Few football-game scenes are more ridiculous than when a defender dances and struts after a routine play. On Sunday in the Texans-Eagles game, David Carr simply slipped and fell down; Philadelphia defender Trent Cole one-hand-touched Carr to end the play. Cole then jumped up and danced as if he'd just won the Heisman Trophy. Excessive defender dancing may tempt the football gods to exact vengeance. In the first Monday Night Football game, early on Troy Williamson of Minnesota beat Carlos Rogers of Washington, then dropped what would have been a long touchdown pass. Rogers jumped up and danced and strutted, pointing to himself -- as if he'd just done something magnificent, rather than been beaten and the beneficiary of good fortune. Skies darkened and lighting flashed above my house as the football gods signaled their displeasure with this rodomontade.
Later in the game Marcus Robinson badly beat Rogers for a touchdown reception, exacting the penalty. Tactics note: On the Robinson touchdown, Minnesota faced third-and-5 on the Washington 20. The Redskins rushed four, dropping seven into coverage, with both safeties in standard Cover 2 dropping deep. The Vikings sent out four receivers. Yet with seven to cover four, Robinson was singled on Rogers in the corner of the end zone. Both Washington safeties stood in the center of the field like topiary, covering no one.

TCU remembers 10 touchdowns in Lubbock
…

You won't hear his players vowing vengeance this week, but Gary Patterson is a football coach.

So, he bruises, maybe even a little more than most.

"Whether it's them or Paschal High School, when somebody scores 70 points on you, you're not too happy about it," Patterson confessed under prodding at his Tuesday media luncheon.

As with a bad nightmare, the TCU head coach doesn't dwell on the gory details of Texas Tech's 70-35 flogging of the Horned Frogs in 2004.

Some of us who were in Lubbock that day remember only that TCU struck swiftly for a 21-0 lead and then -- insert giant mushroom cloud here -- a sizzling, scarlet-and-black fireball consumed the Frogs like a plate of fajitas.

Or something like that.

I semi-recall going to the men's room during the third quarter, and by the time I returned, Tech had passed for 600 more yards.

"I remember that that air horn went off a lot," said TCU quarterback Jeff Ballard, who was a sophomore substitute that day at Tech.

Here are some relevant college football notes
…

Tarell Brown will start at cornerback for Texas in this week's game at Rice, UT co-defensive coordinator Duane Akina said Tuesday.

Brown missed last week's game against Ohio State, serving a team-imposed suspension after his arrest on misdemeanor drug and weapons charges. He was reinstated to the team Monday.

"Obviously, it's a real lift for all of us," Akina said of Brown's return. "It's nice to see him out there running around. He's still sharp."

---

If anyone at the Alamodome on Saturday hears the yell, "Beat the hell outta Army!" it won't be coming from Texas A&M's Yell Leaders.

Grant Castleberry, the school's Head Yell Leader, said Tuesday that he and the other Yell Leaders have decided upon, "Beat the Hell outta the Black Knights" instead, when the Aggies face Army.

A&M traditionally yells, "Beat the hell outta (opponent's name)" at football and basketball games.

Castleberry said the Yell Leaders believed it was right to distinguish between West Point's athletics mascot and the U.S. Army. A&M also refers to itself as "Army" or "Old Army," because of the school's military heritage.

This contract for Rick DiPietro is interesting stuff. I obviously do not think he is an elite goaltender, and you wonder if he is now un-trade-able. But,
it certainly qualifies as blog-worthy
…

Some are skeptical about Wang's latest long-term signing. He rolled the dice when he signed Alexei Yashin to a 10-year, $87.5 million contract after acquiring the Russian center in a trade for Zdeno Chara the summer before the '01-'02 season. A disappointment for the Isles, Yashin has become untradeable because of his salary.
The length of the deal, which will end when DiPietro is 40 years old and is guaranteed if he retires prematurely because of injury, is unusual. It is the longest pact in NHL history and the second-longest in American professional sports history, behind only the 25-year deal Magic Johnson signed with the Lakers in 1981.
DiPietro's contract breaks down to roughly $4.5 million per year. It almost doubles what he made last season, but makes him only the eighth-highest paid goalie in the league.

Last year, DiPietro went 30-24-5 with a 3.02 goals-against average and a .900 save percentage. In his four-year NHL career, DiPietro is 58-62-13 with a 2.85 goals-against average and a .900 save average.

As he improves, DiPietro realizes he could have demanded more money on the free-agent market, but he said he was willing to forgo that for security - and a chance to win.

1st installment from our "Cowboys' Dark Side" reporter
…
A look at the Chase for the Nextel Cup
…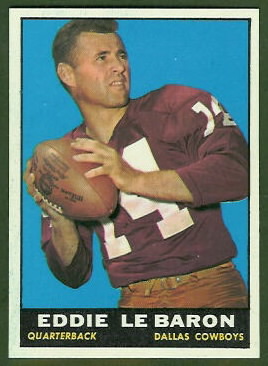 Very Cool:
The Football Card Gallery for the Dallas Cowboys
…Gold, Jerry.
Warning: If you work at my church, wait until you get home to watch this:
Anne-Marie Losique interviews a drunk Ben Affleck from his lap.
It appears to take place on a Sunday morning as part of the L.A. press junket for "Jersey Girl"….
merkin humor
And now, some nice QB email:

I thought I heard you say on today's show that it's ridiculous to expect an undrafted QB to lead a team far into the playoffs. I did a little research and think you might be overstating your case. Here are some recent Super Bowl QB's ( and one other good one) who were undrafted, or drafted very late. I suspect that there's not much difference between a 6th round pick and an undrafted player. Both are clearly afterthoughts. Some of these guys caught lightning in a bottle ( e.g. Mark Rypien), but there are a lot of quality QB's on the list.

Just a guy in the next cubicle.
Ed Mays


Super Bowl
Tom Brady - 6th Round
Matt Hasselbeck - 6th Round
Jake Delhomme - Not Drafted
Kurt Warner - Not Drafted
Rich Gannon - 4th Round (not drafted as QB)
Stan Humphries - 6th Round
Mark Rypien - 6th Round
Brad Johnson - 9th Round (Free Agent in today's draft)


Others
Trent Green - 8th Round (Free Agent in today's draft)

---------

Bob:

I was listening to the discussion of undrafted QB's. And compiled a quick
list of QB's who were free agents or who were taken in rounds that no longer
exist:

Starters 2006:

Kurt Warner
Jake Delhomme
Trent Green (taken in the 8th round)
Jon Kitna
Brad Johnson (taken in the 9th round)

Notable Back-ups:

Billy Volek
Anthony Wright
Jamie Martin
Jeff Garcia

What also surpised me as I looked at this was how many QB's are taken after
the 4th round.

Danny

Great job, gentlemen.
And now, youtube:
Ferrari in Paris
Halen88 after Jacksonville